BY MADELEINE MACCAR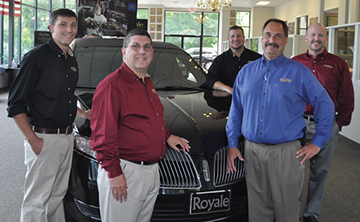 Royale Limousine's factory sales staff (L to R): Mac Smith, Jeff DeMarco, Hans Carbonneau, Steve Edelmann, and Tom Quill Though Royale Limousine's story begins in 1983 with Milton Smith establishing it as a bus distributor in Florida' it wasn't until a few months later—under the guidance of Milton's two sons' Cabot and MacGregor Smith' who still serve as president and vice president' respectively—that the company would shift its focus to building the luxury vehicles it's known for today.

Securing that early foothold as a trusted limousine' minicoach' and custom vehicle manufacturer helped Royale become one of the livery industry's most established names; the company's uncompromised commitment to excellence and customer satisfaction has helped it remain one of the most respected' too.

"We place our customers first' our employees second' and shareholder value is third'" says Cabot Smith. "Our priorities keep us focused and have kept us in a prime position among coachbuilders and upfitters over the past 30 years."

Steve Edelmann' Royale's director of sales' joined the company in 1986 soon after it moved to Haverhill' Mass.—where the company is still located' albeit in a different facility' making it the East Coast's only coachbuilder. He agrees that tending to customers' needs is crucial in maintaining the reputation that Royale has diligently fostered' resulting in an exceptionally high number of repeat clients. "We have a lot of referrals and a strong customer base that's been loyal to us over the years'" he says.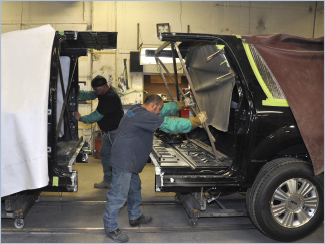 Cutting a 2014 Navigator on the metal rackPlacing its customers at a premium means that protecting their safety is paramount to Royale's staff of more than 80 employees. The company not only performs exhaustive crash tests' as well as thorough testing on its vehicles' seats' seat belts' and doors' but also ensures that all interior materials either meet or exceed federal safety standards.

"We use five different testing laboratories in order to complete the many physical and finite element analysis (FEA) tests we perform annually'" Smith says. "All of the results are monitored by high-speed video' which we analyze internally to make our products safer and more durable."

Royale's ongoing pursuit to best serve new and repeat business alike has led it to a handful of innovations. A customer request had the company stretching Lincoln's Town Car by six inches even before the manufacturer began producing the popular Executive L' which was retired in 2011. Royale was also the first to offer a touch-control system in the early 2000s' streamlining the operation of multiple audio' visual' and other interior controls into one setup.

"The emphasis at the time was just to eliminate having to use three or four different remote controls'" Smith says. "When the audio' video' and limousine control systems became too difficult to operate because there were too many separate components' we combined the limousine functions as well as the audio/video controls into one touch screen."

Additionally' according to Edelmann' Royale is the sole coachbuilder to design' develop' and use its own OIS electrical system' which is not only "high-tech' functional' and durable" but also stocked by the company itself rather than an outside vendor' eliminating downtime and expediting shipments.

We place our customers first, our employees second, and shareholder value is third."
- Cabot Smith, President Royale Limousine
Over the years' Royale has seen how industry trends and consumer tastes have influenced each other within the livery industry that has comprised its core customer base. Recently' the Ford Fusion and similarly green options have been declining in popularity since 2010' while Mercedes-Benz Sprinters continue to be in vogue and Lincoln's MKT has enjoyed a dramatic uptick in demand.
"People who have ridden in the MKT really like the car and its headroom' but it seems to have taken a while to gain acceptance with transportation company operators because it doesn't have a sedan look to it'" Edelmann says. "It's been a lot more popular this year than it was in previous years."
An ever-changing industry necessitates a certain degree of flexibility' and adapting with the times has served Royale's growth well. "Diversification has been a key ingredient in our ability to stay strong over the past several years'" says Smith.
Vehicle trends may come and go' but Royale's commitment to producing a quality product line has remained unwavering. It currently offers a variety of Lincoln' Cadillac' and SUV limousines' as well as Sprinter minicoaches' all of which are backed by the original equipment manufacturers (OEMs).
"The only vehicles we build on are endorsed or backed by the OEM'" Edelmann says. "We want to make sure they'll endorse our products to their dealer networks and their customers' and also back our warranties."
The quality of a Royale vehicle has' indeed' not gone unnoticed by manufacturers. Lincoln named Royale as a Qualified Vehicle Modifier in 1990' while its Cadillac Master Coachbuilder certification came in 1996. Royale is also a Preferred Sprinter Upfitter for ­Mercedes-Benz.
Royale's dedication to the ground transportation industry is further demonstrated by its involvement in the livery associations operating on both the national and local levels.
"Being in sales' we do everything to support our customers' including serving on the boards of many industry associations'" Edelmann says. "We've been a supporting member of the National Limousine Association since 1989 and we've been involved with many of the local associations that formed shortly after that."
The company's decades of experience run concurrently with the know-how of the staff behind its continued success. According to Smith' most employees have been with Royale for 20 or more years' and he holds each of them in high regard. "Our employees are the most valuable asset of our company'" he says. "They are talented' enthusiastic' and driven' and customer satisfaction is their number-one priority."
Both Royale's companywide dedication to its clients and management's regard for the company's staff have been the driving forces behind more than 30 years of success.
"We are not focused on short-term profits' and base our corporate-level decisions on satisfying our customers first and employees second'" Smith says. "This helps shape and propel the company's future because if you provide your customers with what they want and your employees are focused and happy' everything else will take care of itself."
[CD1014]