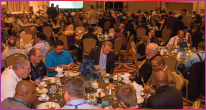 TAJ MAHAL UPDATE
As many of you have heard or read' our venue' the Trump Taj Mahal' filed for Chapter 11 bankruptcy protection this past September' but our show has not been affected at all. While the Taj works through arrangements with its creditors' all signs point toward a positive outcome. The situation does remain fluid' but we've been assured that all of the services that you enjoy and trust will still be of high quality and available during our show. Your room will be cleaned' restaurants will be open' and the casino floor will likely be buzzing as usual. If you've already booked your room' it will be honored and you have absolutely nothing to worry about. Our world-class education' unmatched networking events' sold-out show floor' and legendary nighttime entertainment will still take place all under one roof at the Trump Taj Mahal.

"Eric [Alpert' Chauffeur Driven CEO] and I have been producing shows for our industry at the Taj Mahal for over 15 consecutive years' so it is certainly sad and unfortunate to see what's going on with Atlantic City. While we are not 100 percent sure what the future holds for the Taj in 2015 and beyond' one thing is for certain—we have a tremendous' one-of-a-kind event planned' so if it is the last show at the Taj' let's go out with a bang'" says Chauffeur Driven President and Publisher Chris Weiss. The final countdown to the Chauffeur Driven Show has begun with just weeks to go before the industry's most talked-about show returns to Atlantic City' N.J.' this November 2-5. With so much to offer' there is clearly #only1choice for shows this fall.

Last month' we previewed all of the educational and networking opportunities that you'll have over the four-day event—from our exclusive Operator Mentoring Program to our Affiliate Day on Tuesday' November 4—as well as the unique' show-only deals you can get on our show floor from one of our 100+ vendors. After long days of shaking hands' learning something new' or landing a fantastic deal on a bus or app (to name just two!) for your business' you deserve some chances to let your hair down and your inner freak have some fun. Below is a preview of the lighter side of the Chauffeur Driven Show—nobody said that networking couldn't be this much fun! Special thanks to Title Sponsors' The Lincoln Motor Company and Don Brown Bus Sales.

Sunday

Since the Chauffeur Driven Show takes place mere days after the spookiest of holidays—Halloween—we thought we'd give the adults a chance to dress up for a change. Come decked out in your scariest or most creative costume for a spine-chilling night of music and fun at our Night of the Living Dead party on Sunday' sponsored by Battisti Customs. Scare up a few bloody-delicious drinks at our open bar' enjoy our finger foods (watch out for bones)' and dance to some ghoulishly delightful tunes. We'll have a couple of face-painting extraordinaires around to lend a hand in your zombification. Prizes will be given for best costumes. You'd have to be dead to miss it!

Monday

Guys and gals' grab your cowboy boots and hats on Monday night as the Rockin' Roundup (sponsored by Meridian Specialty Vehicles and Premier Transportation) rolls into Atlantic City for a down-home' country good time. Listen to the sweet tunes of our live rockabilly band' slam back a couple cold brewskies' enjoy some finger-lickin'-good BBQ' and show off your line-dancing skills on the dance floor. With music and entertainment this good' you'd swear you were below the Mason-Dixon. This is one party that can't be tamed!

Tuesday

If thumpin' music and ghoulie ghosts are not your thing' then our Charity Auction and Gala is definitely for you. This event features a buffet dinner' so there's no need to find a restaurant before the gala. We've amassed a spectacular collection of donated items from many of our industry friends' including sports memorabilia' industry products and services' luxurious trips' and so much more. Items will be auctioned via chance' silent' and live auctions' all for the sole purpose of raising money for a very special charity' the Ryan Seacrest Foundation. This foundation' spearheaded by the popular TV host and many members of his immediate family' uniquely targets children who are being treated in pediatric medical centers and their families. The organization raises money to build music studios in children's hospitals' giving sick children a chance to be a kid in an adult setting through the power of music. These studios' which have been opened at two pediatric facilities so far' give the child and their family an outlet to just be silly and work on healing in the best possible way—through laughter. We're thrilled to have partnered with them' and we look forward to the generosity of our industry as our donations will help to build more facilities nationwide. It will be a night you won't soon forget. The evening is sponsored by EmpireCLS Worldwide Chauffeured Services.

Of course' it wouldn't be the Chauffeur Driven Show without our final celebration: the legendary After-Hours Suite Parties! Starting directly after our Charity Auction and Gala' the 14th floor of the Taj is going to be rockin'' Chauffeur Driven-style. This is one party where we don't kick you out' so it's up to you to determine how much sleep you need to function on Wednesday! Enjoy parties sponsored by ETS International' Flyte Tyme Worldwide Transportation' Minority Limousine Operators of America (MLOA)' Rental Limo' and ZBest Executive Global Transportation Services.

Some Extra Goodies

Food:

While we clearly keep you in good spirits with' ahem' lots of spirits' we know you still have to eat. That's why we're offering a hot lunch on Monday (sponsored by Titus Leasing and GroundWidgets) and Tuesday (sponsored by Acton Fleet Sales/SoCal Penske and Mobility Ventures). It will be served buffet-style' so you can fuel up for the rest of the day's activities. The round tables also offer a great chance to get to know some new industry friends (or catch up with some old ones) while breaking bread.

We'll help get you going each morning by offering full coffee and tea service in each of the seminar rooms' thanks to FASTTRAK Cloud Livery Systems. While we don't offer breakfast' there are two association meetings (open to all) who will be. On Monday' MLOA will hold its breakfast meeting and the Limousine Association of New Jersey will meet on Tuesday (sponsored by Capacity Coverage and Lancer Insurance). But don't just eat and run—make sure you stay for the meetings and get to know what's happening with these well-run organizations. It will be worth your time.
All the information you need is available at chauffeurdrivenshow.com
#only1choice
Show App:
We will once again offer our free show app' sponsored by North Point Transportation Group' which details all of the show's events. Download it before you go to the show (coming soon—check our website for all the deets) and you can browse all of our show floor exhibitors and make notes of which events to attend before you get to Atlantic City. The app will also give you information about the seminars and workshops' as well as the contact information of the speakers in case you want to keep the conversation going after the show.
Charging Station:
If you're like us' you use your phone constantly during the day and it's just a matter of time before you have to stop and recharge. Don't fear because we'll be offering our exclusive charging station right on the show floor. Take a break' kick back' and chat it up while your phone gets some more juice. Thank you to Worldwide Transportation for sponsoring.
With weeks to go until the main event' take a few minutes to do some pre-show planning so you have everything mapped out and don't miss anything. The entire show schedule can be found on our show website at
chauffeurdrivenshow.com
. We'll see you in November!
[CD1014]
Interested in the Operator Mentoring Program?
You need to register before the show! To see a list of mentors and to register, go to:
chauffeurdrivenshow.com/show-info/mentoring-program
. Spots are filling up very quickly. While we try to fit attendees with their first choice, due to the demand, we cannot guarantee you a specific mentor. Sponsored by Don Brown Bus Sales and Grech Motors.
Are you going to take advantage of our COMPLIMENTARY shuttle to and from Philadelphia International Airport?
We'll need your information as soon as possible. Go here to enter your flight and arrival information and to ensure your seat:
chauffeurdrivenshow.com/accommodations/shuttle
.
Have you registered for the show?
Registration is cheaper before you arrive in Atlantic City, and you still may be able to take advantage of our all-inclusive show passport and threenight hotel stay for only $549. If you register onsite during the show, you will have to book your hotel separately and we cannot guarantee there will be a room available. Visit
chauffeurdrivenshow.com/registration
to book before you go.