BY BILL FAETH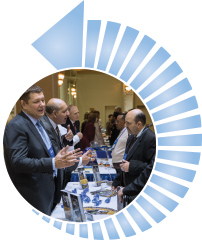 The 2014 Chauffeur Driven Show is right around the corner. You have' hopefully' already registered for the show' booked your flight' and made your hotel reservation' but have you prepared your affiliates for your arrival?

Over the past nine years' many of my friends in the industry have given me a lot of grief for how I managed my schedule both leading up to and during these shows because I book so many affiliate meetings (35-50 per show). But the strategy has worked well for me—and when something works' you should share it with others. The following is my trade-show meeting strategy' which starts with leveraging email marketing well before the event begins.
4 Weeks Prior to the Show
Send an email to all of your existing affiliates. Let them know you will be attending the show' when you will arrive' and ask if you can meet with them on-site for 15-30 minutes.
This doesn't have to be a graphic-heavy email that you pay someone to design. A simple text-based email asking to meet and including your value proposition and contact information is sufficient. Be sure to include your cell number so they can contact you on-site.
2 Weeks Prior to the Show
Now that you have your primary affiliates scheduled' it is time to send an email that will target new affiliates to fill your open time slots. Since this email will be sent to affiliates that you currently don't work with' you will need to add some information. Imagery' information about both you and your company' and a unique value proposition will help give these new contacts an understanding of your business opportunities.
Keep in mind that an affiliate relationship is based on trust and is usually very personal. Focus on your new affiliate' and how you personally can be a benefit to its company and clients in your city.
Social Media Connections
Social media is one of the easiest and best ways to make a connection with a new affiliate manager or owner. In this industry' Facebook tops the list of the most popular social media platforms' with LinkedIn following as a close second. If you have specific targets that you want to meet at the show or are contacting to set up a meeting' make an online connection first. Send a friend request on Facebook or invite someone to connect via LinkedIn prior to sending an email asking for an appointment during the Chauffeur Driven Show.
If you don't have a relationship with your target' then ask a mutual friend to provide you with a warm introduction via email or LinkedIn. Once this is done and you have started a dialogue' then you can follow up with a friend request. Now you can see what their interests are and get to know them a little better prior to the show. You may even discover common interests' which will help you build rapport with a new contact.
TimeTrade
I used to book between 10-15 meetings per day during the show. It was a challenge to easily manage all of these meetings until I found timetrade.com' which I still use today. If you are going to be aggressive in scheduling your meetings' then I would highly recommend that you look into a scheduling tool like TimeTrade. This software shares your public calendar with the person you are requesting to meet with' allowing that person to book an appointment during a predetermined available time slot.
Once they have scheduled the meeting' both of you will receive an email notification confirming the appointment. The meeting will be added to your calendar automatically and that time slot will no longer be available for others to view. No more double bookings!
Believe me' this will make managing your meetings a lot easier while streamlining the scheduling process for both you and the person you are trying to get some face time with. You will no longer have to send three or four messages back and forth just to set your meetings.

By following these tips' the time and money you spend at the 2014 Chauffeur Driven Show will be much more valuable. Setting up meetings ahead of time will maximize your ROI and help you earn more business. After all' isn't that the reason you are attending in the first place?

Here are a few other scheduling tools that work well: » setmore.com| » clickbook.com | » simplybook.me

[CD1014]