Shuttle buses have become the black blazer of the ground transportation industry: a timeless wardrobe staple that can be dressed up or down for whatever setting, with a fit that is always on point. Bigger than an SUV but smaller than a limobus, these fleet workhorses have proven to be more than a passing trend.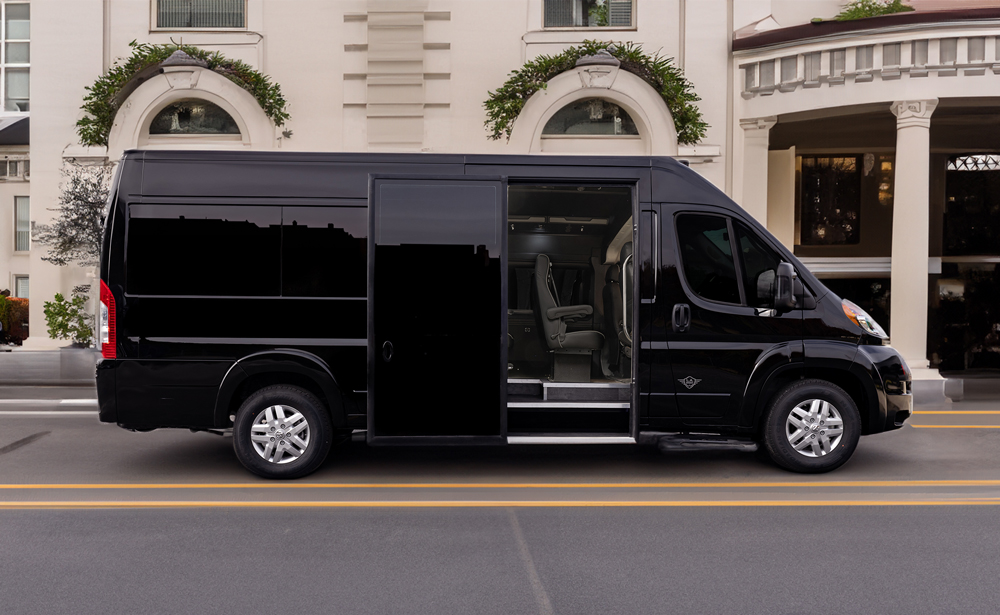 L.A. West debuted their new ProMaster in 2022 Several years ago, L.A. West President & CEO Vern Kauffman began the research and engineering process on a chassis from RAM called the ProMaster, a platform similar to the Mercedes-Benz Sprinter and the Ford Transit, both of which have been wildly successful products for the second-stage builder based in North Carolina. When the final 12-passenger vehicle was revealed at the 2022 CD/NLA Show last November, the responses were consistent: that price!

"There was certainly a positive reaction from show attendees," says Kauffman. "I think one of the more interesting things about this platform is the $25,000 to $30,000 delta between the ProMaster and the Sprinter platform, which is significant, especially in a multi-unit fleet." Kauffman says that there's still a buzz across the industry about the ProMaster, as he's seeing website inquires and receiving phone calls from attendees months later.

While the palatable price point and sleek exterior have certainly caused many an operator to take a second look, Kauffman says it's become a great entry-level vehicle for those who want to explore shuttles without the commitment of a lofty monthly payment. With a tight turning radius and great maneuverability, Kauffman says it's the best driving experience of all their products. Like their top-selling 14-passenger Sprinter, the ProMaster has a 72-inch interior height, which allows for easy entry and egress. But because the ProMaster is front wheel drive and doesn't have a drive shaft, the floor is lower, and the step-in height is only 11 inches—another nod to its versatility.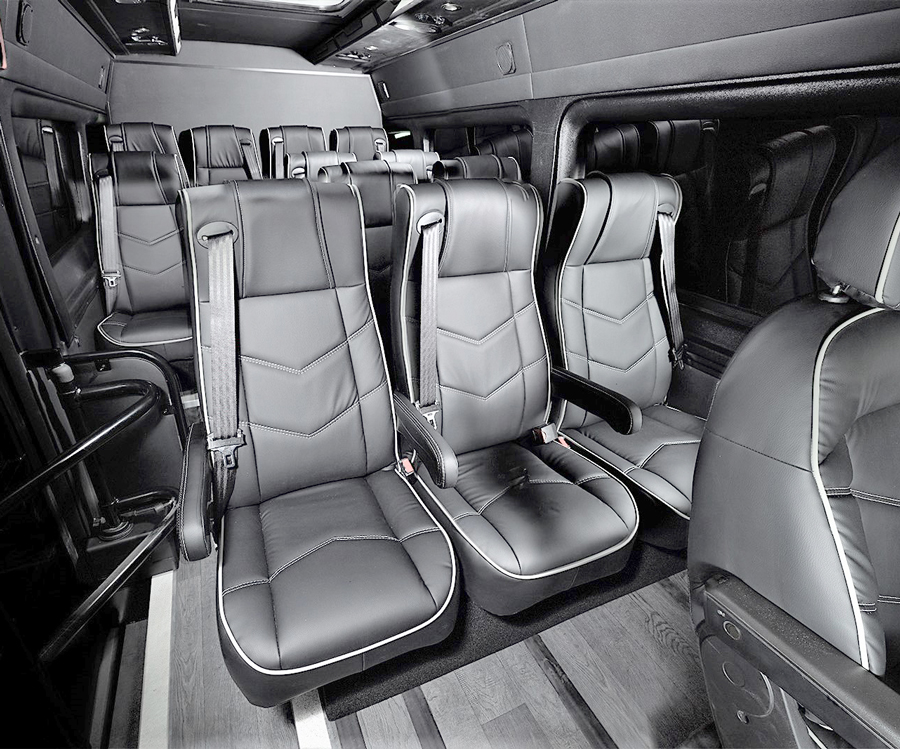 "It does not require a power step or a stationary running board. There's nothing protruding from under the vehicle that is going to make contact with the curb or be a maintenance issue, especially in a cold climate where you have ice or snow getting into the mechanism," says Kauffman.

Price aside, L.A. West still packs in all the high-quality amenities that their customers are not only looking for but demanding. Features like Jacobean wood floors and soft-touch seating provide the finishing touches that make the ProMaster a durable and comfortable ride.

Regardless of the platform, L.A. West products—sold through a nationwide network of dealers—all share three signature features across the lineup. First, their exclusive European-style portal door, manufactured in Italy by a company L.A. West has trusted for more than a decade, boasts a flush exterior finish for better aerodynamics with advanced weather stripping that protects against leaking and wind noise that are common issues with bifold doors.
"We will unveil something very unique on the Sprinter platform that has never been seen in the United States before, something that only L.A. West would be able to execute on." – L.A. West President & CEO Vern Kauffman
"They manufacture all our portal doors, designed specifically for L.A. West, and built to our specs and dimensions. The doors look more refined. It's a popular style of door in Europe, but we are the only manufacturer globally that installs them on the Transit and ProMaster. Design, durability, and serviceability are ultimately what drew us in and why we've continued using it for 10 years," says Kauffman.
Rounding out the standard features are reading lights and duct air conditioning for personal comfort at every seat as well as their stadium seating. This layout allows for extra luggage space in the rear, which Kauffman says is unmatched in the industry.
All L.A. West products come with a 3-year/36,000-mile warranty and can be serviced at OEM commercial dealers across the country. As a certified Mercedes-Benz Expert Upfitter, L.A. West not only has the engineering and technical support of the OEM, but their Sprinters come with full warranty coverage—which isn't always the case when buying from a non-Expert Upfitter as the clock starts from the date the builder receives the vehicle for modification, not the date the modified vehicle is sold to an operator.
"The warranty is ticking from day one, but only Expert Upfitters can delay that warranty start. Unfortunately, that is something that many end users are not made aware of prior to making a purchase. If you are not doing business with an Expert Upfitter, you are not getting your full warranty," says Kauffman.
Never a company that rests on its laurels, the innovative builder is working on a new product that will debut exclusively at the CD/NLA Show this October.
"We will unveil something very unique on the Sprinter platform that has never been seen in the United States before, something that only L.A. West would be able to execute on," he says. "We're excited to get feedback from show attendees."
  [CD0823]