BY MADELEINE MACCAR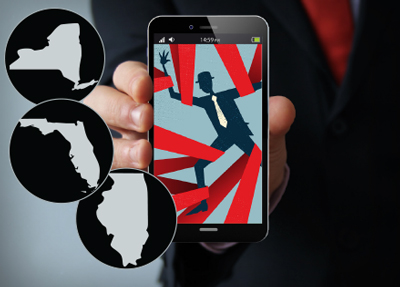 What can be said about the ongoing TNC encroachment that hasn't already been shouted from the industry's collective rooftops? App-based on-demand services cry foul any time traditional commercial transportation regulations threaten the anarchy under which they've been allowed to operate.

What no one really expected was that the conversation would shift from regulating TNCs to deregulating our industry' but that's what happened in a smattering of Florida counties as elected officials realized it's easier to simply stop enforcing regulations instead of juggling different qualifications for transportation services. That's thankfully not the norm—but waiting to see how judges rule' how various states' legislatures vote on bills' and how long passengers can tolerate subpar service delivered by shifty strangers aren't tenable battle plans.

Interestingly' Matt Daus of law firm Windels Marx observed that TNCs may not be getting what they want if the entire livery industry faces deregulation' as it inadvertently creates an environment where traditionally licensed operators are no longer at the financial disadvantage of paying to remain in good legal standing.

"I don't even think Uber and Lyft want to see complete deregulation at this point'"he says. "They want some regulations but they want taxis and limousines to have them' and they're fighting to prevent the playing field from being level."

Our industry will unquestionably keep fighting for not only its livelihood but also the safety of ground-transportation passengers' though its tactics may change and the vigor with which it forges ahead may quite understandably ebb and flow. The enemy of one's enemy is at the very least a potential ally' be it a local competitor or taxi base.

While the fight wages on unequivocally' it does take on regionally specific shapes across the country. Read on to find out how three areas—New York City' Chicago' and Florida—are grappling with TNCs.
New York City

The Big Apple already takes its own approach to regulating the black cars and taxis whipping through its notoriously crowded streets' so it comes as no surprise that it's continuing that course. But that doesn't mean that the only city where TNCs are regulated like their more legally operational counterparts is a stranger to a number of bills that have attempted to undermine the most level playing field in the country.

The first version of S410/A8195' or the TNC Insurance Bill' had a suspicious lack of exemption language for New York City' meaning that the city's comparatively more expensive and comprehensive insurance coverage' and thusly its riding public' were in danger of being thwarted by TNCs' much less robust—but also less expensive—coverage' and diverting more of the professional driver pool away from professional bases or fleets.

"That is not going to happen but if the bill were to pass without the exemption language' it would have allowed that insurance product from James River to be offered'"Daus says. "Nobody else at this time is offering it to taxis and limousines. It's a very exclusive insurance policy that would have allowed Uber and Lyft to lure even more drivers away from black cars."

Daus is also the president of the International Association of Transportation Regulators' which gave city regulators a chance to sound off at its most recent conference about the difficulties of managing TNCs' and traditional livery services. Regulators admitted that perhaps the support shown to TNCs when they were still fledgling companies may have skewed a bit too far in their favor.

"Commissioners from Chicago and New York went on the record saying that they're looking for ideas to level the playing field'"Daus says. "New York City got rid of the probationary license requirement. I think they're realizing that Uber was a new service that they wanted to support' but now there are a lot of small businesses and people that may be unfairly treated. So they don't want to touch Uber' but they're maybe looking for things to do to make the cabs and limos that are licensed—the incumbent industry—happier."

The sheer cost of operating a taxi or chauffeured transportation service in New York is one of the most glaring inequalities between liveries and TNCs' as Uber doesn't pay MTA (Metropolitan Transportation Authority) fees. But Daus believes that surge pricing is at the heart of the conversation about fostering fair competition.

"There are opportunities to help the black cars and limousines of New York City' and I think one of the biggest is surge pricing'"he says. "The biggest mechanism in leveling the playing field' in my opinion' would be to either allow taxis and black cars to surge-price or to limit Uber's surge pricing. It would also remove the desire of our drivers to migrate over there."

Customers' however' have been vocal about their intense dislike of surge pricing' so its monetary benefits to compete with TNCs may not outweigh negative passenger reactions.
Most taxi and limousine operators believe in smart ­regulation that makes sense, not onerous regulation that's unnecessary." – Matt Daus, Windels Marx in New York City

In regard to deregulation' Daus explains the distaste for it among operators being hinged upon low-budget operations' tendency to dispatch dirty' unsafe cars' which would become a black eye for the industry even if only a few engaged in such unsavory practices.

"History has shown that regulation works and deregulation uniformly has never really worked'"says Daus. "Most taxi and limousine operators believe in smart regulation that makes sense' not onerous regulation that's unnecessary. Proper insurance' safe and licensed drivers' basic customer service standards—there needs to be a distinction to enforce against companies that don't meet those standards."
Chicago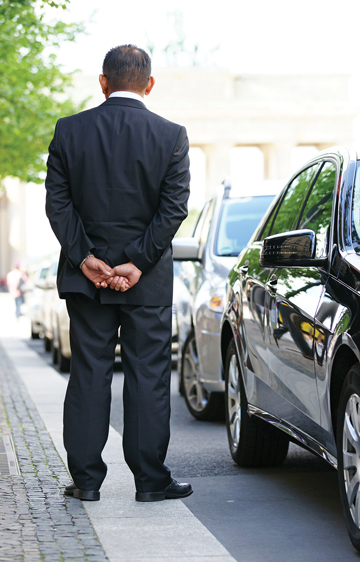 The preferential treatment at play in Chicago sheds an unflattering light on the fraternal connection between Mayor Rahm Emanuel and his brother and Uber investor Ari Emanuel' which' while not something anyone can confirm' is a detail not lost on Illinois operators. The city had been meeting with chauffeured transportation representatives in an ostensible attempt to take their input on TNCs into account' only to inexplicably grant Uber operational airport authority after a mere two-week notice. Pair that with a conveniently timed meeting the mayor held with city council members who were not in support of granting TNCs airport access before voting on the new regulation (which was also tied to a number of tax reforms on the same bill)' and a pattern of coincidences starts to emerge.

It became an increasing point of contention as the Windy City's two airports—Midway International and O'Hare International' one of the world's busiest airports—began making allowances for TNCs that aren't extended to chauffeured ground transportation' especially considering that certain areas of both airports are under the auspices of Chicago itself.

TNCs—referred to as "TNPs"(Transportation Network Providers) at one of the airports—are enjoying upper-level access' a privilege that has never been offered to chauffeured transportation vehicles. Being able to pick up passengers in an historically less congested level of the airport' in addition to signage throughout both O'Hare and Midway directing passengers to TNC waiting areas' is taking its toll on chauffeured transportation.

"I've been out there myself and it pains me to say it' but if you just stand there for 15 or 20 minutes' they're performing a ton of business'"Your Private Limousine owner and Illinois Limousine Association (ILA) President Tracy Raimer says of TNCs. "If you go there in the morning' you do see suits and ties getting into those cars' and those are our customers."

If that's not enough' Raimer went on to deliver some harrowing statistics: She had recently received a report from another area operator that showed' compared to January 2015' January 2016 saw a 17 percent decline in airport reservations at O'Hare while Midway's numbers plummeted by 24 percent.

Deregulation isn't yet on the table in Chicago but TNCs continue to enjoy privileges beyond the airports' property that remain inaccessible to traditional operators. Navy Pier' a city landmark that Raimer says "is one of the main pickups in Chicago'"is now offering special treatment to TNCs' too. In addition to the courtesy of an awning to protect against the elements for which the Windy City is known' Navy Pier is following in the airports' footsteps and putting up signs that point passengers toward both Uber and Lyft cars.

The official reason why Chicago is granting so much to TNCs? Raimer and ILA Secretary Paula DeBiasi of Chicago CoachWorks say that the city's Department of Transportation and Commissioner Rebekah Scheinfeld regard the likes of Uber and Lyft as more convenient methods of travel.
As an industry, if we could provide one unified app as a choice for corporate travel, I think that would be a huge step in the right direction." – Tracy Raimer, ILA President and owner of Your Private Limousine

"When the commissioner is quoted—and she has been quoted several times—she continues to point out that it's their job to make sure that there are a lot of transportation options in Chicago'"says DeBiasi. "Then they say they don't have the capacity to license 20'000 drivers' which' to all of us in taxi and limousine' says that you'd rather take a chance than set up the regulations' that you're going to let TNCs license themselves."

Toward the end of 2015' ILA joined taxi operators as plaintiffs in a federal lawsuit against the city of Chicago over its unfair treatment of taxis and liveries as compared to TNCs' and currently awaits the judge's ruling in the matter. To offset the legal fees' ILA has raised $66'000 in a show of industry unity that includes operators and supporters from well beyond the region; additionally' revamping the association's image with a new website and logo while embracing the invaluable communicative tool of Facebook has worked in the ILA's favor. Whatever the ruling' Raimer stresses that it's crucial to continue fundraising efforts' as the money raised so far primarily covers attorney fees to this point and the fight for a level playing field isn't over yet.

The upside' however' is that those from outside chauffeured transportation are beginning to come around—but it'll take industry unity to change their minds.

"I do think those in corporate travel are starting to become educated and see the pitfalls of Uber but I do think it's a long shot' and I think we're a ways away from them changing policies'"Raimer says. "They are asking for a choice. Right now' when their travelers are out there' Uber is the only other choice they have. As an industry' if we could provide one unified app as a choice for corporate travel' I think that would be a huge step in the right direction."
Florida

With its 67 self-regulated counties' The Sunshine State is no stranger to operational anomalies. And as the long arm of TNCs pounds through the barriers of entry that usually keep fly-by-night organizations at bay' the county-by-county regulatory model emerges as both flawed and beneficial in equal measures. While it is inhibitive for TNCs to seek operating authority county by county' it is also easier to appeal to smaller committees than larger state bodies.

In the past few months' deregulation has come to Florida' as county officials would rather sidestep the high administrative costs and accusations of hindering progress that come with leveling the playing field via increased TNC regulations. When the Melbourne City Council voted to deregulate the vehicles-for-hire industry in November' it had been preceded by both Sarasota and Collier counties' while Broward County had decided to repeal the very TNC regulations that the chauffeured transportation industry has been fighting for—all of this' without question' stemming from TNCs' pockets' which go much deeper than the average operator's' or even a regional association's.

Most recently' though' it's the Gulf Coast city of Tampa that has been making headlines. Hillsborough County' in which Tampa is located' very nearly faced potential deregulation by way of Florida House Representative James Grant' though the motion was not filed in time. While other counties have transportation commissions and limousine divisions' the Hillsborough Country Public Transportation Commission (HCPTC) is the only one both regulated and appointed by the state through a special act via state legislature.

There are a number of industry-related state House and Senate bills on the table right now' on which Florida operators and the state's taxi association have been working closely together. While WFLA Executive Director Dave Shaw has doubts that they will pass' he is certain that at least deregulation will not be as much of a problem for Florida operators' as regulatory standards will be upheld and companies may finally catch a financial break.

"We have operators from Sarasota in the WFLA' and they feel that deregulation hasn't really affected them a lot—though the taxi industry' of course' is in disarray down there'"he says. "We feel that if deregulation happens to us' a lot of our fees and other costs are going to go away' but we're going to still operate and serve our clients as a chauffeur-driven vehicle' so I don't think there's actually too much concern."
Where do we go from here?

Pay close attention to key issues as they play out both locally and nationally' keep fighting the good fight' and embrace industry unity' for starters. Coming together as an industry offers strength in numbers: Chauffeured ground transportation is packed with operators who would much rather see a nearby competitor succeed than lose client after client to the convenience of TNCs. As operators throughout the country have been finding out' partnering with taxis offers mutual benefits. Suddenly finding an increased pool of resources—as well as costs that' when halved' decrease just as suddenly—has been a boon to operators across the country as they reach across the long-established chasm separating luxury ground transportation from taxis to find an untapped avenue of support.

"We are absolutely working closely with taxis'"Shaw says. "We're basically fighting for the same common goal' but they have a little more at stake. We've combined our resources: Like up in Tallahassee last year when we had the press conference' [Florida Limousine Association President] Rick Versace and Lou Minardi [of the Florida Taxicab Association] had a joint press conference. It showed the united front of the taxi and limousine industries."

Raimer calls for unity' too' though feedback she's received from her corporate clients is more along the lines of suggesting that the chauffeured ground transportation industry unite on a single app platform.

"Everyone wants to white-label and sell their own apps—but the corporate traveler doesn't want 50 or 100 apps on their phone'"she says. "I believe we need a universal app so the industry can provide the same service as Uber' giving corporate travelers a choice. They already like our services' and they're fine with our rates' our background checks' our drug testing—they've been fine with it for 50 or 75 years if not longer' but they don't have a choice when it comes to the convenience of that on-demand transportation service that they're looking for."

And Daus suggests that' in addition to keeping an eye trained on industry- and TNC-related lawsuits throughout the country as well as emerging aggregators like Karhoo' operators figure out what models are most viable for their companies.

"I think the future is going to see experimentation with different models within this industry'"he says. "Some operators will continue to experiment with the employee model because it allows you to distinguish yourself from Uber' as well as insulate yourself from the issues that Uber may be facing in the next two years."

No matter what happens' it's important to keep in mind that TNCs' especially and perhaps most notoriously Uber' can barely keep their own houses in order and could ultimately be their own worst enemies. Driver protests are becoming increasingly common—not just in the States but across the Atlantic' too—in proportion to their growing sense of being both alienated and mistreated by the company. This mounting sense of malaise from within is underscored by the ongoing legal battles in which Uber is embroiled' like the California lawsuit that could set a precedent for drivers to be treated as employees rather than independent contractors. And while Lyft tends to avoid the negative press that seems to dog Uber these days' the pink-mustachioed company did just agree to settle its own class action lawsuit in January—to the tune of $12.25 million—even if its drivers are still not considered employees.

It is' of course' impossible to predict what the future will hold. But maintaining the integrity of your operation and working with others who do the same is the best way to ensure that the chauffeured ground transportation industry will emerge victorious in its fight against TNCs' shadier dealings—and rise above to meet the next disruption head-on. [CD0216]