BY ROB SMENTEK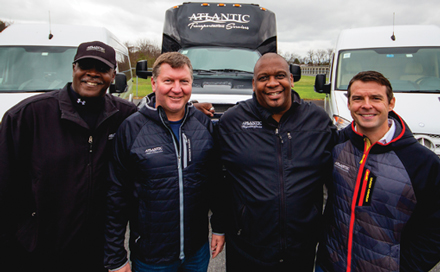 Members of the Atlantic Transportation Team (L to R): Marlon "Sparky" Sparks, Steve "Monty" Montgomery, Tyrone Gale, and Christopher "Chip" Thompson In the early morning hours of June 7' 2014' Tyrone Gale Jr.' president of Rehoboth Beach' Del.-based Atlantic Transportation' was feeling good as he headed north on the New Jersey Turnpike with an A-list of comedy talent in his Mercedes-Benz Sprinter. Gale' along with his co-driver Ed Walpole' was chauffeuring comedian Tracy Morgan home to New York after a successful show at the Dover Downs Hotel and Casino in Delaware. The Saturday Night Live vet was accompanied by fellow comics Harris Stanton' Ardie Fuqua' and James "Jimmy Mack" McNair' as well as Morgan's assistant Jeff Millea.

"I've always been a huge fan of comedy'" confessed Gale' "Anyone who works with me will tell you' if there's a comedian coming to town' I'm going to drive him." On his list of favorite comics' he includes Morgan' who became a popular player on SNL and later gained acclaim as a cast member on NBC's sitcom 30 Rock. Though he had never driven Morgan before' he immediately formed a bond with the star and his entourage.

"It was surreal to hang out with those guys for eight hours'" he said. "There were moments where business got set aside and it became a group of guys talking about comedy. They had me in tears on the way down to Dover Downs. They were using me as a warm-up exercise and they were killing me."

At around 1 a.m.' traffic on the turnpike began to creep to a standstill due to highway construction near Exit 8A' just a few miles outside Princeton. After coming to a halt' Gale's Sprinter was hit from behind by a Walmart tractor trailer' whose driver had fallen asleep at the wheel. The truck' reported to be travelling at 65 miles per hour' spun the vehicle on impact and flipped it on its side.
Everyone walked the walk with me. I'm back on my feet because of my family and friends, and people who know me at my core." - Tyrone Gale of Atlantic Transportation

It was a dramatic scene. Traffic was stopped on a major interstate artery' while the Sprinter lay on its side. Fortunately' Gale' Walpole' and Stanton managed to escape the wreck with minor injuries while Morgan' Millea' and Fuqua were immediately transported to a hospital' where they were listed in critical condition. Tragically' McNair was pronounced dead at the scene.

The driver of the truck' Kevin Roper' who was charged with vehicular homicide and assault by automobile' was indicted in December 2015. The NTSB report found that he hadn't slept in 28 hours.

The incident immediately received extensive media reporting; becoming an overnight celebrity was awkward for the business owner. "I had old military friends who texted me the next day from Okinawa'" Gale said. "The news coverage was worldwide."

And being in the spotlight had significant impact on Gale during a particularly difficult time. He struggled with his own injuries as well as the aftermath of the wreck and its effect on his company. Moreover' the accident was a top news story for weeks' placing him under intense media scrutiny: "I always wanted to be Ty the Limo Guy' rather than Ty the Crash Guy."
A PATH TO SUCCESS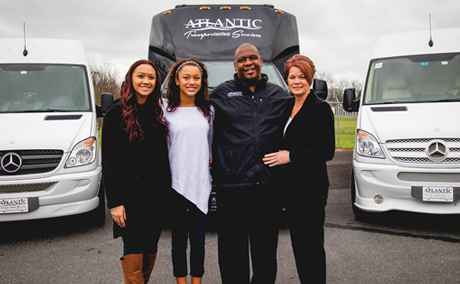 The Atlantic Transportation Family (L to R): Daughters Alexis (20) and Ashley Gale (12), Tyrone, and wife Ellyne Gale Gale entered the chauffeured ground transportation industry after working as a driver in the trucking business. He became a chauffeur in 2001 and' as his friend and one-time colleague Michael Barreto of Flyte Tyme Worldwide Transportation in Philadelphia puts it' "once Ty got bitten by the limo bug' there was no going back." After several years of learning the business and making industry friends and contacts as a chauffeur' Gale was encouraged by his clients to branch out on his own. Eventually' he assembled a group of partners and founded Bayside Limo in Dover' Del.' in 2005.

"It's kind of funny' I always felt that every job I've had is relevant to the chauffeured ground transportation industry'" he said. Whether it was washing dishes or bussing tables when he was a teen' or when he was delivering BMWs and other luxury cars as a truck driver' Gale's career path has been often been underscored by the same motto: Service is king.

Bayside quickly became a respected name in the industry' and was taken on as a preferred transportation provider to the neighboring military base in Dover. In fact' this was a leading factor in the next phase of Gale's career. With a new group of active investors and partners' Gale formed Atlantic Transportation—a "receipt friendly" name for military billing—and purchased all assets from Bayside. The new company was immediately successful' earning $800'000 in business during its first year.
ROAD TO RECOVERY

Accidents happen every day in the industry' and their impact is felt at all levels of a company. While an operator is generally forced to deal with the headaches of insurance and potential litigation' the chauffeur is often left carrying the heavy emotional baggage that goes with being involved in any crash. But when the incident is catastrophic or results in a fatality' the burden increases a hundred-fold—and Gale had the unenviable situation of dealing with the turnpike accident both as an owner and a chauffeur. Fortunately' he had an extensive support network of industry peers' close friends' and' especially' his family.

"When the accident happened' the first thing on my mind was my kids'" Gale said of his two daughters' Alexis (20) and Ashley (12). "I'd been so focused with my head down' always thinking 'business' business' build it' build it' take care of your kids' that I was missing soccer games' missing this' missing that—it was my biggest regret at that moment."

Barreto credits Gale's wife Ellyne for his recovery: "She's his rock. Without support from her and his business partners' things might have been different. It's been great to see Ty's evolution."

Although he was diagnosed with post-traumatic stress disorder' Gale was determined to come back better and stronger. His responsibilities as a husband' a father' and a business owner weighed heavily on him' and he resolved to get back behind the wheel quickly.

"Everybody from the industry was sending support and phone calls. They shared their own tragic stories' and encouraged me to take time off'" Gale said. "People told me it might take five years to get over' but that wasn't an option. I told my therapist when I sat down' 'I need help—but you have six months. If I'm not out there kicking butt in six months' you're fired.' She told me that I was one of her best patients because a lot of people' when they're knocked down' they want to stay there."

The outpouring of support in the immediate and more distant aftermath of the accident illustrated just how well-liked Gale is in the industry. His friends and co-workers reached out frequently to offer their support and condolences. Among them was Brian O'Neill of Exton' Pa.'s Wolfington Body Company' another close industry friend of Gale's.

"During our initial discussions after the accident' Tyrone was suffering from severe depression and an overwhelming feeling of guilt'" O'Neill said. "This came as little surprise to me from the type of guy he is. Tyrone takes his work very seriously' and has an infectious personality that makes him an easy guy to befriend' as is proven through the relationships he has with all of his clients' including those involved in this tragedy with him. Their life and safety were his responsibility' and while there was nothing he could do that evening to avoid what happened' it was evident Tyrone was having difficulty shaking this pain."

In the weeks following the accident' Gale reached out to Stanton. "I was glad when Ty called me after the accident'" said the comedian. "He was feeling really guilty about it' but I let him know that he had no control over what happened."
DRIVING TOWARD THE FUTURE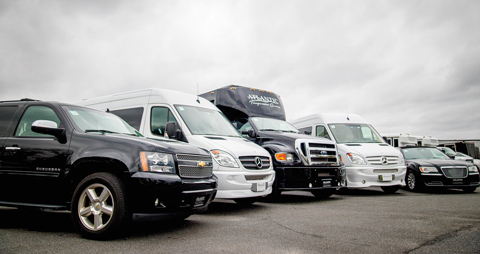 With therapy' friendship' and a strong sense of faith' Gale was eventually able to get back to work. Eight months after the accident' Gale took back the keys and returned to Dover Downs to drive comedian Marlon Wayans. "I took it as my own personal challenge. I didn't know if he was going to say' 'Hey' aren't you the guy...?' but he never talked about it. I drove him from Philly and back. After I dropped him off' I took a deep breath' and the smile I had when I drove back to Delaware would have made you think I won the lottery."

Gale has been thrilled to watch Morgan's recovery. After months of extensive rehabilitation' Morgan made slow steps toward a comeback. In June 2015' he did his first post-accident interview with Matt Lauer on the Today Show' and later made a surprise appearance at the Emmy Awards' where he received a standing ovation. On October 27' 2015' Morgan made a triumphant return to the Saturday Night Live stage—this time as the host' and is once again performing stand-up comedy in clubs and concert halls.

Though it may seem strange' Gale has been able to take away some good from the incident. "The most positive aspect is that I got a brotherhood out of it'" he said. He and Stanton have become friendly in the months since the crash' and have socialized a number of times. More importantly' the bond he developed with Stanton and Fuqua played an important role in overcoming his PTSD. "I swore never to take the N.J. Turnpike again' but that same voice that's been kicking my butt all along said' 'You gotta get on your horse and take the Sprinter.' So' we recently drove up to see Ardie perform in New York and Harris stopped by' too. I also speak with Jimmy McNair's family a lot' and they understand it wasn't my fault. If I could have taken Jimmy home' that would have been the perfect outcome. No amount of money from Walmart will change that."

He also feels that the tragedy has created a stronger bond within the company. After the accident' he toured the facility and visited with everybody to let them know he—and the company—was still around. He feels that the gesture gained him further respect from his employees. "I wanted them to feel that they are part of my family'" said Gale.

After reviewing a copy of the accident report' the owner-operator has made a special point of giving credit to Midwest Automotive Designs of Elkhart' Ind. Gale firmly believes that the quality of their Sprinter was instrumental in preventing the accident from being even worse.

Perhaps most importantly' the accident has given him new perspectives on both life and business. "I learn something every day. I learn from my kids' which is crazy. I got cut off on my way to drop my daughter at school' and was complaining about it. My daughter turned and said' 'Daddy' don't let that person ruin your day.' So' it's that kind of stuff that I've been awakened to."

Incredibly' Atlantic Transportation had its best year after the accident' and a thankful Gale is happy to offer guidance to those in the industry who might one day find themselves in a similar situation. From a business standpoint' he stresses the importance to having all paperwork current and in the car. However' his key piece of advice is to realize when you need help.

"Vulnerability is not synonymous with weakness'" he said. "Everyone walked the walk with me. I'm back on my feet because of my family and friends' and people who know me at my core. Initially' when you get in the car' you can't have shaky nerves and be second-guessing. I felt more of a danger driving my personal pickup truck' and I wasn't going to subject clients to that—I knew I wasn't ready. When I got ready' I went out there and tackled it. Sometimes there's a voice that tells me to relax' that I don't have to put myself through this' but I love it. I get paid to do what I love." [CD0216]