BY LIZ HUNTER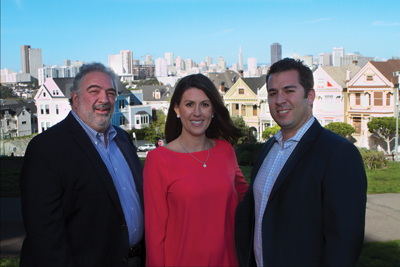 Founder and President Sam Amato with his daughter Gina Amato-Bonelli, administrator of finance and new projects, and son Joel, director of affiliate operations, in front of San Francisco's famous Painted Ladies row homes
Joel Amato never had aspirations to be involved with Gateway Global, his father Sam's chauffeured transportation company. "I wanted to have a career in finance; I wanted to be the one in the back of the cars, not the one managing them," he says. "My dad never forced me into doing this, which often happens with family-owned companies." That doesn't mean Joel didn't do his fair share of work for the business while growing up: From washing cars to accounting, he did it all. After college, he planned to take a project manager position in London after working six months for a firm there, but while back home waiting for his extended visa to be approved, he spent some additional time at Gateway and had an experience that completely changed his mind.

"I went to a show and realized that the people in this industry are what make it so great," says Joel. "It's the relationships and friendships, and being able to have fun with them. It was something I wanted to be a part of."

As fate would have it, Joel's visa was denied and the banking industry was about to start showing some cracks that would lead to the recession. After his father made him an offer he "could have refused but didn't," Joel joined Gateway as Director of Affiliate Operations in 2007. Since then, Joel, his sister Gina, and the company's team of forward-thinking employees have been helping to bring the family business into the next generation.

Sam Amato began driving limousines for his father-in-law in 1978 as a part-time gig. "What really turned me on about driving was being able to show tourists San Francisco and the surrounding area, taking them to the wine country, and teaching them about wine," says Sam, who is well-versed on vino and was once a wine and liquor buyer for a grocery chain.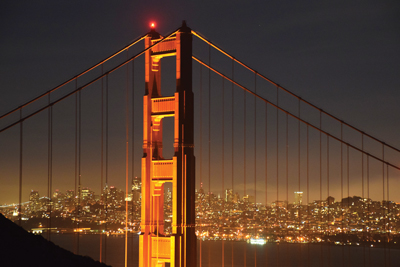 Golden Gate Bridge, San Francisco Sam purchased his first limousine in 1979 and secured an executive limo shuttle contract with the Sheraton Hotel San Francisco the next year, which put him in contact with high-level executives going downtown. It was a new side of the business and the more connections he made, the more it grew. In 1982, the Sheraton offered him an on-site office and a contract to manage their small fleet limousine and shuttle program. Three years later, he grew Gateway to more than 20 vehicles and operated out of 40 major hotels.

Incredibly, Sam did all this while also holding down another job. He continued working as general manager at the grocery store, eventually asking for a demotion to night crew manager. "I would work midnight to 8 a.m. at the store, sleep, then go to the Sheraton until 6 p.m., then crawl into bed for a few more hours," he says. "I did that for five years, and slowly reduced it to five days a week, then four, then three, and I was out of the grocery business completely by 1986." With his full attention on Gateway, Sam was able to build up his group business while also growing relationships with local affiliates. In 1988 he added a second office in Burlingame, putting him closer to San Francisco International Airport (SFO) and in a better position to service corporate clientele.

Within a few years he hooked up with national affiliates from networks run by Carey, Dav El, and Metropolitian. "Many of those same operators are still partners today," says Sam.


The clients we've retained and gained are people who love working with us. Those are the clients we want. They understand the value of the service we ­provide." – Joel Amato, Director of Affiliate Operations at Gateway Global

Currently, Gateway boasts more than 90 vehicles; an office staff of more than 40 people; a mechanical, detail, and warehouse staff of 20; five salespeople; and more than 140 chauffeurs and drivers in three departments: executive, hotel/shuttles, and events.

Clients range from financial to pharmaceutical and technology. "I have an old saying: 'We drive the economy of the world,'" says Sam.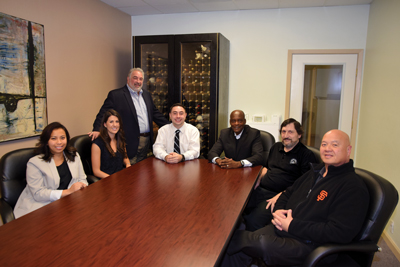 L to R: Accounts Receivable Manager Cherry Bustamante, Gina Amato-Bonelli, Sam Amato, Accounts Receivable Tony Amato, Affiliate Accounts Manager Michael Inniss, CFO Tom Amato, and HR Manager Gerry Jacinto San Francisco is known for iconic landmarks such as the Golden Gate Bridge, the former Alcatraz Penitentiary, Chinatown (North America's oldest), and pop culture TV show favorite the Full House home (now the Fuller House home!). The city is historically known for its Beatnik and hippie countercultures and liberal-leaning attitude, and it's the birthplace of the rainbow flag as a symbol of the LGBT community. It's not surprising that some of the most progressive and innovative companies have chosen San Francisco for their headquarters. Among them are Instagram, Facebook, Google, Pinterest, and Lucasfilm, as well as other internationally recognized brands like Gap and Levi Strauss, or financial institutions including Wells Fargo, Franklin Templeton, and Charles Schwab.

As a result of these high-tech companies and neighboring Silicon Valley, the City by the Bay's standard of living has increased. Property values and household incomes are among the highest in the nation, forcing middle- and lower-class families to leave the city for the Bay Area suburbs.

Culturally, there is much to see and experience in San Francisco. The Fillmore is a historic music venue that hosted acts such as the Grateful Dead, Led Zeppelin, and Janis Joplin before they were famous. Other musical mainstays include the War Memorial Opera House and Davies Symphony Hall. Art buffs have access to the San Francisco Museum of Modern Art, the de Young Museum, and the California Academy of Sciences, among others.

The Golden Gate National Recreation Park sees more than 13 million visitors a year, and includes Ocean Beach, Baker Beach, Fort Funston, and Alcatraz among its popular attractions. Sports lovers can take in a baseball game at AT&T Park, home to the San Francisco Giants (World Series champions of 2010, 2012, and 2014), or a football game at Levi's Stadium where Super Bowl 50 was hosted earlier this year. Another recent championship-winning team, the Golden State ­Warriors, clinched the NBA title in 2015 and play in nearby Oakland.

This well-rounded collection of sights makes San Francisco a popular tourist destination. It ranks fifth-highest in foreign visitors of any U.S. city, contributing to its over 18 million visitors in 2014. Hotels and convention centers have capitalized on this surge and Gateway has made group and event work a major priority in its business model.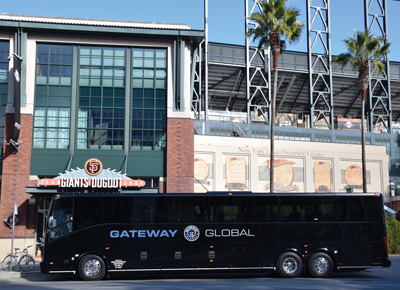 Gateway's Van Hool motorcoach at AT&T Park Joel has been leading Gateway's efforts catering to meetings and events. "We started mainly with arrivals and departures, hotel transfers, and occasional dinner outings for the groups," he says. "But within the past year and a half, we've been managing some larger people moves for corporate clients including law firms and banks, such as off-sites like paintballing excursions, wine tastings, go-karting, as well as holiday parties."

Gateway recently managed a large event, moving 10,500 people in one day. "It was a lot of planning, making sure the right drivers were in place, training staff to know where they were going. A lot of moving parts," says Joel. "We've gotten very good at running and managing these events."

They have a dedicated department for meetings and events, and Joel works alongside event managers and VP of Client Experience Caroline Cua, who all play a big role in building the network of local affiliates needed to see these large events through.

"One of the biggest successes for me in this business is the relationships we have with our partners," says Sam. "We count on our partners to help us. It's important to what we do."

In response to the company's growing group business, the Amatos invested in their own motorcoaches, purchasing new Van Hool coaches. "Van Hool is prevalent in the Bay area. There must be 300 to 400 Van Hools in Silicon Valley running shuttles for employees," says Joel. "The proximity to their parts and local service center was a big reason we went with them. We did a factory tour before taking delivery and learned more about what they put into it. They are a family-owned business like us and truly take pride in what they do."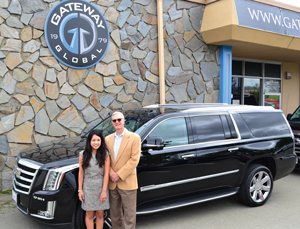 VP of Client Experience Caroline Cua and VP of Sales and Marketing Reed Thompson at Gateway Global's headquarters Among his other ventures in the company, Joel has helped modernize Gateway in more ways than one. "We've been in this location since the late '80s and the office hadn't gone through a remodel," says Joel. He pressed his father to agree to the project and both Sam and Joel concur that it has brought new life to the space and has been a huge morale booster for the staff.

Marketing is another one of Joel's passions. "In 2007 we were still Gateway Limousines, and then the industry started making changes, moving away from limousines, so it was getting messy from a branding standpoint," he says. "We decided on Gateway Global. It's a challenge in a family business to get people out of their comfort zone. It was a new name but with the same heart, and that's what drove it. We had to make sure we didn't alienate clients, but it has helped us grow significantly."

"We've doubled in size and revenue since Joel has come aboard," Sam adds.

"The clients we've retained and gained are people who love working with us," says Joel. "Those are the clients we want. They understand the value of the service we provide and we've stood by our pricing."

Sam's daughter Gina Amato-Bonelli joined the Gateway team as administrator of finance and new projects manager in 2014. Joel says she has helped immensely since coming on board by bringing with her both a background in and experiences working for large corporations in several different industries.

"After college I worked in finance for six years," says Gina. "While doing that I earned a secondary degree in fashion and had dreams of running my own company. I started my own clothing line and worked at Levi Strauss for two years after that. Then there was a finance opening here at Gateway and I jumped at the chance to work with my dad and brother."

Working in a family business wasn't everything she imagined, though. "It's the hardest job I've ever had because I care the most about it. That makes the time and effort I put in worth it," she says. Gina has taken on additional responsibilities with project management and marketing. She is currently working on a new website design, and she led the launch of SantaCruz, which was implemented this past August.

Based in such a technology-focused area of the country, the Amatos have had to adapt, but Joel says they don't let it blur their vision while focusing on what they do best. "There is so much business out there and we're going to continue to provide great ground transportation and chauffeured service," he says.

Even up against the millennial darlings Uber and Lyft, Joel says those models can't compete with the personal touch Gateway gives its clients. "Relationships matter. Clients know they can come to us and we'll take care of them and we care about them. There are still people out there who want that personal experience," says Joel.

In some ways, technology has impacted those in the service industry. Apps help people minimize their personal spend on services as the cost of living continues to rise. In the case of chauffeurs and employees, Sam says, "It's a challenge to find qualified employees and it's hard to pay people what they need to get paid in order to live here."

"In cities like New York or Chicago you can live on the outskirts affordably, but in the Bay area, you have to go four hours away to touch anything affordable on service industry-level pay," says Joel. "The drive times for people to get here are high, which results in high turnover. It's hard to find people who are willing to put in the time and grow."

The Amatos are thankful for the strong team they have built, many of whom have been with the company for years and others who joined more recently. "It's a great mix of young and veterans with a few in the middle like me," says Joel.


There's a lot of pride among the chauffeurs, and when they feel good about what they are doing, the client feels that." – James Lilley, Director of Chauffeur Development at Gateway Global

The Amatos highlight Gateway's VP of Sales Reed Thompson, who came from the tech industry and is teaching them new ways of doing things, and a VP of Shuttles John Debenedetto, who has a wealth of financial knowledge. Then there is James Lilley, director of chauffeur development, who has been with Gateway for more than nine years.

Lilley, who has a background in film and fine arts, spent time in the service industry in New York City, eventually going to work at a private country club company in Texas and becoming the owner's private butler. He brings this butler mentality to the chauffeur training program at Gateway.

"I had extensive training from these companies so I put together a program combining service and courtesy with safe driving skills and ergonomic listening," says Lilley. "The program is five days of training and can be extended based on a person's aptitude. We have a range of candidates, some who have limited education and others who graduated from MIT. We personalize the training to bring out the best in each individual."

Lilley helped develop a team system with five team leaders who assist in communicating with the company's chauffeurs. "The team leaders are out in the field daily, talking to and encouraging them while I'm in the office training and retraining," he says.

He also hosts a competition between teams based on DriveCam incidents. Lilley personally watches every incident and deducts or adds points based on how correctly the chauffeur reacted, and factors in feedback from clients, too. The winning team has dinner with Sam at the end of the quarter.

"Dining with Sam is a truly opulent experience—they look forward to it," says Lilley. "It's a nice way to extend the family atmosphere to the team and it's a great motivator."

The industry has taken notice of Gateway's chauffeurs as well. Since 2009, the company has had four Taxicab, Limousine & Paratransit Association (TLPA) Chauffeurs of the Year, which mostly recently included chauffeur James Vlahos in 2015. "There's a lot of pride among the chauffeurs," says Lilley, "and when they feel good about what they are doing, the client feels that."

Part of Gateway's success has been communication, whether between the team leaders and Lilley or department managers and Sam and Joel. "We would set weekly management meetings for years and never stick to them," says Sam. "I have to thank Gina for really stepping up and making it happen every week."

"Everything you do affects someone else here, and it's important we maintain open communication so that all teams are on the same page," says Gina.

Sam admits it hasn't been easy letting go of some of his everyday duties. "I'm a micromanager," he says, "but I have two good, hard-working kids and I can trust them."

He remains incredibly active with the TLPA, of which he has been a member for 15 years, and was recently elected as an executive director of the board. "It's so important to be involved in these associations because they do make a difference in what's going on with policies and government," he says.

Joel sits on the Greater California Livery Association (GCLA) board, now in his second term. "The GCLA is really a voice for companies operating in California," says Joel. "Right now the association is concentrating on leveling the playing field with TNCs."

Moving forward, Sam believes Gateway has become more of a logistics firm than a limousine company, and he sees Joel and Gina spearheading the company's transition to a millennial company. Group transportation and events management will be at the center of Gateway's next generation.

Of course, it's not always easy to let the younger generation make the decisions, and it's a fact many companies in this industry deal with. The Amatos do have some advice to make it work. "Send the parents on vacation," joked Joel.

Sam laughs that one off, and adds, "Keep an open mind and be ready to make changes. Listen to the young people."

Joel says the younger generation should be prepared to be met with some reluctance. "I know how to sell my dad on things that need to be done but I also understand the pushback—why he might be hesitant about an idea. It's usually cost related, but I show him what we'll be gaining," says Joel.

Sam's clearly been listening.

"I'm happy with where this company started from and where it's going," says Sam. "They have made me very proud, and I see nothing but great things in the future." [CD0416]