Details

Category: Industry News
Maywood, N.J. — When Dori Avishay, CEO of Alpine Limousine Service, made the move to update part of his 85-vehicle fleet, he decided on the ultra-luxurious BMW 740 Li xDrive, the top-of-the-line sedan from the German automaker. Replacing some of Alpine's older Lincoln Town Cars and MKTs that served the company well, he wanted vehicles that had a little extra elegance and styling that matched his level of service.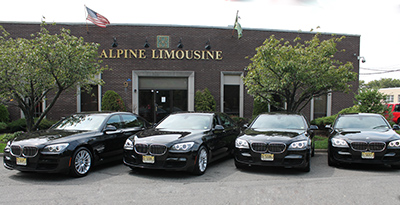 "For my type of upscale clients, the BMW was an exotic, luxury vehicle that they could appreciate," he says about his corporate and VIP clientele. "With these cars, you don't feel the road or the potholes like you would with other sedans. They are safe, luxurious, and classic; they're a good car to operate." He purchased 15 and they have been a part of his fleet for about a month now.

The 740 Li is the extended wheelbase version of the 7 Series, and features 44.3" of leg room in the rear for the ultimate in comfort—the best of all of its sedans. Alpine's vehicles are also xDrive, BMW's version of all-wheel drive, which Avishay says will come in handy during the snowy Northeast winters. The cargo space is on par with most of the industry sedans at 17.7 cubic feet, while the fuel efficiency is 19 (city) and 28 (highway). BMW also offers an extended service plan, which brings the warranty to 3 years or 150,000 miles.

Avishay also says that using the BMWs for affiliate work has been a boost to Alpine because customers and affiliates alike love the vehicles—mostly because they aren't expecting such a lavish sedan. He says that he's been able to maintain his rates, even though purchasing 15 vehicles was a sizable investment. He worked with BMW Key Account Manager Marco Schneider to find a price point that made the additional vehicles affordable, including special fleet rates and an additional incentive for making a volume purchase. Based on the positive response he's received so far, he definitely plans on adding more in the future.

"For me, safety is the number one most important thing for my business," he says. "We inspect vehicles weekly in our in-house garage, even if they are only two months old. I'm a safety freak. These cars are safe, luxurious, and accommodating, and that's what I want for my clients."

Visit alpinelimonyc.com for more information about Alpine Limousine Service. For more information about the entire BMW lineup, contact Marco Schneider via email at Marco.R.Schneider@bmwna.com or phone at 201.307.4465. For special livery pricing and other information, click here: http://bit.ly/1iu0MCa.

[CD0814]
Details

Category: Industry News
Toronto — The Canadian Limo Summit, the first-ever partnership between the Ontario Limousine Owners Association (OLOA) and Chauffeur Driven, proved that it found the winning combination of interactive educational sessions, a showroom filled with exhibitors, and a whole lot of networking opportunities.

The Aug. 10-11 event brought 150 attendees from all walks of the chauffeured ground transportation industry together at the InterContinental Toronto Centre, making for an intimate affair that facilitated new relationships and brought together familiar faces.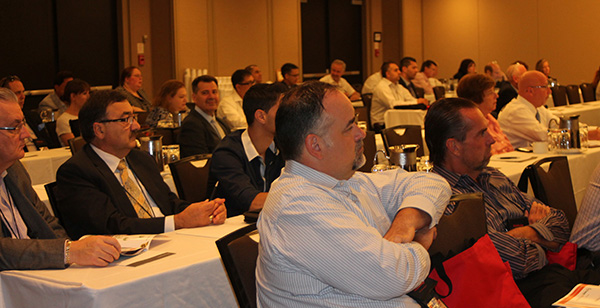 "I liked the smaller gathering because, as an affiliate manager, I'm there to network and get to know people," says Perry Barin, the West Coast affiliate manager for Music Express. "I was able to meet everybody one on one with 150 people, as opposed to a large-scale event where it's hard to talk to everybody."
The event was bookended by two friendly gatherings—an opening night reception sponsored by MV-1 Canada and a Grech Motors-sponsored scenic cruise on Lake Ontario aboard the Capt. Matthew Flinders—and packed three workshops brimming over with information between the two festive functions.
Following a breakfast sponsored by Battisti Customs and Macnab Transit Sales was the first of the day's sessions, "Customer Retention: Keeping Clients Engaged and Loyal by Exceeding Expectations," co-presented by Kyara Kahakauwila of LA Limousines and Mike Zappone of All Transportation Network. Kristen Carroll of Grace Limousine and The LMC Group then took to the podium to discuss "Employee Motivation & Retention: Creating a Happy and Healthy Environment that Increases Productivity." Jason Sharenow of Broadway Elite Chauffeured Services Worldwide served as moderator for all three of the day's workshops.
The hearty lunch sponsored by DUR-A-BUS Coach Builders offered a quick break before the Metro Toronto Convention Center flung open its doors for the showroom hours, where the likes of Battisti Customs, Creative Carriage, Fleetmatics, Grech Motors, MV-1 Canada, and VMT Enterprises put their products and services on display for all conference-goers to see.
Bill Battisti, president of Battisti Customs, had nothing but praise for his company's experience as an exhibitor and sponsor in such a close-knit, casual environment. "It was definitely a captive audience, and I felt like we got to show everyone there our product," he says. "No one hurried through because people weren't rushing around to go to the next thing. You were able to actually see the whole show in a day and take your time with the products and vendors."
After the exhibit came the third and final session of the day. Andi Gray of Strategy Leaders asked her audience "Are You as an Owner Demanding Enough of Your Business?" before the workshop turned to a truly interactive event as audience members sought Gray's guidance for ways to adapt to a post-Uber industry.
Naomi Glaser, senior vice president and founding partner of Valera Global, attended all three of the workshops and found them to contain a wealth of knowledge. "The seminars were interesting, informative, and interactive, and their success was due to the fact that the presenters were not only professing what they have found to be successful but also encouraged lively discussions where we all learned," she said.

With Brentwood Livery's new buses—built by Grech Motors—providing transportation from the hotel to the docks, a four-hour dinner cruise as the sun went down and the skyline lit up was widely hailed as one of the summit's highlights. Barin found the view to be "priceless, with the CN Tower and the city lights," while Glaser enjoyed the "delightful weather, drinks, and conversation."
"That was probably the most optimum choice of an event for closing the summit. It was just spectacular: The scenery, the food, the whole concept of a cruise rather than staying at a hotel in a room or something," OLOA Treasurer Phil Bozzeli says. "Doing the boat cruise for four hours, it kept everybody as a group together so they could mingle and socialize on the nicest ship in the whole harbor."
If you missed out on the Canadian Limo Summit, rest assured this isn't CD's only event for 2014: We'll be back this fall with our Atlantic City trade show and conference, which runs from Nov. 2-5 at the Trump Taj Mahal. In the meantime, check out our September issue for a full wrap-up about the Toronto event, and be sure to check out chauffeurdrivenshow.com for more information.

[CD0814]
Details

Category: Industry News
Redwood City, Calif.—Mosaic Global Transportation now has a presence in Los Angeles, thanks to its recent acquisition of Spann Luxury Limousine.

Maurice Brewster, Mosaic's president and CEO, said that the deal, which was "inked three or four weeks ago," is the opportunity he's been waiting for to break into one of the biggest transportation markets in the world.

"It's been a fantasy for me for years but it never was the right time, it never was the right person. The timing with this was great," he says. "They wanted to make a change and we wanted to expand into the LA market."

Spann had been an affiliate of Mosaic's for nearly the entire duration of the former's nine years of operations, which gave Brewster the assurance he needed that he would be acquiring an established company whose existing staff could maintain the level of quality he expects.

"We knew them, and that they were performing and delivering our brand of service in the LA market for so many years," says Brewster. "They were doing our trips so they knew how to represent us the way we wanted."

In addition to acquiring Spann's employees, assets, and clients, Mosaic will also be expanding its fleet by eight additional "sedans, SUVs, and a Mercedes Sprinter," says Brewster, with plans to grow both the fleet and the business in LA.

With a longtime dream coming true, Brewster is excited about what the future holds and looks forward to bringing Mosaic's transportation services to the City of Angels with the support of a new staff and pre-existing clients alike.

"We can go to our corporate clients and let them know that we're physically present in that market. A vast majority of our clients that support us and give us business in San Francisco agreed to do the same thing down in LA," he says. "The LA market's pretty competitive but I think there's room for another good provider."

Visit mosaicglobaltransportation.com for more information.

[CD0814]