Details

Category: Industry News
The National Limousine Association (NLA) and Chauffeur Driven (CD), co-producers of the popular CD/NLA Shows, have revamped and extended their partnership to three yearly industry events, which includes an annual spring show (Las Vegas), a fall show (typically on the East Coast), and the newly rebranded CD/NLA Executive Retreat, an event developed by Chauffeur Driven in 2015.
CD and NLA first inked their deal in 2019 and the entities debuted their partnership with the 2020 CD/NLA Show at Mandalay Bay in Las Vegas, which has continued through the most recent show at Paris Las Vegas this past March. The annual shows provide industry operators with a solid and timely slate of educational seminars and workshops, opportunities to mingle and network professionally with their peers, and a robust exhibit hall with the industry's top suppliers, tech companies, and OEMs. The CD/NLA Shows are the industry's preeminent events for the international chauffeured transportation industry.
"We are really excited to be able to extend this partnership with such a terrific and well-run organization. When CD originally partnered with the NLA in 2019—and subsequently acquired our longtime competitor LCT in 2020—we did it primarily as a pathway to help unify the industry and bring the shows and events under one umbrella. The number of shows was out of control and counterproductive, and the industry—both operators and vendors alike—wanted to see fewer events. This partnership extension further solidifies that unification, and, we feel, gives the industry what it wants," says CD President Chris Weiss.
A shared core mission of CD and NLA is industry education and advocacy. NLA, the largest organization representing the interests of the private driver transportation industry at the global, national, state, and local level, worked diligently to promote the welfare and safety of the operators nationwide to elected leaders. The association frequently keeps operators abreast of the various legislative efforts impacting or benefitting the industry through its weekly newsletter and events like its Day on the Hill, where members can meet with their elected representatives. Likewise, CD produces a weekly e-newsletter and monthly publication filled with the breaking information; operator profiles; business advice from industry experts; news from state, local, and national associations; and much more.
"We are thrilled to extend and expand our partnership with Chauffeur Driven to continue providing top-tier educational and networking opportunities for members of this wonderful industry," says NLA President Robert Alexander of RMA Worldwide.
New to the partnership is the CD/NLA Executive Retreat, an immersive education and networking event for operators who are looking to take their business to a new level of success. Conceptualized by and produced solely by CD since 2015, the Executive Retreat is the fusion of knowledge, camaraderie, and a bit of local flavor from the host city—a "working vacation" for business owners. The limited number of operators (no more than 200) makes the event unique from the larger shows with a structured and progressive educational schedule and a more intimate networking experience. Past host cities have included San Diego, San Francisco, New Orleans, Miami, Austin, and Nashville—which is the location of the 2023 Executive Retreat (June 4-6) at the Nashville Downtown Hilton, just steps from the city's famous honky-tonks on Broadway.
CD and NLA are hard at work on the upcoming show this November 13-16 at the Gaylord National in National Harbor, Md., located minutes from Washington, D.C., and easily accessible to an international audience. In addition to an overall packed agenda, favorites such as the Operator Mentoring Program and Affiliate Central Global Partner Forum will also return. Stay tuned for more information via NLA's and CD's social media and weekly newsletters. Also visit cdnlashow.com to register and to book your hotel stay.
[09.27.22]
Details

Category: Industry News
The American Bus Association (ABA) has announced Philadelphia as the site of its 2025 ABA's Marketplace and Busworld North America. The dates of the 2025 convention will be January 31-Februrary 4, 2025. This will be the first time ABA has been in Philadelphia since 2011.
 "We look forward to bringing our ABA's Marketplace and Busworld North America back to Philadelphia in 2025," said ABA President & CEO Peter Pantuso. "Our last time there was in 2011, and since then the city has reinvented itself as a booming cultural and culinary destination."
"We are thrilled Philadelphia has been selected as host city for the 2025 American Bus Association's Marketplace and Busworld North America," said Philadelphia Convention and Visitors Bureau President & CEO Gregg Caren. "We look forward to welcoming back the ABA to our city after 14 years. Our extraordinary Pennsylvania Convention Center, first-rate hotels, and thriving culinary scene will demonstrate why Philadelphia is an exceptional convention destination."
The ABA promotes the Marketplace as the number one group travel show in North America with the greatest ROI for its attendees.
Pantuso noted that Philadelphia has it all when it comes to hosting an event like ABA's Marketplace, "from the beautiful waterfront with its attractions, to the world-class museums and historic sites, to quaint neighborhoods and restaurants offering every dish imaginable, we are so excited to bring our 3,400-plus members to this city."
Visit buses.org for more information.
[09.27.22]
Details

Category: Industry News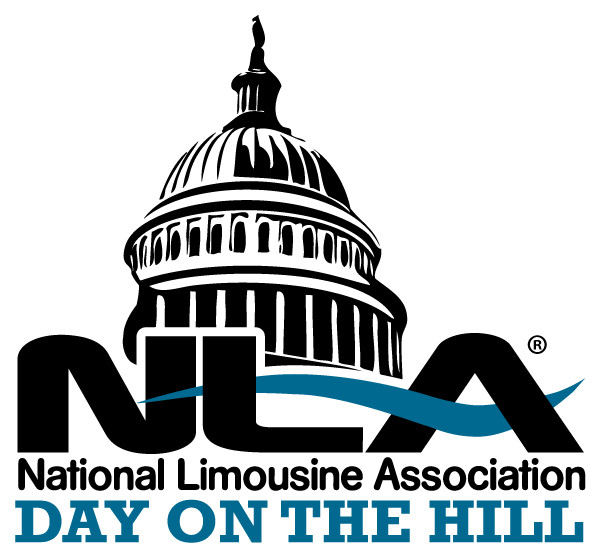 The National Limousine Association (NLA) returned—in person—to Washington, D.C. for its annual Day on the Hill this September 20-21 where more than 30 operators from 16 states participated. The two-day lobbying event, which gives the nationwide industry a voice with elected representatives, was particularly important due to the proposed legislative changes that could have had a severe impact on operators.
"This event proved that though our industry may be small, our voice is loud. The dedication and passion from the members who joined us makes me that much more excited for next year's event," said NLA President Robert Alexander of RMA Worldwide in his president's letter.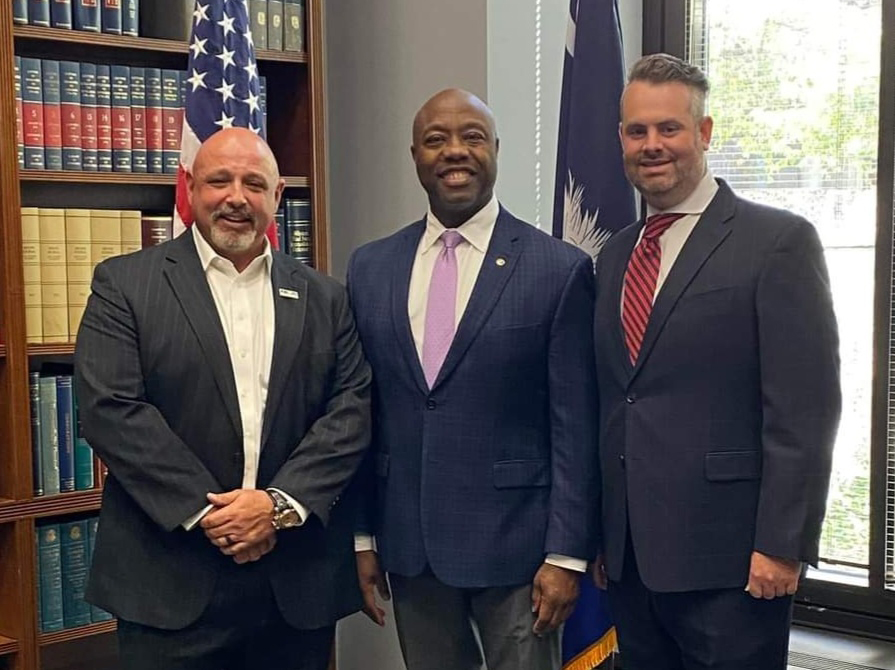 Directors Joe Reinhardt (left) and Matt Assolin (right) met with South Carolina Senator Tim Scott
The NLA Legislative Committee (co-chaired by Matt Assolin of Nikko's Worldwide and Brett Barenholtz of Above All Transportation/Boston Car Service) and its lobbying firm Cornerstone Government Affairs identified the top issues facing the industry to discuss with lawmakers and their staff. Topping the list was the bottleneck in processing the Employee Retention Tax Credit as well as a push for the CERTS Tax Exemption Act (H.R.7477), which provided $2 billion in emergency funds to motorcoach and transportation providers during the COVID shutdowns, but was taxable.
The NLA also lobbied for assistance in reducing airline delays and cancellations, primarily due to the lingering pilot and maintenance staff shortages. The delays are not only frustrating for travelers, but have real consequences for our industry via increased wait times and chauffeur scheduling. NLA expressed strong support of the Let Experienced Pilots Fly bill (H.R.8513/S.4607) that would allow commercial airline pilots to continue flying through 67 instead of the current mandatory retirement requirement at 65. To encourage support of the bill, contact your representative or Kaitlin Burt (kaitlin_burt@lgtahm.senate.gov) in Senator Lindsey Graham's office.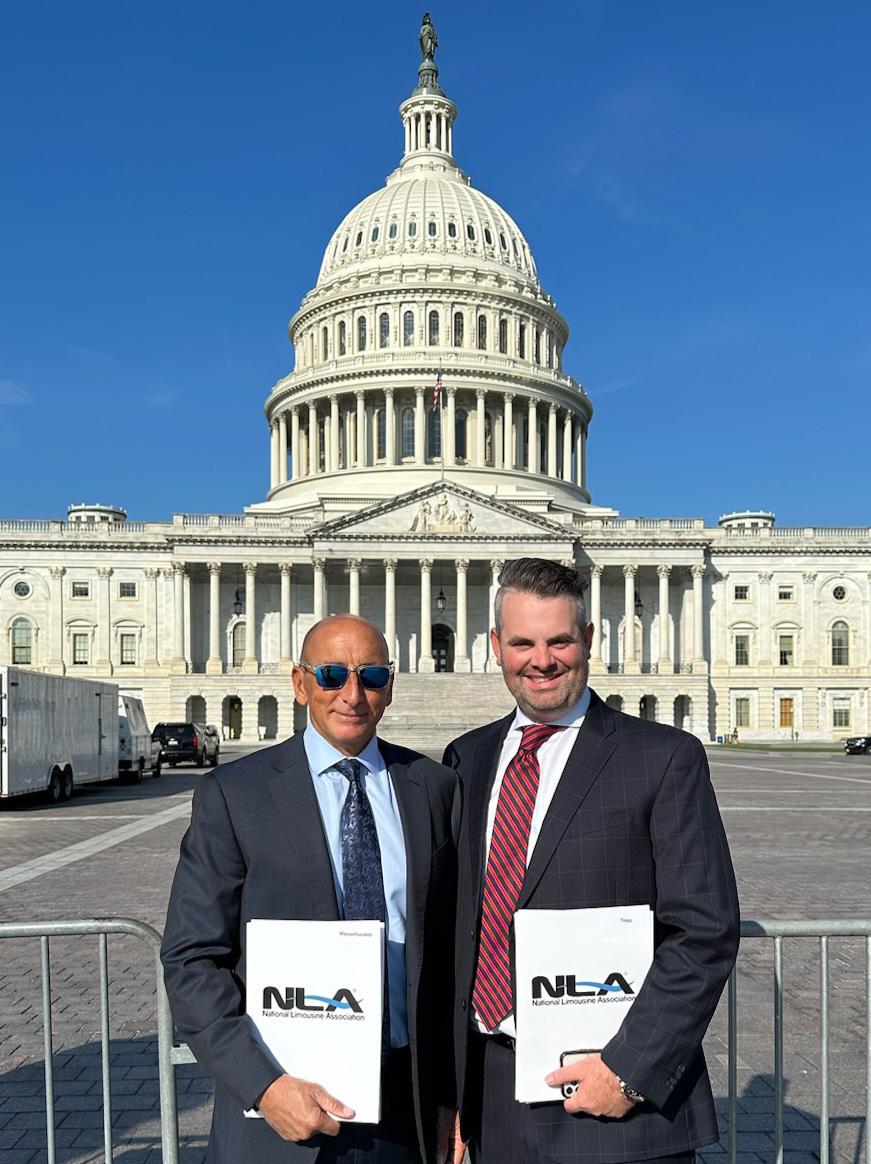 Secretary Brett Barenholtz (left) and Director Matt Assolin at the Capitol building
Additionally, worker classification was a hot topic, and the NLA supports the bipartisan Worker Flexibility and Choice Act (H.R.8442), which fixes problems with the current (and confusing) FLSA overtime rule and gives workers more certainty and security about their pay and job status. Given the rise of the gig economy, the bill would define a new classification between employee and independent contractor that would offer the flexibility of being an IC, while also providing some benefits typically given to employees. To encourage support of the bill, contact your representative or Patrick O'Connor with Rep. Henry Cuellar's office (patrick.oconnor2@mail.house.gov).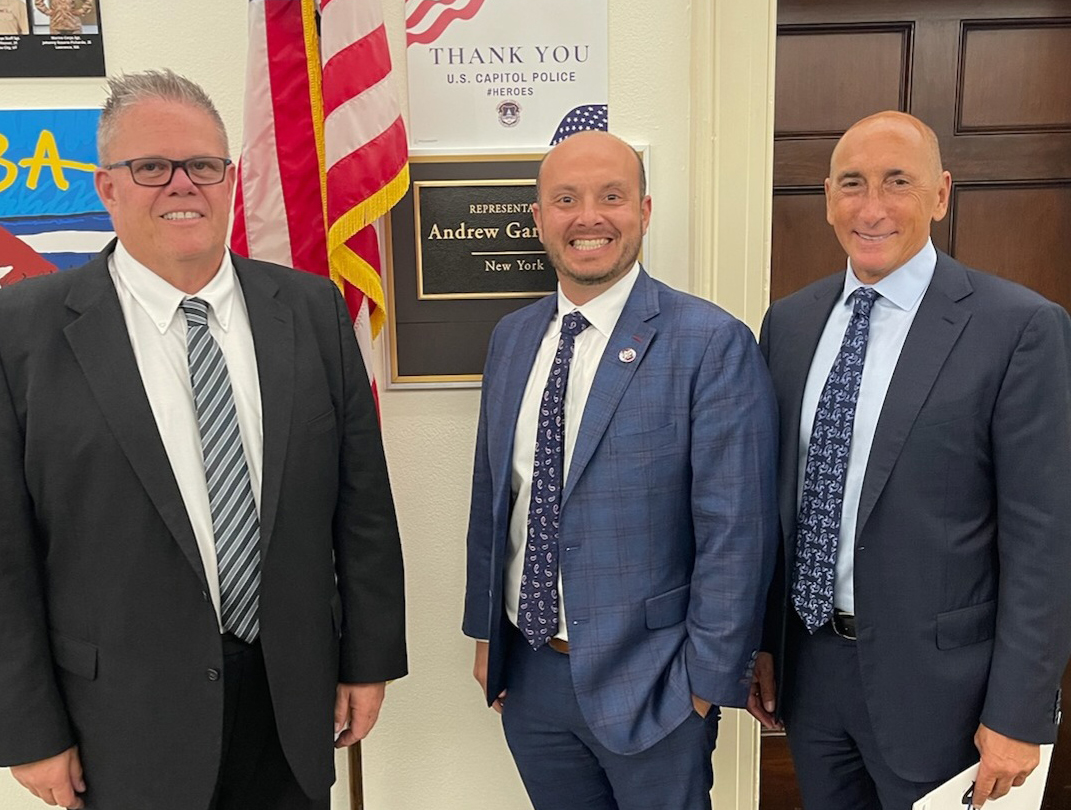 L to R: First Vice President Douglas Schwartz, N.Y. Congressman Andrew Garbarino, and Secretary Brett Barenholtz
The infrastructure bill passed by Congress earlier this year contained language that would have allowed states to impose a variety of regulations on ground transportation operators, inspired by the limousine crash in Schoharie, N.Y., based on the type of vehicle they operate. Springing into action, the NLA worked closely with the N.Y. delegation to successfully stop a federal 9-passenger CDL requirement as well as mandatory inspections, use of electronic logging devices (ELDs), and disclosures in passenger compartments. New federal regulations for vehicle modifiers were also thwarted.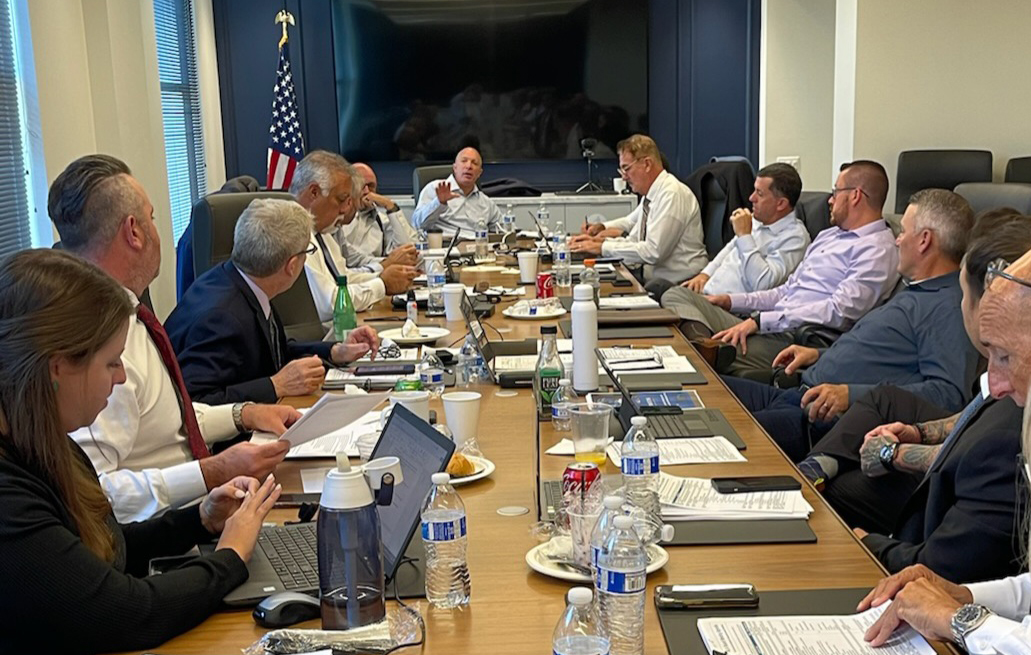 President Robert Alexander addresses the meeting
The NLA also hosted its PAC fundraiser event with Senator Kyrsten Sinema (D-AZ), who Alexander says was engaging and receptive to the challenges the industry is facing. He also thanked the NLA PAC Committee, co-chaired by Matt Assolin of Nikko's Worldwide and Jeff Rose of Attitude New York, for their work and dedication. Those NLA members who would like to support the PAC with a one-time donation and who have given prior permission to solicit for contributions, can click here. Note that contributions must be made from a personal account.
Alexander expressed appreciation for those who helped to organize the event as well as those who attended.
"I would like to thank the NLA Board of Directors and all of the members who attended this year's event. You all took time away from your businesses and personal lives to support and advocate for our industry. Without your participation, we would not have been nearly as successful," he said.
Visit limo.org for more information.
[09.27.22]