Details

Category: Industry News
This spring, Prevost resumed its signature Factory Training Program and brought 44 attendees from the United States and Canada to its location in Quebec City. The in-depth, five-day training program featured a mix of demonstrations, hands-on activities, classroom sessions, factory and assembly line tours, and Q&As. The program kicked off with a special group trip to the Prevost Museum to experience the company's culture, meet some of the Prevost family members, and learn more about the proud 100-year history of Prevost.  
Since most of the attendees are technicians, the program is designed to help them improve their maintenance and repair skills. During the course of five days, the group takes a dive into Prevost, its manufacturing process, and the diagnostic, mechanical, and technological components of motorcoaches.    
"Today's technicians are busy switching out parts to get vehicles back on the road quickly," says Prevost Customer Support Manager for North America Robert Hitt. "During our training, we slow things down, take a step back, and cover how the systems are assembled and how they operate so technicians have a foundational understanding of the coach and its components."  
The training program covers everything from electrical, HVAC, and pneumatic systems to the Volvo D13 engine and all-new H3-45. 
"We open up our coaches so the group can explore and touch every element," says Hitt. "During the hands-on sessions, their eyes light up when we pull the heads off an AC compressor or the valve cover off a Volvo engine. You'll see the light bulb go off when they start to understand something like our electrical system or another element that we're breaking down for them." 
And, while there's plenty of hands-on learning that takes place during the Factory Training Program, there's also online training that happens in advance of the in-person event.  
Attendees must complete a series of online courses through the Prevost Technical Institute prior to attending Factory Training so they have a basic understanding of a variety of technical systems on the coach, including the fundamentals of HVAC, electrical systems, pneumatic braking systems, and the Volvo engine. 
The training program culminates with an awards night that recognizes the top three technicians. The awards are based on the pre-work and results of tests that are conducted throughout the week.  
This year's Top Tech winner was Matthew Belyea from Skyway Coach, based in Markham, Ontario. He received a VIP NASCAR experience for two, which includes a VIP tour and special access to active areas of the track, infield garages, and pits.
"Matthew was focused on the content and hands on from the first day. He also completed all the pre-work before coming to Quebec, which better prepared him to win Top Tech 2023," says Hitt.  
For his part, Belyea says he learned tips and tricks to save time and be more efficient with troubleshooting and repairs.  
"It's an honor to be recognized as the Top Tech. I've dedicated 15 years of hard work in the trade to get to this point," says Belyea "The training will benefit me in offering insightful service and quick turnaround for our fleet at Skyway Coach Lines as well as for our retail customers. Bus technology is changing and improving with every passing year. Keeping up to date with factory training is the best way to stay on top of everything."  
In addition to its annual Factory Training Program, Prevost hosts regional events at its facilities throughout North America. The sessions are conducted by factory-trained experts and range from high-level overviews to in-depth system teardowns and component replacement. Prevost Technical Institute is also available online.  
Visit prevostcar.com for more information. 
[05.30.23]
Details

Category: Industry News
With Memorial Day 2023 behind us, the unofficial start of summer is here, a time when more Americans firm up their travel plans for the warmer months ahead. Both business travel and leisure travel are significant contributors to the US economy, and with Memorial Day travel surpassing pre-pandemic for the first time, it's safe to say that inflation isn't stopping determined vacationers.
The US Travel Association (USTA) recently released two studies—its Ipsos Consumer Survey and its Business Travel Tracker in conjunction with JD Power and Tourism Economics—to drill down on what travelers are thinking about the upcoming year.
Some of the highlights from the studies:
The outlook for US summer travel is strong, with more than half of all Americans (53 percent) saying they have travel planned in the next six months.
For pain points, more than a third (35 percent) say they have had a flight delayed or canceled, and two-thirds of travelers say they are unsatisfied with their air travel experience. Top concerns cited were crowing and congestion (43 percent) and flight delays/cancelations (40 percent).
Over half of Americans (52 percent) say they would travel more for leisure in the next six months if the travel experience was not as much of a hassle, significantly more than Q1 (29 percent).
Most air travelers (55 percent) want Congress to prioritize improvements to the air travel experience.
More than eight in 10 business travelers have plans to travel in the next six months as respondents highlight growing benefits from face-to-face meetings despite lingering cost constraints and company travel policies.
While more than eight in 10 executives agree that business travel is essential to company operations, seven in 10 decision makers expect business travel spending in the next six months to be less than last year for all types.  In line with cost control measures, the effectiveness of each business trip is increasingly scrutinized.
More executives in Q4 consider business travel essential (81 percent) compared to earlier quarters.
The changing travel landscape and how the US government can assist with bolstering travel continue to be topics of interest at the recent IPW, USTA's annual international marketplace and conference, held May 20-24 in San Antonio, Texas. Nearly 5,000 attendees from 60 countries attended the event.
Among the top suggestions for eliminating barriers to US travel included:
Lowering visitor visa interview wait times, which average more than 500 days in the top 10 visa-requiring markets worldwide (excluding China, which has yet to fully resume outbound flights) for first-time applicants, especially Brazil, India, and Mexico. USTA has been pushing this issue consistently.
Addressing entry delays at US Customs, many of which exceed an hour.
Improving the air travel experience through a 10-year strategic vision.
Increasing competitiveness in the global travel market.
The next IPW is scheduled for May 3-7, 2024, in Los Angeles.
Visit ustravel.org for more information.
[05.30.23]
Details

Category: Industry News
Nearly 700 travel buyers, suppliers, and attendees joined the Global Business Travel Association (GBTA) Canada Conference 2023 at the Metro Toronto Convention Centre in Toronto this past May 15-17. The event featured an exhibit hall with nearly 60 companies, educational sessions, and panel discussions from hotel, airline, and meetings professionals over the three days.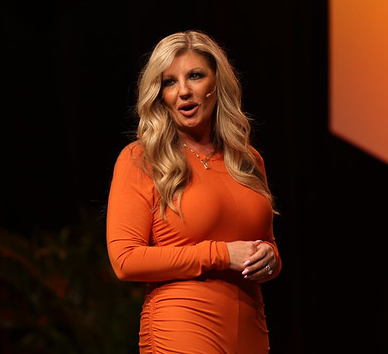 Regional VP-Americas Nancy Tudorache kicked off the event with opening remarks
According to a release from the association, conference topics focused on critical priorities and opportunities in the Canadian business travel sector including travel manager needs of the future; traveler evolution and the passenger journey; insights on the roll-out of New Distribution Capability (NDC); sustainability in business travel; and rebuilding the industry workforce. The event also included numerous buyer and supplier sessions, networking opportunities, and a special welcome event for new and returning industry professionals.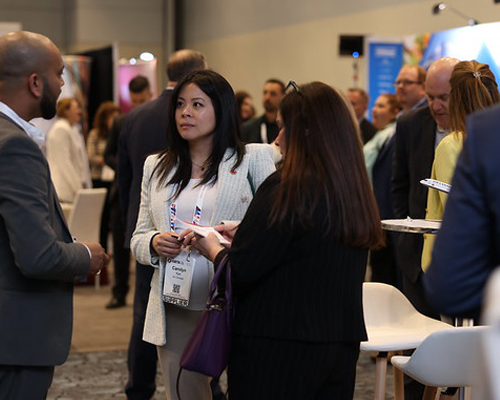 Bustling show floor included dozens of exhibitors
"Bringing together GBTA's business travel community for insights, learning, and face-to-face connection time are all key to navigating and growing the sector in Canada. This event engages industry professionals and organizations in better understanding and preparing for the future of business travel while also enabling them to engage and learn in an incredible peer-to-peer environment," said GBTA Regional Vice President-Americas Nancy Tudorache, who also addressed attendees with opening remarks.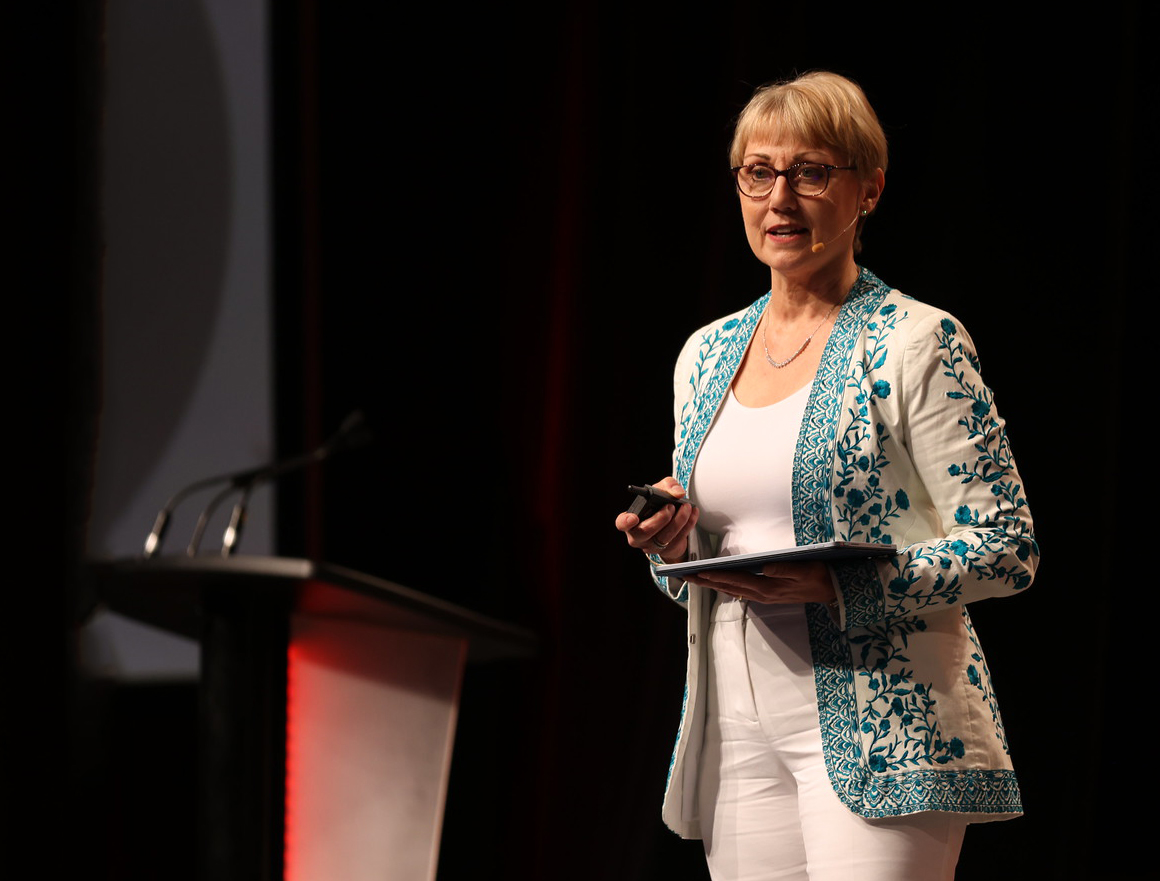 CEO Suzanne Neufang presented a business forecast
GBTA CEO Suzanne Neufang also offered a strong forecast for business travel in Canada, based on data from GBTA's Business Travel Index. If current forecast models hold, Canada is projected to be back to pre-pandemic levels of spend by 2025, representing $35 billion CAD ($26 billion USD) for business travel alone. The projection for 2023 is just over $20 billion USD.
During the event, Canada Regional Direct Board Member Sharlene Ketwaroo-Nanoo announced that she would be stepping into a new role as GBTA's Regional Director for Canada, effective immediately. Her position will be replaced when GBTA holds its election this August.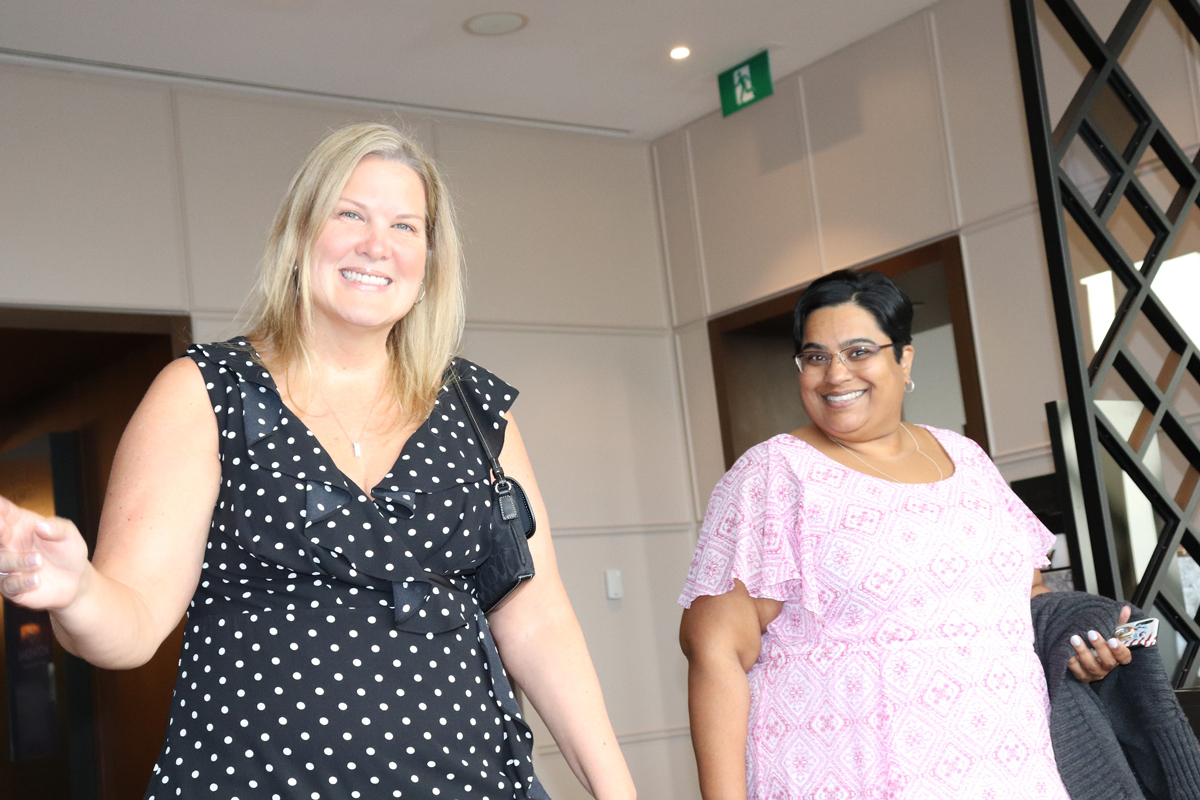 Canada Regional Chair Sue Spear (left) and new Regional Director for Canada Sharlene Ketwaroo-Nanoo

"Sharlene has been an active and valued GBTA Board member. We are excited that she has now joined the association to execute on an excellent strategy. With her deep knowledge and involvement in Canada, the region is in a strong position to continue to grow and thrive under her association leadership," said GBTA Board President Denise Truso. She added, "And with heartfelt appreciation, on behalf of the GBTA leadership and team, we'd like to recognize and thank John Pease for his contributions and expertise serving as our interim leader for the region over the past months."
Next up for the association is its annual convention, being held this August 13-15 in Dallas. More information can be found at convention.gbta.org.
Visit gbta.org for more information.
[05.30.23]