Details

Category: Industry News
Deem, a leading mobile and cloud technology provider for the corporate travel industry, recently announced four new awards for culture and leadership from employee-review site Comparably. Deem employees provided anonymous reviews of the company that have ranked it among the top 5 percent of companies with fewer than 500 employees. 
"These awards are wonderful to receive, but they're really a testament to our team," said Deem President David Grace. "They're the ones who bring our culture to life through their ingenuity, professionalism and integrity. Together, we've created a company where everyone can bring their best self to their work, despite the challenges to our industry over the past 18 months. It's an honor to lead here."
These are not the first awards for Deem or its corporate travel software solution, Etta. The company has previously won numerous awards from Comparably including Best Outlook, Best Company in the Bay Area, Best Perks and Benefits, and Best Leadership Team. This Best CEO award is the second such acknowledgement for Deem President David Grace.
Deem and corporate travel software Etta will hold its signature virtual event, Miles Ahead, on March 2, 2022. Information and registration can be found at deem.com.
[12.21.21]
Details

Category: Industry News
US Travel Association (USTA) National Chair Christine Duffy, president of Carnival Cruise Line, recently announced nine industry leaders, drawn from the association's board of directors, to serve on a committee to identify the incoming president and chief executive officer to lead the association following the July 2022 retirement of Roger Dow.
According to Duffy, the committee is representative of core segments of the travel industry, including two from destination marketing organizations, the largest segment of association membership. Those serving on the committee include:
Christine Duffy, president of Carnival Cruise Line and chair of the Search Committee (cruise lines)
Julie Coker, president and CEO of San Diego Tourism Authority (destination marketing organizations)
Debbie Johnson, executive director of Arizona Office of Tourism (state tourism offices)
Elie Maalouf, CEO, Americas of IHG Hotels & Resorts (hotels)
Monya Mandich, global vice president of Marketing of Expedia Group (representing segments including technology and travel vendors)
Tim Mapes, senior vice president and chief marketing and communications officer of Delta Air Lines (airlines)
Michael Massari, chief sales officer of Caesars Entertainment (gaming)
DT Minich, president and CEO of Experience Kissimmee (destination marketing organizations)
Jonathan Tisch, chairman and CEO of Loews Hotels & Co. and treasurer of New York Giants (sports and attractions)
"Determining the next top leader of the US Travel Association is the single most critical function the board will undertake next year, especially as we rebuild this industry with our eyes on the future growth and evolution of travel," said Duffy. "I appreciate the time each of my colleagues has agreed to dedicate to this important process to appoint a leader who will advance the vision, values and goals of the association and the broader travel industry."
The committee will convene in 2022 to select an executive search firm to assist them in the process.
Visit ustravel.org for more information.
[12.21.21]
Details

Category: Industry News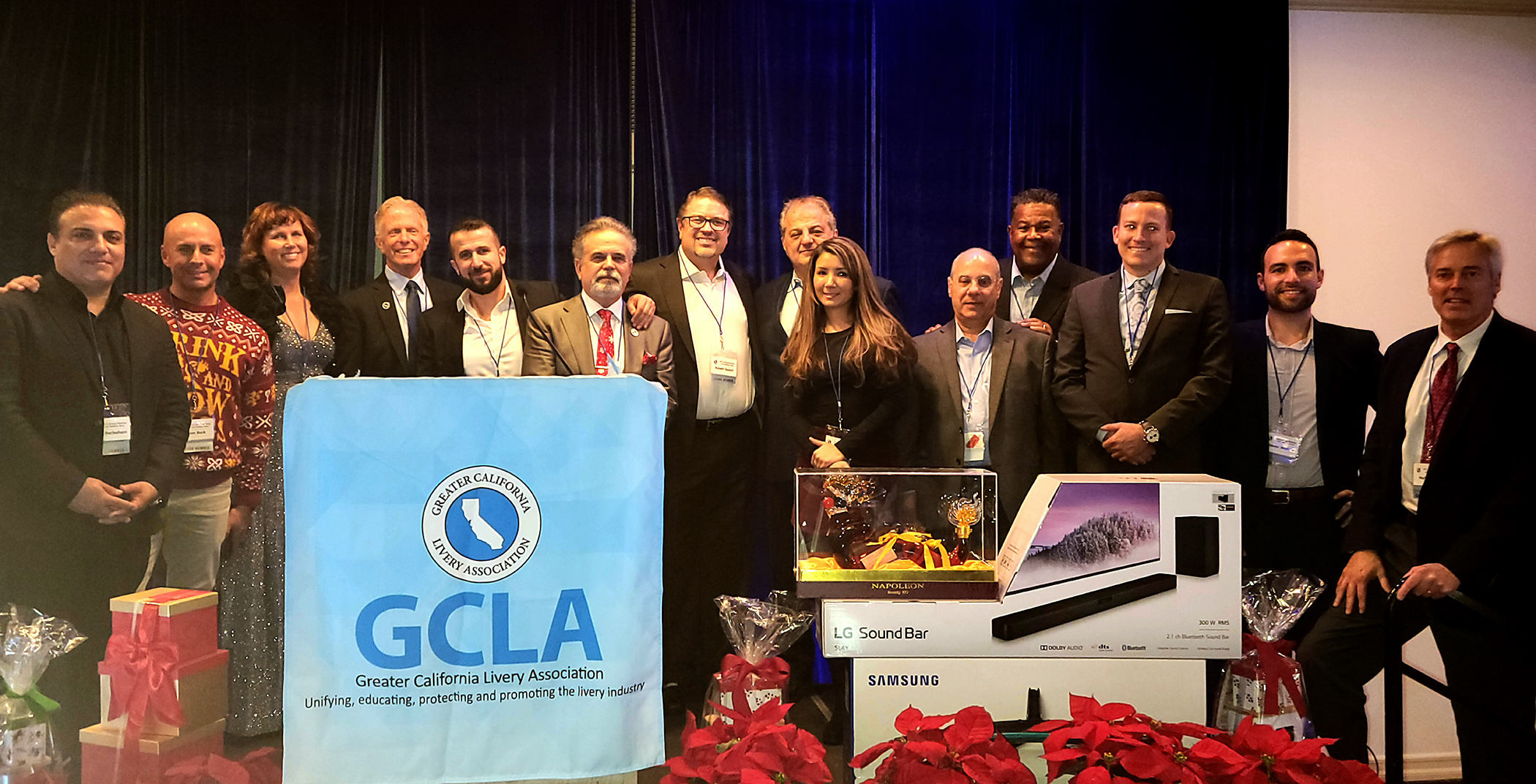 The GCLA Board
The annual Greater California Livery Association (GCLA) meeting and holiday party is an always-popular end-of-year event that attracts members, vendors, and guests from throughout the state and around the country, and this year was no exception. Nearly 200 people, including CD President Chris Weiss, attended the event on December 7, which was once again held at The Proud Bird in Los Angeles.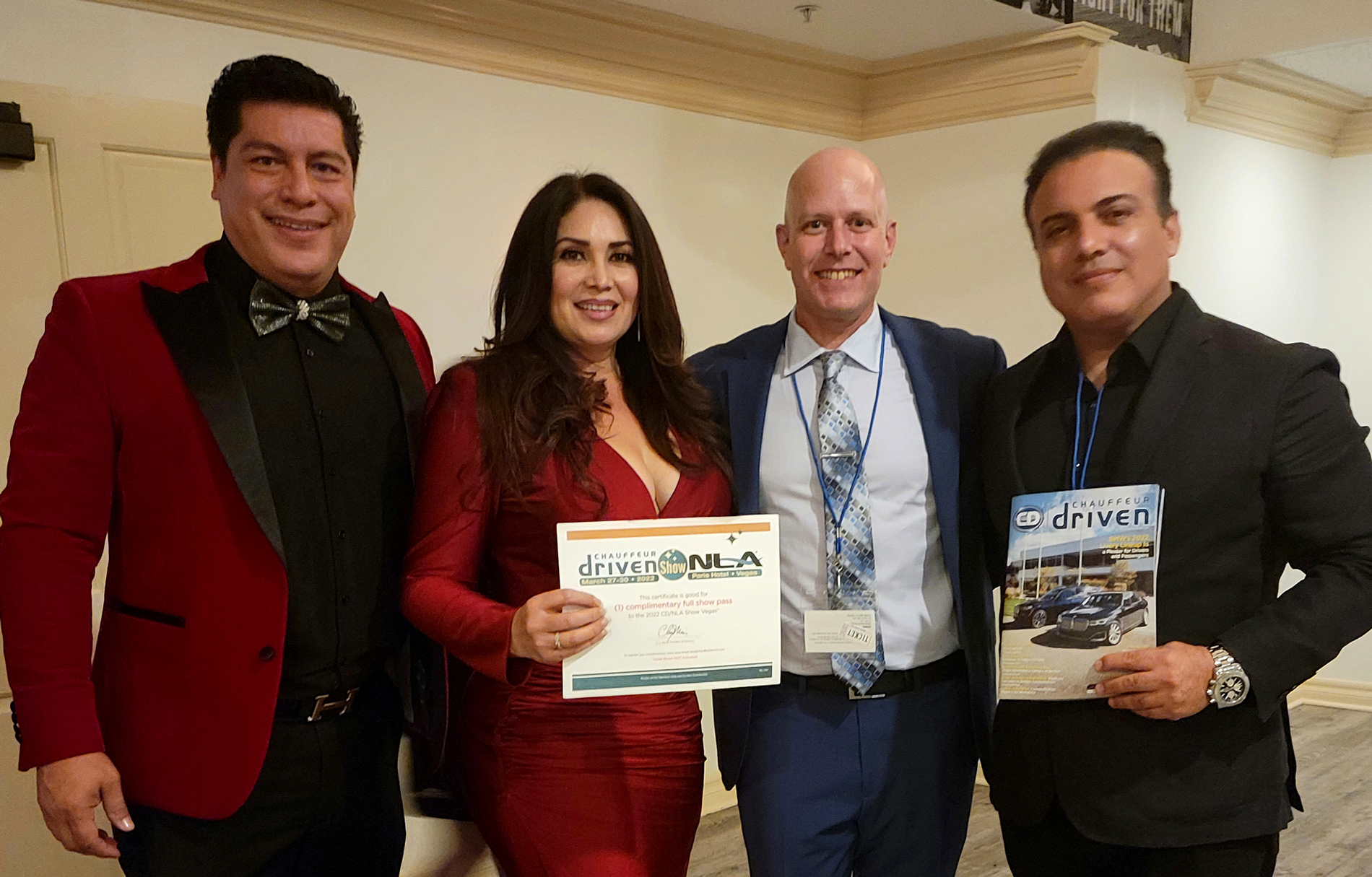 L to R: CD/NLA Vegas Show pass winners Carlos and Nancy Garcia of Carlos Transportation Service, CD President Chris Weiss, and CD Executive Retreat pass winner Alex Darbahani of KLS Worldwide
Following a cocktail hour and dinner, outgoing GCLA President Mo Garkani of The COTS Group and Executive Director Sara Eastwood Richardson delivered announcements and provided a recap of 2021. Other speakers included representatives from Diamond Sponsors Motev, Century Business Solutions, and Chosen Payments, as well as Weiss, who got the crowd revved up for the 2022 CD/NLA Show in Las Vegas this March 27-30.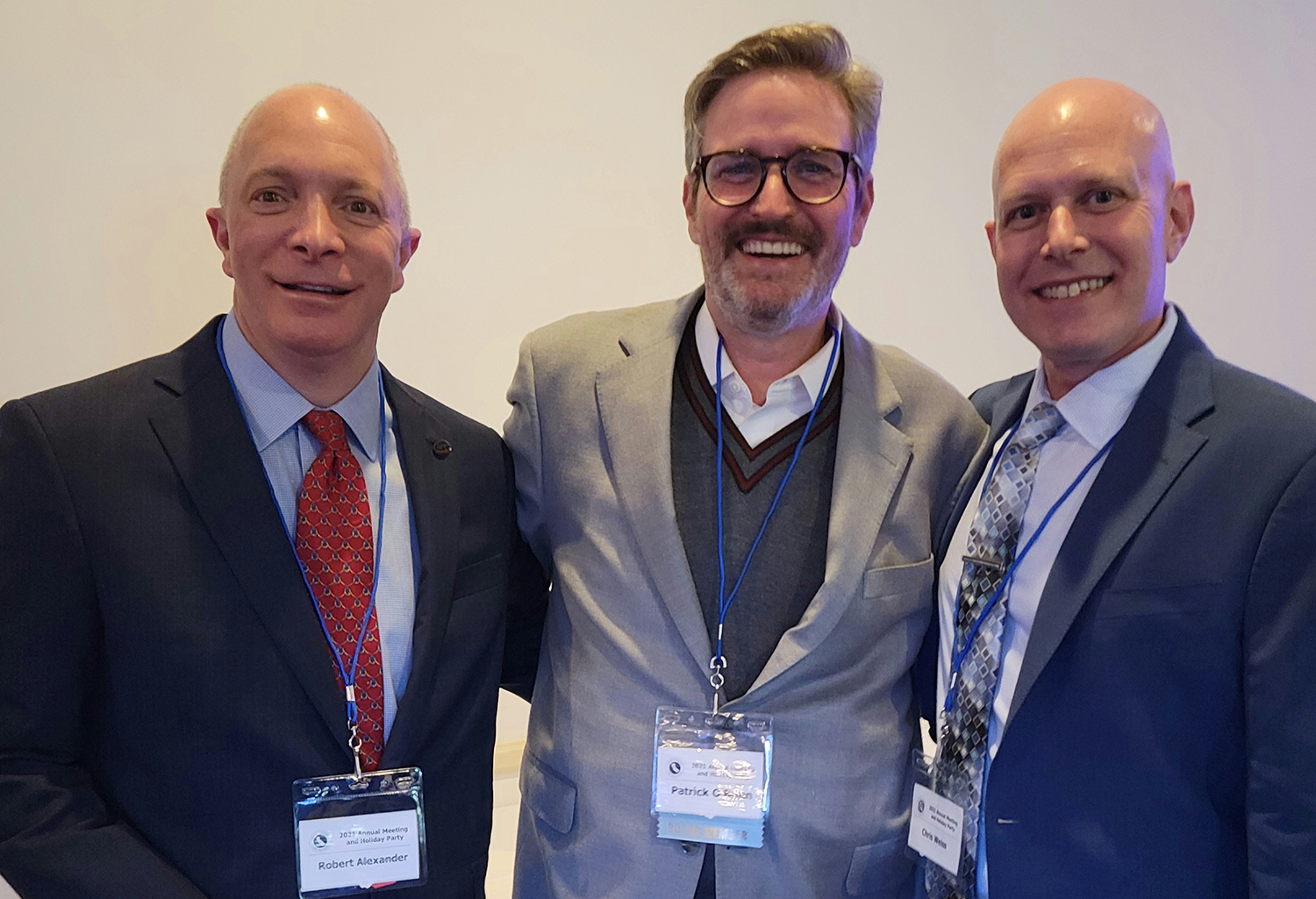 L to R: Robert Alexander of RMA Worldwide, Patrick O'Brien of O'Brien & Associates, and Chris Weiss
Then, Garkani was presented with the 2021 GCLA Award of Excellence in recognition of his years at the GCLA helm and for his "outstanding professionalism, leadership, and industry involvement that has provided a great benefit to all California operators and supporting agencies." With Garkani stepping down from the board, it was time to announce a new set of officers and directors: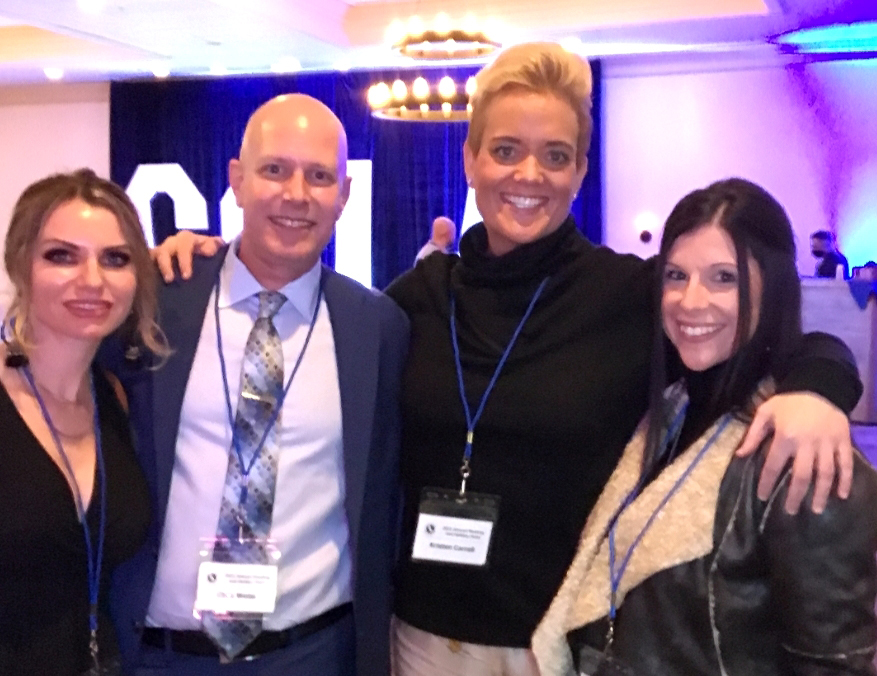 L to R: Carol Grant of Chosen Payments, Chris Weiss, Kristen Carroll of The LMC Groups, and Melissa Lodi
President: Robert Gaskill of Motev
1st Vice President: Maurice Brewster of Mosaic Worldwide
2nd Vice President: Thomas Buck of Beau Wine Tours
Treasurer: Jack Nissim of Avalon Transportation
Secretary: Selim Aslan of MIB Limousine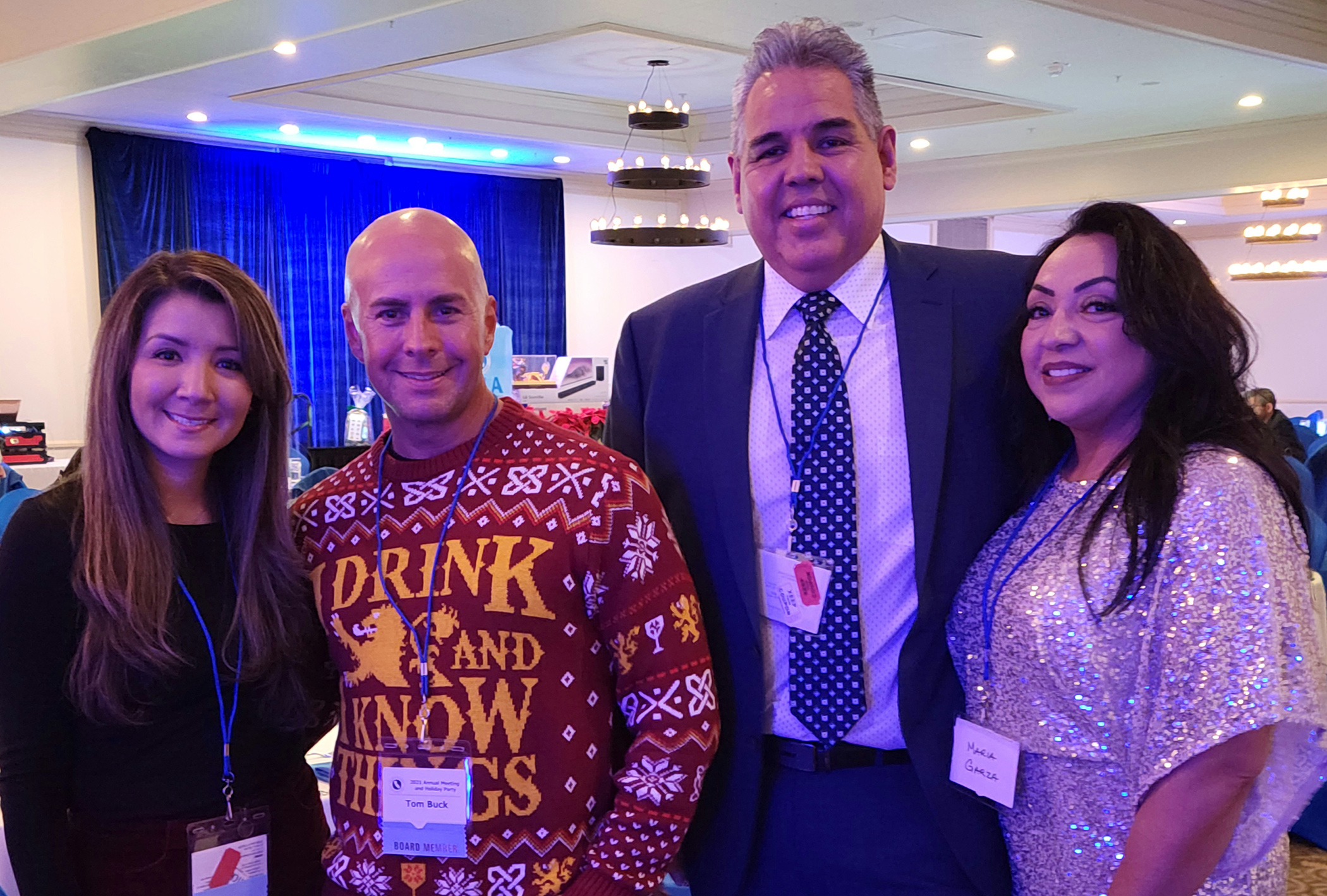 L to R: Katie Martinez of Chosen Payments, Thomas Buck of Beau Wine Tours, and J.R. and Maria Garza of Diamond Limousine
The 2022 GCLA Directors include Don Manke of ABC Worldwide Transportation, Aaron Lesasoy of Code 3 Limousine and Transportation, Harry Dhillon of Ecko Transportation Worldwide, Chris Hundley of Limousine Connection, Alex Darbahani of KLS Worldwide, Mark Stewart of Ground Logistics International, Victoria Davis of American Limousine, Adrian Davis of Five Star Transportation, and Darren Croasdale of La Costa Limousine. Vendor members include Katie Martinez of Chosen Payments, Steven Wolfson of Century Business Solutions, and Mark Freeark of TIB Insurance. Patrick O'Brien of O'Brien & Associates remains GCLA counsel.
Visit gcla.org for more information.
[12.14.21]