Details

Category: Industry News
When CD and the NLA bring their show to town, you can bet that you'll find operators networking and having fun on a local golf course. So, when we head to Orlando this October 22-25, why not hit the links for a good cause? CD and the NLA are thrilled to announce the return of their Charity Golf Outing in honor of Tom Mazza on Wednesday, October 25, from 9:00 a.m. to 3:00 p.m. at Falcon's Fire Golf Club. Located just minutes away from the Gaylord Palms, these links are recognized both regionally and nationally as one of the finest golf courses. A beloved industry consultant, Mazza was former executive director of the NLA, and a dear friend to the NLA and CD. All money raised at the outing will be donated to a cause that was important to him (further details will be announced soon).
With a 10:00 a.m. shotgun start, the outing includes a light breakfast and lunch, as well as prizes for closest to the pin, longest drive, and more. Advance registration is $169 per person, and you can sign up individually or as a foursome—but note that space is limited to only 48 golfers. Club rentals are also available. Click here to register.
If you would like to participate in other ways, we are also seeking volunteers and have a limited number of affordable sponsorships available. Come join us for a beautiful and fun day on the course while helping to raise money for an extremely worthy cause. Click to see available sponsorship opportunities.
While you're undoubtedly looking forward to driving the ball on Falcon's Fire's noteworthy greens, the real heart of the CD/NLA Show is the educational component. We're excited to announce two sessions that offer incredible real-world ROI for your business.
First on Tuesday, October 24, at 8:30 a.m., we're pleased to present another of our interactive Roundtable Sessions—What Is Your Workplace DNA? Join a first-rate group of moderators including Athena Grimm of BAC Transportation, Tiffany Hinton of MOTEV, and Douglas Schwartz of Executive Ground Transportation as they help you discover how problems are effectively addressed and resolved when you elevate your Workplace DNA, which is the unique combination of your company's values, leadership style, communication, work environment, and approach to work-life balance. We invite you to take a brutally honest look at what it's like to work within your organization's infrastructure.
Then, on Wednesday, October 25, at 10:15 a.m., embark on a comprehensive safety voyage with Essential Safety Practices for a Secure Transportation Experience. With speakers Barry Gross of The Driver Provider and Danielle Smith of Lancer Insurance, this seminar provides a deep dive into the crucial practices that form the bedrock of a safe and reliable transportation operation. Our safety session brings together an array of vital topics that ensure the well-being of both your passengers and team members.
"Safety starts before you leave your house in the morning. It covers recruiting and hiring to training chauffeurs and running a safe and organized office and garage. This session will walk you through some critical and important steps to owning and running a successful and safe business," says CD/NLA Education Committee Co-chair Jason Sharenow of Broadway Elite Worldwide.
Click here to see the full schedule of sessions, roundtables, and dedicated networking events.
Visit cdnlashow.com for more information.
[09.13.23]
Details

Category: Industry News
UAW Strike Pending:
Nearly 150,000 autoworkers may strike by the end of this week if negotiations between the union and three of Detroit's biggest OEMs—Stellantis, Ford, and General Motors, or the "Detroit Three"—continue at its current impasse. The work stoppage might be felt in as little as a month, according to Fortune, as the companies collectively have enough inventory for up to 70 days. The parties have through 11:59 p.m. on Thursday to come to an agreement on a new four-year contract. On the table are salary bumps, increased security and worker protections, the return of defined benefit pensions over 401(k)s for new hires, fast-tracking of so-called temporary workers to permanent, and a 32-hour workweek with overtime pay after 40 hours. According to union officials, members are already working more than 60 hours per week to make ends meet, although OEM spokespeople have said that permanent workers' salaries regularly top six figures with overtime and profit sharing. If they strike, the US Chamber of Commerce estimates that the Detroit Three could lose nearly $1 billion collectively over 10 days. Either way, expect reduced supply to lead to increased prices, especially if the strike drags on and production can't return quickly enough.
Sources: Reuters, Fortune, Wall Street Journal, US Chamber of Commerce

---
EV Sales Cross Critical Threshold:

Sales of electric vehicles represented 7.2 percent of all new vehicles purchases in Q2 2023, a new record and one that might portend a critical benchmark for future sales. According to Bloomberg, the 5 percent sales threshold is a significant one, as it "signals the start of mass adoption when technological preferences rapidly flip." Vehicle sales aside, the EV industry is still in its tempestuous adolescence, as dealers and manufacturers try to find the balance between demand and production (some dealers are stuck with units they can't sell while others can't get them in quickly enough), pricing matches consumer tolerance and tax credits (prices have been falling), and—the elephant in the room—the infrastructure needed to handle the influx of these vehicles. Even Secretary of Energy Jennifer Grandholm had
her own bad experience with EV charging
during a recent road trip. However, with faster adoption comes more innovation, which could help drive the production of more facilities. It's still not great if you're a renter or don't have a garage, but faster charging is coming.
Sources: Kelley Blue Book, Bloomberg, NPR
---
Economy Might Be Leveling Off:
According to the National Federation of Independent Business (NFIB), an organization that focuses on small businesses, optimism among small business owners declined slightly (0.6 of a percent) last month, driven primarily by the continued inflation and longstanding job openings, according to the NFIB's
Small Business Optimism Index.
Eight percent of owners cited labor costs as their top business problem, down two points from July, and 24 percent said that labor quality was their top business problem. While this news is disappointing, major economists are more hopeful that the overall economy will avoid a significant recession, which has been predicted for the past few years. Consumer spending has dipped a bit over the summer, but it remains strong post-COVID. Prices driven up by inflation in recent years remain high, although inflation is not causing them to rise as quickly as they did in 2021. Of course, the economy is a mixed bag of indicators and factors, and it will vary based on region and industry, but it's a bearing for planning and saving for the future.
Source: NFIB
---
Mercedes to Debut New Charging Facilities This Fall:
Mercedes-Benz says it's opening its first high-power charging stations this fall as part of its long-term plan to expand global charging infrastructure. Charging hubs will go into operation in Atlanta, Chengdu (China), and Mannheim (Germany) by the end of next month, with the goal of increasing that to more than 2,000 high-power charging points by the end of 2024, and more than 10,000 by the end of the decade. While the stations will be open to drivers of all brands, the company says that Mercedes drivers will be able to reserve a spot and will be given priority. Facilities will primarily be at Mercedes dealerships, and waiting drivers will have access to refreshments and restroom facilities.
Source: Mercedes-Benz Media
---
[09.12.23]
Details

Category: Industry News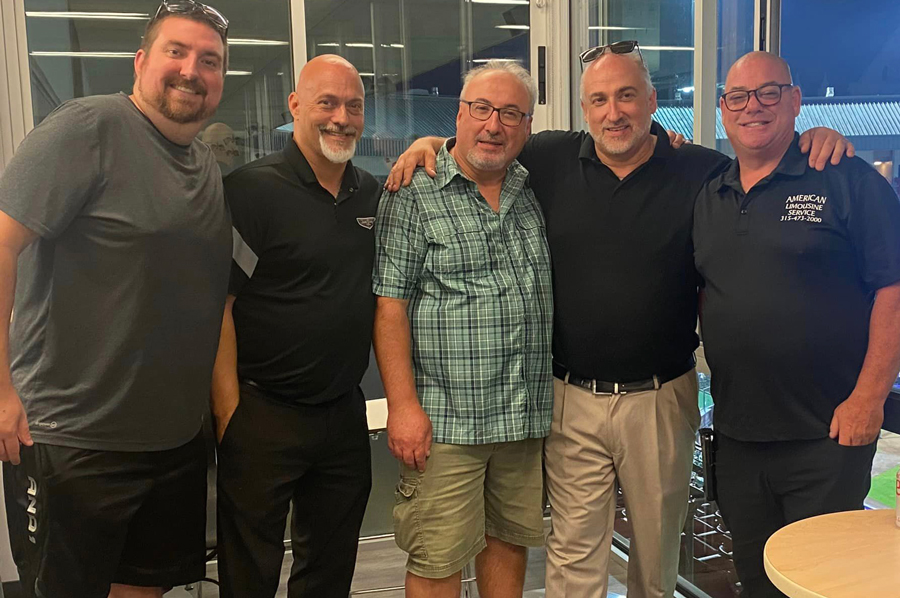 L to R: Michael Zlotkowski of Aces Limousine, David Bastian of Towne Livery Vehicles, James Barwell and Kevin Barwell of Giorgio's Limousine Service, and Jo DiDomenico of American Limousine Service
On Wednesday, September 6, the Limousine, Bus, Taxi Operators of Upstate New York (LBTOUNY) held their annual membership meeting/baseball outing at Shalen Field in Buffalo, N.Y.  Sponsored by Towne Livery Vehicles, the event welcomed 20 members, along with family and friends, to watch minor leaguers the Buffalo Bisons take on the Lehigh Valley Iron Pigs. Guests at the event included Incoming Transportation Alliance President Bill Yuhnke and Black Car Fund Executive Director Ira Goldstein.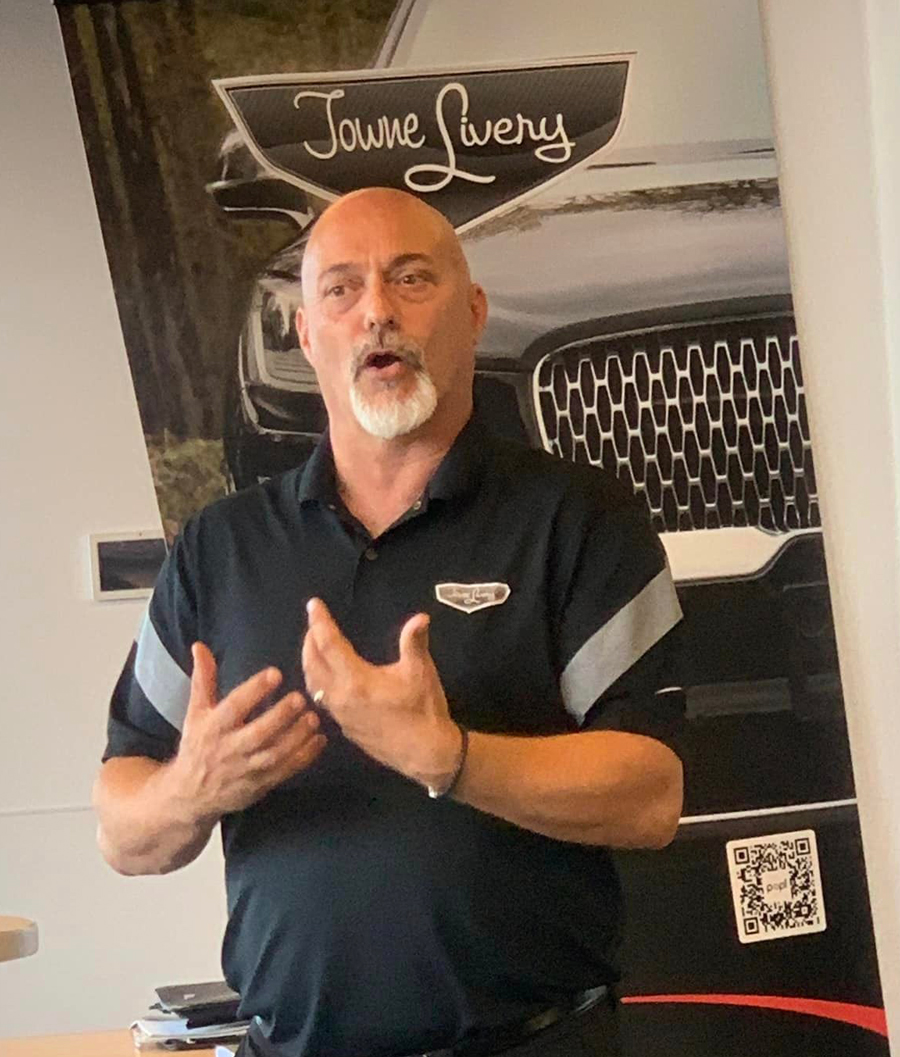 Legislative Chair David Bastian of Towne Livery Vehicles
Prior to the opening pitch, LBTOUNY members held a meeting to discuss state legislation. Chief of the issues discussed were Assembly Bills A03102 and A03103, also known as Sunset Laws. In the wake of the Schoharie crash of 2018, lawmakers have moved to advance a law that removes any stretch limousine off the streets after 10 years or 350,000 miles. LBTOUNY has been fighting this proposed legislation since it was introduced as it will likely eliminate all limousines from the market in short shrift. They have succeeded in seeing it not passed for the time being.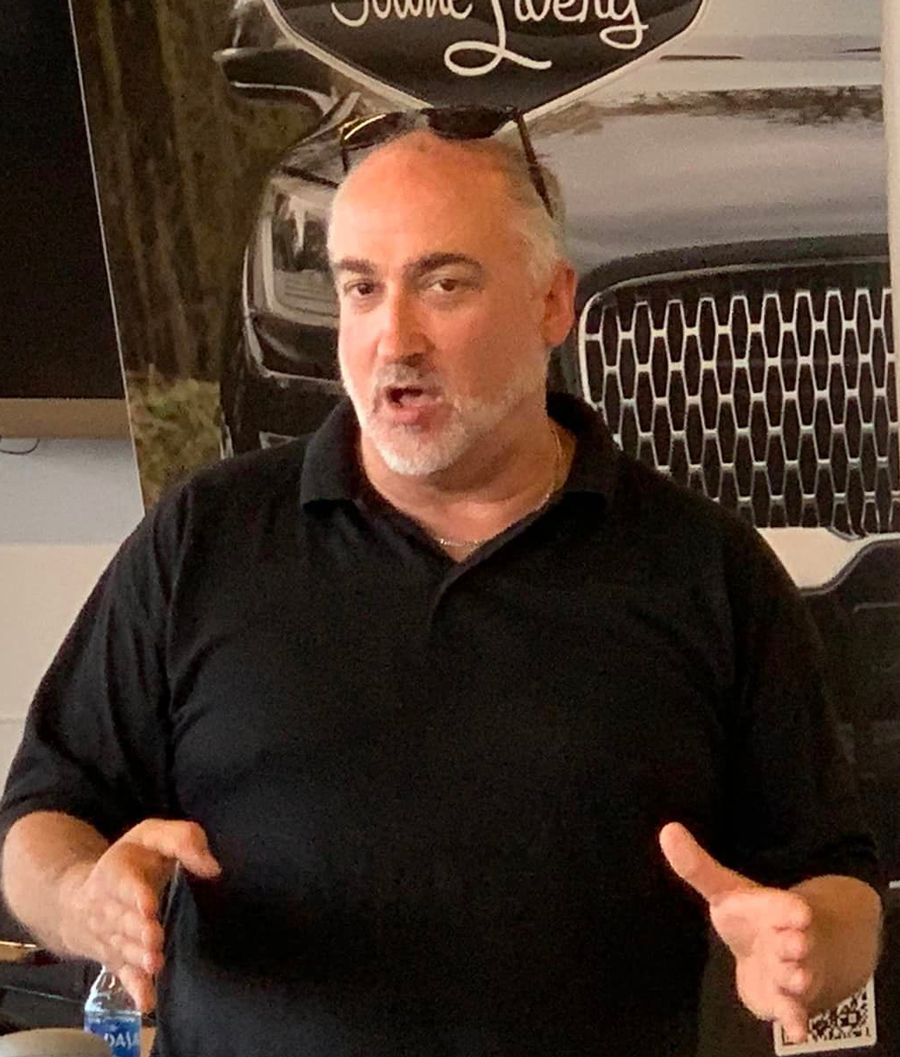 President Kevin Barwell of Giorgio's Limousine
"The State Assembly and Senate are creating bills without any understanding of the industry. They have limited knowledge of how vehicles are used in the industry, including how many miles are being put on the vehicles, their hours of use, and the number legally operating on the road," says LBTOUNY Legislative Chair David Bastian, Jr. of Towne Livery Vehicles. "It's detrimental to ground transportation operators."
Bastian added that while the association is pleased that the bill did not pass this year, it will likely be reintroduced in 2024.
"We are actively discussing this with the Senate to find some common ground," he says. "It is our intention to educate the lawmakers so it won't come up again in January."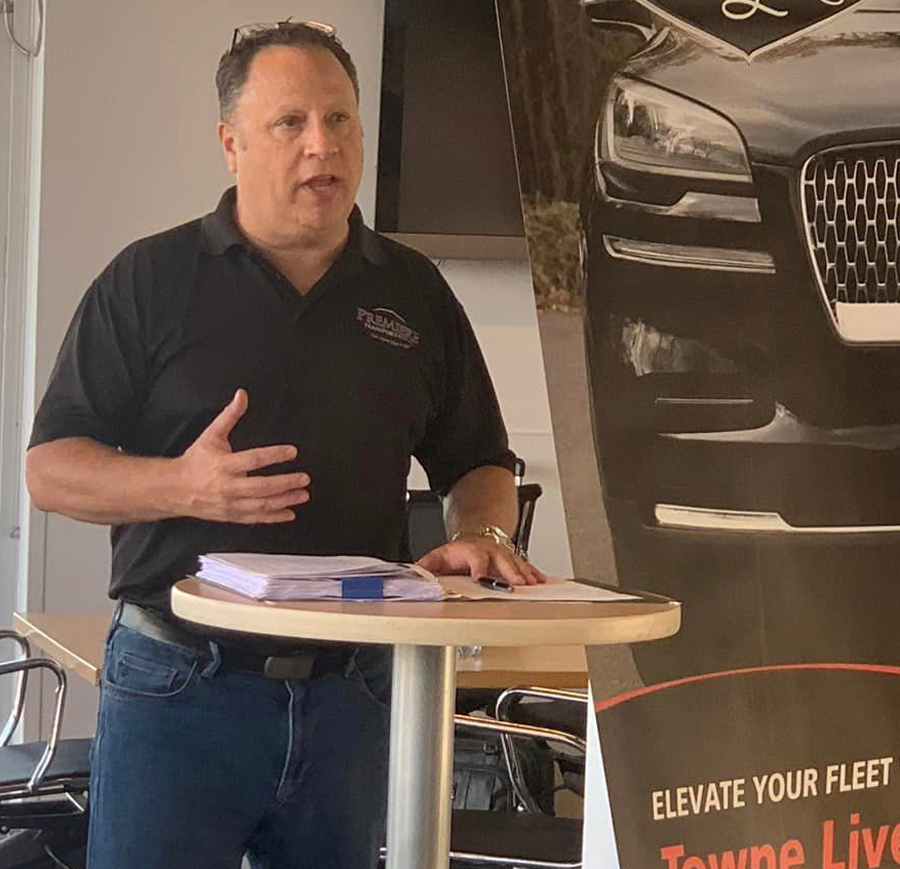 Vice President David Brown of Premiere Transportation
In the meantime, LBTOUNY is supportive of Bills that deal with trip safety. Case in point is recently passed Assembly Bill A06513, which requires that stretch limousines are equipped with window-break tools and operational fire extinguishers.
Bastian says that the association is proud of the ground LBTOUNY has made with the state legislature.
Buster Bison surprised the members and guests at the annual LBTOUNY baseball meeting
"We're a small association, but we've learned to be citizen lobbyists to represent our industry when issues arise. The industry's been under attack from the Senate and Assembly since 2009. We've been fighting for 14 years."
Meeting speakers included LBTOUNY President Kevin Barwell of Giorgio's Limousine Service, Vice President David Brown of Premiere Transportation, Board Member Mark Crisafulli of Haylor, Freyer & Coon, as well as Bastian. Other matters discussed at the meeting include insurance reform and working to get sales tax exemptions for the industry. 
"We've had discussions with the state for alternative ways to come at this from different directions," states Bastian.
Visit lbtouny.com for more information.
[09.12.23]