Details

Category: Industry News
The American Bus Association (ABA) is joining forces with other area associations, including the US Travel Association, to raise funds for Soles4TheDistrict, part of the national nonprofit Soles4Souls that provides shoes for those experiencing homelessness. This campaign will specifically deliver athletic footwear to children in the D.C. Public School system that are housing insecure to help them start off the new school year on the right foot (pardon the pun). According to the announcement on ABA's website, the association has pledged to raise $10,000 for the cause, with a collective goal of $130,000 across the D.C. association community.
Soles4Souls says that there are 1.5 million children across the country who lack secure housing. Through its 4EveryKid campaign, which was launched in 2020, the organization reports that its donations have helped to increase attendance for 95 percent of shoe recipients and improve grades for more than two-thirds. In addition to boosting confidence, the shoes also help the children partake in sports and other extracurricular activities—with 80 percent of students reporting feeling more excited to attend and participate in school.
The fundraising period runs through September 1, and the shoes will be provided to the students during a 4EveryKid event at a D.C. school that month.
Donations on behalf of ABA can be made through this link.
Visit buses.org for more information.
[07.11.23]
Details

Category: Industry News
In what continues to be a busy summer for the New England Livery Association (NELA), the organization has announced that registration is open for their annual golf tournament to take place on August 8. Once again held at Marlborough Country Club in Marlborough, Mass., the tournament is open to members and guests, whether they are novice or experienced golfers. Above All Transportation/Boston Car is serving as Platinum Sponsor of the event.
Registration for the event includes greens fee, cart, continental breakfast, lunch, dinner, and dessert. Participants who register before July 11 are able to take advantage of Early Bird Pricing ($165 individual, $649 foursome). From July 11 to 21, the rates increase to $179 individual, $699 foursome, and after the 21st, registration is $190 individual, $749 foursome. Registration closes on July 30.
Sponsorship opportunities are currently open for the tournament. To register for the event, or inquire about sponsorship levels, click here.
Visit nelivery.org for more information.
[07.10.23]
Details

Category: Industry News
On Tuesday, June 27, the New England Livery Association (NELA) held its second quarterly meeting of 2023. Once again held at the Crowne Plaza Hotel in Woburn, Mass., 50 members and guests attended the dinner event.

Following a cocktail hour and dinner, NELA Executive Director Rick Szilagyi of Lexian Management kicked off the meeting by thanking everyone for turning out to make the event a success, and asked NELA President Brett Barenholtz of Above All Transportation/Boston Car to come up to the podium.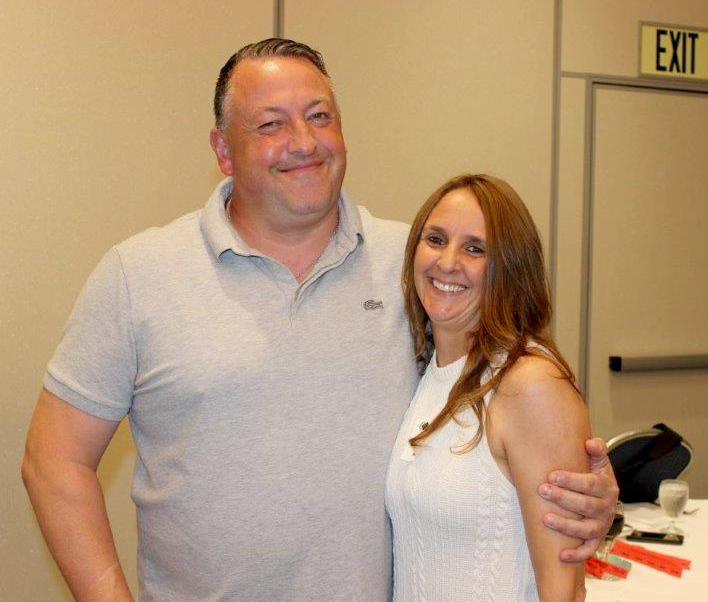 Jason Dornhoffer of United Private Car and Lynda Saitta of Momentum Drives Barenholtz thanked everyone for attending and discussed current negative issues facing operators in the industry, such as congestion pricing in New York and the closing of the Sumner Tunnel in Boston. "The good news", Barenholtz continued, "is that you are all here after the challenges of the pandemic." He also mentioned coming through other challenges, such to our industry, such as those related to 9/11 and the downturn of the economy in 2008-2009. Barenholtz emphasized the importance of controlling debt, networking well to maintain and create good partners, reducing the need to have increasingly large individual fleets. He continued that infrastructure in general needs to be enhanced, and that the NELA has a great relationship with Massport, and will continue to emphasize the need for Level 3 chargers at the Logan Airport limo pool, as the industry moves to EV.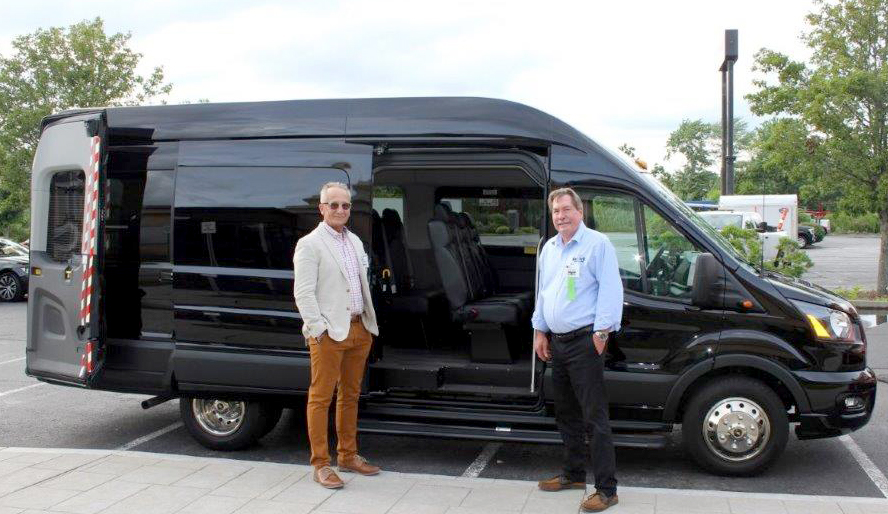 Carl Restivo (left) of Advantage Remarketing Solutions and Bill Flynn of DEVIVO Bus Sales Szilagyi thanked board members instrumental in putting together the evening's meeting: Alicia Hayes of American Classic Limousine, Brittni Kirk of All Points Limousine, Tina Benson of L.A. Limousine Service, and Joe Puleo of Dav El / BostonCoach. Szilagyi then introduced this year's Board of Directors:
President: Brett Barenholtz of Above All/Boston Car
2nd Vice President: Tina Benson of L.A. Limousine Service
Secretary: Brittni Kirk of All Points Limousine
Treasurer: Terry Murtaugh of United Private Car
Immediate Past President: Joseph Cardillo of Westminster Livery Consulting
Directors: Alicia Hayes of American Classic Limousine, Richard Tessier of Great Bay Limousine, Larry White of Boston Chauffeur, and Charles Wisniewski of Teddy's Transportation System
Vendor Directors: Steve Crispo of Research Underwriters and Bob Moody of Acton/SoCal Penske
Szilagyi asked other members to consider joining the board to lessen the work on individuals, adding that it can be a fun endeavor. Former board member, Becky Laramee of All Points Limousine, spoke in favor of serving on the board, citing how she built relationships with others in the industry as she was first growing her business, citing specifically Benson and Crispo.
The recent Chauffeur Appreciation Day was discussed, with kudos from all to Benson, who is the chair of that event, and has been for years. The upcoming golf tournament was discussed, which will be held on August 8. Szilagyi emphasized the need for member support in providing golfers, sponsorships, and volunteers. Lynda Saitta of Momentum Drives, who served as chair of the event in the past, stated that she has attended at least 10 NELA golf tournaments, but never as a golfer. She is always a participant as a volunteer, assisting in the day's activities, and encouraged other members to do so as well.
The evening's major sponsors were DEVIVO Bus Sales, represented by Bill Flynn, and Advantage Remarketing Solutions, represented by Carl Restivo. Restivo, who has been in the livery industry for 30 years, stated that Advantage is here to help operators finance vehicles, even those purchased elsewhere, and offer new and used vehicles. Flynn stated that he was here tonight representing the commercial vehicle division of DEVIVO, part of DATTCO, and thanked all those who visited the limo van showcased by the entrance of the hotel.
Szilagyi continued by thanking the rest of the evening's sponsors, Cocktail Hour Sponsors: Above All Transportation, Park Avenue Limousine of Philadelphia, and Great Bay Limousine. Raffle sponsors were also thanked, including American Classic Limousine, Four Star Limousine, and Dav El/BostonCoach. Szilagyi also thanked Diamond Vendor Member Chosen Payments for their ongoing support.
New NELA members were then welcomed, including James King of Waverly Insurance, Kevin Nguyen of VN Limousine, Michelle Fitzmeyer of Volvo-Danvers, and Armen Mahserejian of Armens Limo & Car Service. And Rick thanked NELA Treasurer Murtaugh, who served as the evening's photographer.
The evening's guest speaker was Elizabeth Leaman, assistant director of the Massachusetts Department of Public Utilities, Transportation Oversight Division. Joining Leaman were Cheryl Gard, who inspects vehicles for the division, and division attorney, Tim Lawton. During her presentation and Q&A, Leaman covered several topics including the threshold for livery vehicles addressed by the DPU, emergency vehicle egress issues, and CDL v. Non-CDL aspects. She emphasized that the division's staff is there as a resource for operators, helping owners protect their operations, something that was noted in private conversations by Szilagyi earlier in the evening, as Gard chatted with operators there for the meeting. Visit
nelivery.org
for more information.
[07.03.23]