Details

Category: Industry News
Bus manufacturer Van Hool has shipped its first CX45E, a 100% battery electric coach, to the U.S. After an intense period of development—which included tests on acceleration, agility, and noise, according to the company—the CX45E is now being commercially launched by Van Hool's North American exclusive distributor ABC Bus Companies. An additional ten units will be shipped to the US in the first half of 2021. The all-electric CX45E will then be delivered to two North American customers.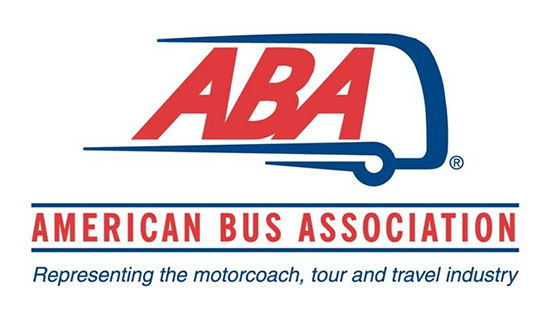 "With this announcement it all became a reality: a few years ago we put the first technical concepts of the CX45E on paper, and today the end-result leaves for the U.S.," explained CEO Filip Van Hool. "We were of course able to draw on our vast experience we have built up over decades in the design and production of electric buses. In 1985 we built the first trolley electric buses. In 2005 we were the first manufacturer to design a hydrogen-powered electric bus for the North American market, and the platform of our successful Exqui.City trambus can be equipped with different electric drivetrains. In total, more than 1,000 electrically powered vehicles have left Van Hool's factory. And we will continue our efforts to market environmentally friendly and cost-efficient electric vehicles in the future, both in Europe and in our second home market North America."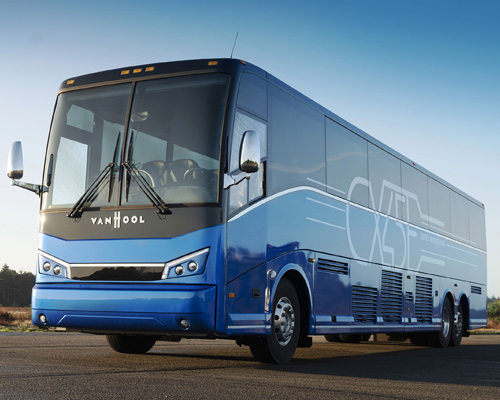 Van Hool CX45E electric coach
The CX45E is a fully electric powered coach for the North American market. Proterra, a leading American producer of battery technology for heavy-duty vehicles, was selected by Van Hool to supply the E2 battery technology. The 100 percent electrically driven vehicle has a range of up to 310 miles, depending on the climate conditions and the route's topography. The CX45E will mainly be used for commuting by groups of employees and/or regular passenger transport.
"The cooperation between Van Hool and its distributor in the North American market, ABC Bus Companies began 33 years ago," says Van Hool. "As there was demand from several customers for fully electrically powered vehicles, we at Van Hool and ABC Bus Companies looked for a solution. Van Hool is excited and proud to work with Proterra, a pioneering company in the development and production of battery technology."
The CX45E was designed, developed and prototyped at the parent company in Koningshooikt, Belgium. The production-ready versions of the ten CX45E coaches planned for the first half of 2021 will also come from the Belgian factory. The vehicles will be driven from Koningshooikt to Zeebrugge for shipment to the US.
Visit vanhool.be for more information.
[01.05.21]
Details

Category: Industry News
The Global Business Travel Association (GBTA) has released the results of its latest COVID-19 Member Poll. The survey—the 14th such poll by GBTA since the onset of the pandemic to measure the impact on business travel—finds that a majority of respondents are optimistic that the travel industry will begin to rebound in mid to late 2021 and that the availability of the COVID-19 vaccine is top of mind for many business travel professionals.
"What we're seeing in this latest poll is a number of reasons for the business travel industry to be optimistic about 2021, especially toward the middle of the year," said Dave Hilfman, the interim executive director of GBTA. "As the vaccine rollout gains momentum and if we see a corresponding drop in positive COVID-19 test results, this survey suggests something of a return to personal connections and in-person meetings and events in the business space."
Key findings include:
Three out of four respondents expect employees to attend in-person meetings/events in Q2 or Q3 2021, with 89 percent of respondents set to attend an in-person meeting or event with attendees outside their company by Q3 2021.
87 percent of respondents expect to attend internal company meetings or events in person by Q3 2021. As attendance at in-person events increase through the year, attendance at hybrid meetings is expected to decline as 2021 unfolds.

Three in five (59 percent) of GBTA members say vaccine availability is a "significant" factor in their company's decision to resume business travel. One in four (23%) say it is a 'moderate' factor, while one in ten (14 percent) are unsure of the impact the vaccine will have on the resumption of business travel.

Despite the vaccine being rolled out in the US and Europe over the past few weeks, many GBTA member companies remain largely unsure about their company's position concerning vaccine availability and the resumption of business travel, according to the poll. Half (54 percent) report they are unsure about their company's position, whereas one in five (20 percent) say their employees will be permitted to travel for work when the employee and a significant portion of the population have been vaccinated. An additional one in five (16 percent) employees will be permitted to travel for work once a significant portion of the population has been vaccinated. One in ten (10 percent) say their employees will be permitted to travel for work when they have been vaccinated.

Two in five (39 percent) GBTA members/stakeholders report their company has begun to plan hosting or attending meetings and/or events for 2021, while half (50 percent) have yet to start, and one in ten (11 percent) are unsure of their plans.

55 percent of GBTA members and stakeholders in Europe say their company has begun planning 2021 meetings and/or events, while 36 percent of North America respondents said the same.

Of those who report their company is planning to host/attend 2021 meetings and/or events, more than half are planning to host/attend small to mid-sized meetings or events with up to 500 attendees.

Buyers and procurement professionals expect 2021 business travel spend to be lower than it was in 2019. Nine out of ten (90 percent) say 2021 business travel spend will be lower compared to 2019 and only 5 percent expect 2021 travel spend to be the same as 2019. Broken down by region, 98 percent of buyers and procurement professionals based in Europe and 90 percent in North America expect 2021 business travel spend to be lower than it was in 2019.
When asked where travel savings would be made, comparing travel spend in 2019 versus 2021, travel buyers and procurement professionals estimated that there would be a decline in the percentage spent on internal meetings, conferences and trade shows (regardless the amount of funds allocated for 2021 business travel), but an increase in percentage spent on sales meetings and service trips with current and prospective customers.
View the entire poll results here and key highlights here.  GBTA has been polling members since the beginning of the pandemic; the results of all polls can be accessed here.
Methodology
GBTA conducted a poll of its members across the globe from December 7-13, 2020. A total of 760 responses were received.
Visit gbta.org for more information.
[12.30.20]
Details

Category: Industry News

EmpireCLS announced that they are the first luxury ground transportation provider to provide rapid COVID testing for their chauffeurs. The CareStart COVID-19 Antigen test is FDA approved, and described as a lateral flow immunochromatographic assay intended for the qualitative detection of the nucleocapsid protein antigen from SARS-CoV-2.
In a statement, the company calls the tests—which offers results in 10 minutes—"another step and breakthrough in mitigating risk, as we continue to protect the health and safety of all those riding with us."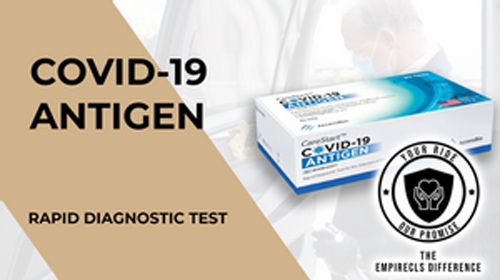 EmpireCLS COVID-19 Antigen test kit
Testing is currently available for the industry upon request for $50 in the following cities:
Los Angeles
New York City
Boston
Washington D.C
Miami
Atlanta
San Francisco
Dallas
Houston
Chicago
Tampa
Orlando
Philadelphia
More key cities being added weekly
This rapid testing continues EmpireCLS's efforts to offer the "safest ride on the road." Since the pandemic, the company's chauffeurs have been supplied with thermometers to monitor their temperature throughout the day. While this will not detect asymptomatic infections, it has created awareness when a chauffeur has a fever and may not know.
To learn more about chauffeur testing and all of our Health & Safety guidelines click HERE.
Visit empireCLS.com for more information.
[12.28.20]