Atlantic City, N.J. — The Limousine Association of New Jersey (LANJ) held a general membership meeting at Harrah's Atlantic City Hotel on November 14. More than 70 members and guests were in attendance, including CD's Publisher Chris Weiss and Industry & Brand Ambassador Philip Jagiela. The breakfast meeting gave attendees the opportunity to catch up on recent legislation and industry-related news.

LANJ President Jason Sharenow of Broadway Elite Transportation got the meeting underway with an update on the TNC Bill that's currently under consideration by the N.J. state legislature. While the Bill to allow TNCs to operate in the state was approved in May, it has been stalled due to the reluctance of the TNCs to allow fingerprinting and background checks. However, Sharenow estimates that the Bill will pass before the end of the year. Another piece of legislation, the Limo Bill, is also before the state Assembly, and is designed to eliminate sales tax on service and reduce insurance requirements. LANJ Board Members Jon Epstein of Royal Coachman Worldwide Limousine Service and Pete Corelli of Lakeview Custom Coach recently provided testimony on behalf of N.J. operators and have worked tirelessly on behalf of LANJ to get this Bill passed.


L to R: Jason Gogel of MyLimo, Brett Barenholtz of Boston Car Service/Above All Transportation, Jon Epstein of Royal Coachman Worldwide, and Anthony Azara of Touch of Class Limousine Following the legal updates, Sharenow shifted gears to discuss changes to LANJ membership requirements, which include a reduction in dues for small operators who operate with one or two cars. He credited the support of Chauffeur Driven, Chosen Payments, and Complete Fleet Livery Sales for being able to reduce the fees. Also, Sharenow spotlighted LANJ's Affiliate Membership program that welcomes out-of-state entities who run legitimate operations in their home state. Some of the association's Affiliate Members include Boston Car Service/Above All Transportation, Desert Rose Limousine, RMA Worldwide Chauffeured Transportation, and Windy City Limousine, among others.

Next, David Piccolo, a representative from Meeting Sponsor T-Mobile was introduced. With T-Mobile serving as a LANJ Platinum Vendor member, Piccolo told the crowd that he is proud to consider himself a consultant to the association for technology issues. He then highlighted the services that T-Mobile can offer the chauffeured ground transportation industry, including GPS and SMS secure messaging. After T-Mobile's presentation, Sara McKee and Katie Martinez from Chosen Payments were given the floor, and presented LANJ with a check for $10,753.03 for the past year's shared revenue between the company and the association. They also offered those in attendance a $100 rebate towards any LANJ member dues for anyone who climbs on board Chosen Payment's service before the end of 2016.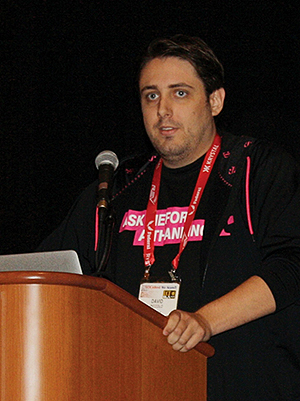 David Picollo, a representative of meeting sponsor T-Mobile The meeting concluded with an educational session about marketing, which feature panelists Pat Charla of DriveProfit and Arthur Messina of Create-A-Card. Charla discussed the benefits of digital marketing, particularly the value of having processes automated with an up-to-date website. She also emphasized the importance of having a strong web presence particularly in regard to SEO and social media. Messina then followed up with a strong case for the notion of print being far from "dead," suggesting that printed marketing materials add credibility to a business. He also proposed that operators should put headshots on business cards to increase exposure and familiarity.

The next LANJ general meeting is scheduled for Wednesday, January 18.

Visit lanj.org for more information.

[CD1116]