Nashville, Tenn. — The Tennessee Association of Chauffeured Transportation (TACT) rang in the holidays with a festive luncheon on December 6. CD Director of Events Jess Pavlow was among the 15 members and supporters who came out for the yearly tradition.

As the association continues to grow, its leaders are thinking up new events and ideas to continue on its upward trajectory. TACT President Carl Haley of Grand Avenue Worldwide announced plans for a poker or casino night within the first quarter of 2017, which was met with wildly positive feedback. The association also is reaching out to ground transportation companies that operate within Tennessee but are based in other states to bolster its numbers and bring in new perspectives from the surrounding region.

In terms of old business, Haley spoke of the ongoing construction plans at Nashville International Airport, which officials say with include the input of area operators and TACT itself.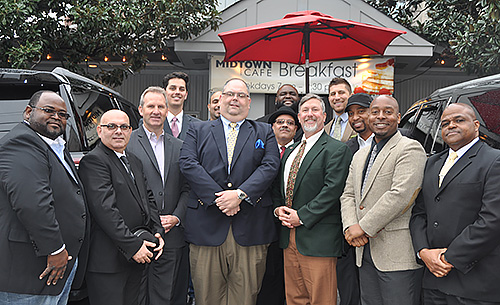 The attendees of TACT's holiday luncheon on December 6 With a new year coming up, a call for board nominations was made. The nominees included Haley, Matt Yorke of Signature Transportation Services, Todd Roberts of JACO Limousine & Transportation, Val Newton of Regal Limousine Service, Ed Coleman of Emerald Luxury Transportation, and Johnny Sansom of Alpha Limousine.

Toward the end of the meeting, Pavlow thanked the association and its members for the ongoing support they've shown Chauffeur Driven, and spoke about its 2017 events. She also raffled off a pass to the 2017 CD Show in Orlando, which was won by Nick Lopez of JACO Limousine & Transportation.

The next TACT meeting will be January 2017.

Visit the association's newly designed website at tnact.com for more information.

[CD1216]