West Haven, Conn. — Hy's Limousine Wordwide is proud to announce that they've recently celebrated its 65th anniversary in 2016.

Founded by Hyman Levine in in 1951 with a single Packard Limousine, the company flourished under the leadership of Hyman and son Bob, sgrowing into the largest livery service in Connecticut.

Harry Truman was President and Elizabeth II was still a Princess, when Hy bought the Packard. A Streetcar Named Desire hit the movie houses as Hyman's car hit New Haven. It was a big star at weddings back then and the business grew on the bridal, funeral and special event bookings. When Bob joined the business right out of college he recognized that there was an opportunity to book "over-the-road" transportation and began buying the company's first sedans and by 1980 they were up to 28 vehicles. Ground broke for the new 15,000sf headquarters in West Haven in 1982. Sadly Hy's lost Hyman just months before the Grand Opening. Bob took the helm and has charted a course of great success fueled by a commitment to excellence.

Hy's opened a second office in New Britain in 1998 to better serve upper Connecticut and Massachusetts, and acquired Greeenwich Executive Transportation in 2015 to anchor service in lower Fairfield County, Westchester County, NY and New York City (Hy's is MassPort and NYTLC permitted).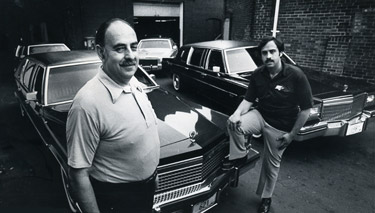 Hyman and Bob Levine By the time Bob's son Matthew Levine joined in 2008, the business had expanded to a 100-vehicle fleet. After a stint in New York City in the marketing department at Rolling Stone magazine following his graduation from Syracuse, Matt fell into the family business.

"Part of me really wanted to set out and create my own path, but the pull of the family and the heritage of this business was just too strong. I was so proud of my grandfather and my father growing up, having built this amazing company and working so hard to do business and serve customers the right way, I realized that I want to help carry on this legacy as well," Matt says.

Bob added "As you might imagine I was thrilled to have Matt decide to come home and continue what his grandfather started. But it wasn't just the family thing. Matt brought back a really valuable set of skills. The advances he initiated in technology have put us at the forefront of the industry and his marketing experience has delivered measurable results. And you can rest assured that it wasn't me who put us on Facebook, Twitter and the like!"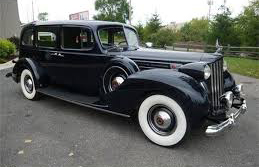 The original Packard Limousine purchased by Hyman Levine One of the benefits of a long, successful history is the opportunity to be a part of the fabric of a great community Hy's contributes to many area charities and causes and is most proud of its partnership with the Make-a-Wish Foundation that has resulted in many fulfilled wishes and broad smiles. Bob adds with a grin "the kids do light up when a shiny super stretch pulls up."

So the Blue Sapphire 65th Anniversary is upon Hy's Limousine Worldwide and there is a great deal of pride in the history and a clear-eyed vision for the future. "My grandfather used to say 'Every ride has to be perfect'. That hasn't changed," says Matthew Levine.

Visit hyslimo.com for more information.

[CD0117]