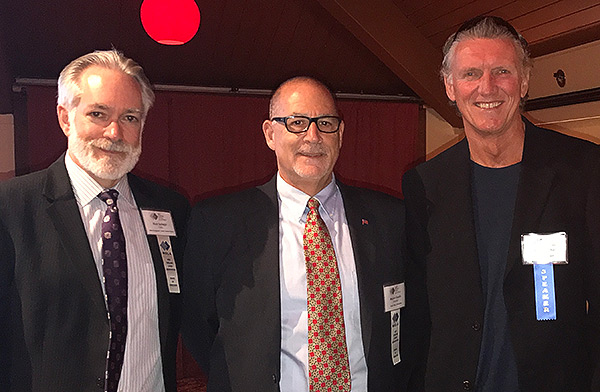 L to R: NELA Executive Director Rick Szilagyi, NELA Director Wayne Cipullo of Great Bay Limousine, and Guest Speaker Billy SheehanSaugus, Mass. — When the New England Livery Association (NELA) convened for its most recent membership meeting September 12, nearly dozens of members were in attendance for an evening of networking and industry updates. Chauffeur Driven Director of Events Jess Pavlow was on hand for the association's quarterly gathering.

Summer saw NELA, its members, and the board run annual events like Chauffeur Appreciation Day and the golf fundraiser, plus NLA's yearly Day on the Hill and various lobbying efforts to reach out to the New England region's elected officials. Meeting on the cusp of summer and fall gave the assembled members a chance to regroup and catch up as everyone's schedules returned to business as usual.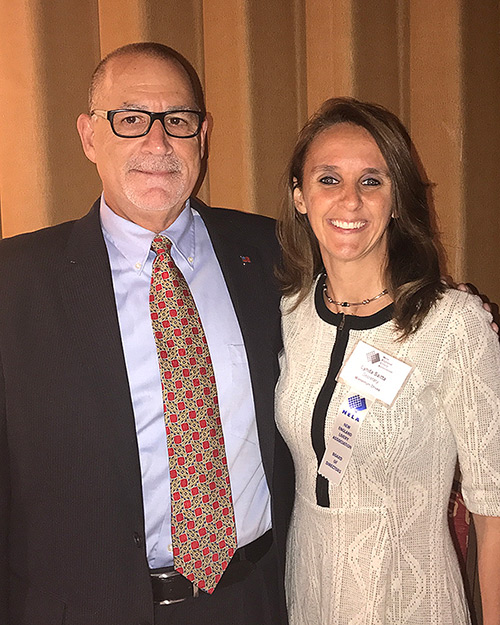 NELA's Director Wayne Cipullo of Great Bay Limousine and Secretary Lynda Saitta of Momentum DriveAfter a casual cocktail hour, the meeting began with NELA Executive Director Rick Szilagyi welcoming everyone and introducing the slate of featured speakers.

Scott Solombrino of Dav El/BostonCoach stressed the importance of participating in the industry's regional and national associations, as strength in numbers is increasingly important as NELA and New England operators continually fight for not only more stringent vetting processes for Uber and Lyft drivers but also the same dispensations extended to and regulations governing TNCs.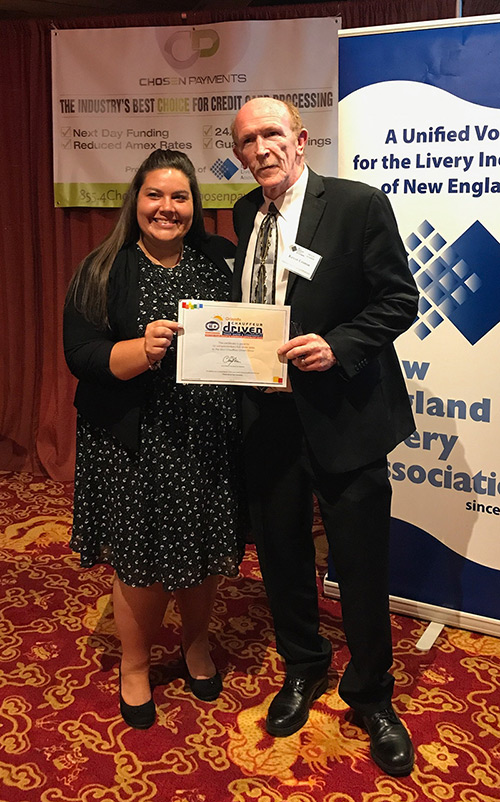 CD Director of Events Jess Pavlow with winner of the pass to the 2017 Chauffeur Driven Show, Kevin Cronin of Above All TransportationSolombrino added that he'd received word from The Boston Globe, which reported extensively on the chauffeured ground transportation industry's efforts to bring about increased passenger safety and a more level playing field, that last year's successful passage of a driver tax for TNCs has yet to be implemented. Meetings are currently in the works to address and resolve this delayed implementation.

Billy Sheehan—perhaps better known as "Billy the Coach"—then shared his insights with the audience. As an executive health and performance coach, Sheehan has observed a positive correlation between making healthy choices and a significant uptick in one's functional capacity. He spoke about the importance of making healthy choices to better one's life to improve both its quality and one's performance.


L to R: Lew Aflalo of United Private Car, Michael Lyndsey of Driver Schedule, Scott and Anthony Solombrino of Dav El/BostonCoach, and Dan Morgan of Advantage FundingDuring the meeting, Michael Lyndsey of Driver Schedule—and also the founder of Connecticut's Lyndsey Limousine—discussed his product's platform and how he founded it as "a solution to the growth and management challenges of a large staff of chauffeurs with constantly changing availability."

Raffles and drawings closed out the night. Pavlow, who spoke about how Chauffeur Driven supports the industry and its associations while also detailing what the 2017 CD Show will offer its attendees, contributed to the raffle with a show pass. Kevin Cronin of Above All Transportation was the lucky winner.

The next NELA meeting will be its holiday party December 11.

Visit nelivery.org for more information.

[CD0917]