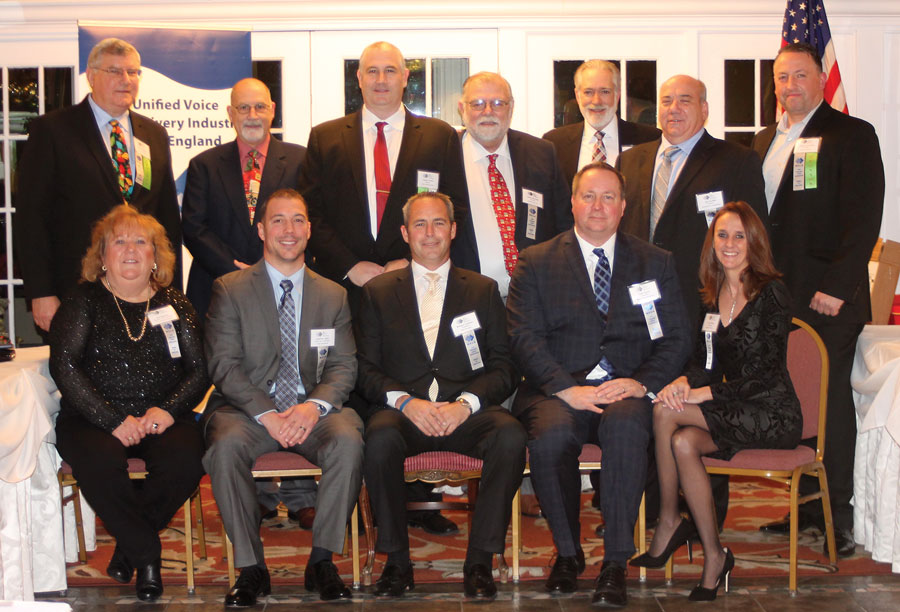 The NELA Board of Directors. Back row (L to R): Affiliate Director Stephen G. Crispo of Research Underwriters, Directors Wayne Cipullo of Great Bay Limousine, Joseph Puleo of BostonCoach, and Arthur Bernard of Airport Coach, Executive Director Rick Szilagyi, and Directors Joseph Cardillo of All Occasion Transportation and Jason Dornhoffer of United Private Car/United Worldwide. Front row (L to R): 2nd Vice President Tina Benson of L.A. Limousine Service, 1st Vice President Andrew Tighe of Tristar Worldwide, President Michael Callahan of Able Limousine, Treasurer Teale Smith of Maine Limousine Service, and Secretary Lynda Saitta of Momentum Drive. The New England Livery Association (NELA) welcomed 84 members and supporters to its winter quarterly meeting and holiday party held at Anthony's of Malden December 12. Chauffeur Driven Editor Madeleine Maccar was among those in attendance for the festive event.

The meeting began with plenty of networking and mingling during a cocktail hour that kicked off the evening before NELA Executive Director Rick Szilagyi began the meeting portion of the winter quarterly event. He recognized President Mike Callahan of Able Limousine—one of only three presidents the association has operated under during its storied history—for his work to keep NELA an effective voice and advocate for chauffeured ground transportation, as well as the evening's sponsors who made the "night that's more about having a good time together than doing business" possible.

Szilagyi also called out the especially active members whose support has yielded the successes that NELA has helped bring about for New England operators: "You need to know that a few companies and members have been carrying this association: Scott Solombrino, Dawson Rutter, Mark Mollica, Andy Tighe, Tami Saccoccio, Brett Barenholtz, and Kevin Cronin have all done so much to support NELA."

Solombrino then took to the podium to discuss the National Limousine Association's (NLA's) biggest victory since the passage of the Ride Act nearly 10 years ago: Striking down a proposed tax measure that would create a haven of sorts for TNCs at the exclusion of more rule-abiding livery operators, further titling the playing field in TNCs' favor. He went on to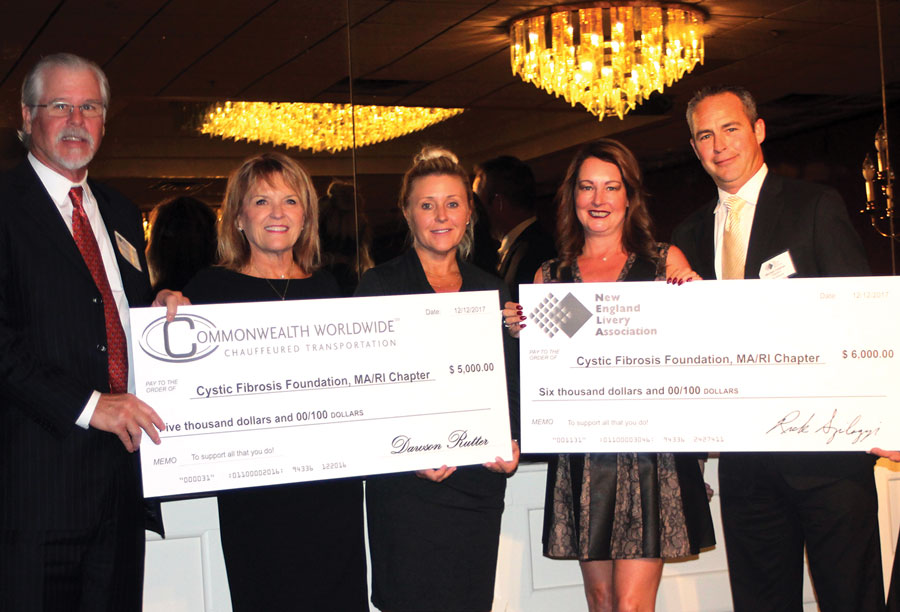 L to R: Dawson Rutter of Commonwealth Worldwide, Pam Simms Spitzer and Karen Kelly of the Cystic Fibrosis Foundation, Tami Saccoccio of Commonwealth ­Worldwide, and NELA President Mike Callahan of Able Limousine explain how the next 12 months' biggest fight will actually not be against the same enemy but rather driverless vehicles.

"Autonomous cars could put 20 million people out of work," Solombrino said. "We have the high ground, and we are prepared to go to every district with displaced workers and fight. We need to prove that workers come first and technology comes second."

For nearly two decades, NELA hosts its annual George Colarullo Memorial Golf Tournament, a fundraiser co-chaired by both Callahan and that benefits both the association and a number of charities that hold personal significance to various members. This past August, the yearly golf outing raised $6,000 for the Cystic Fibrosis Foundation, while Rutter donated an additional $5,000 on behalf of Commonwealth Worldwide. Rutter, Saccoccio, and Callahan presented the two checks totaling $11,000 to the foundation's Executive Director Pam Simms Spitzer and Senior Development Director Karen Kelly.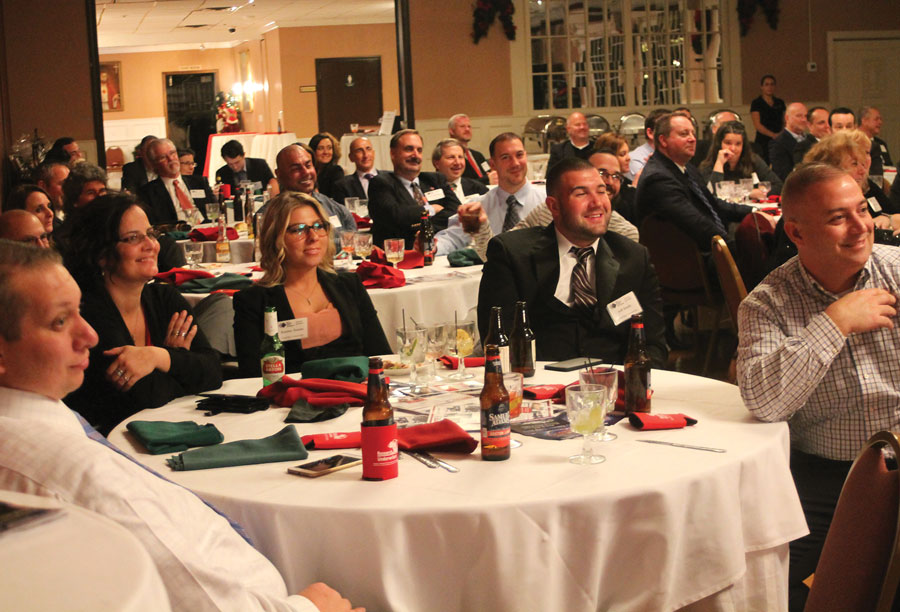 More than 80 attendees turned out for NELA's holiday celebration
"Your donations are helping people with cystic fibrosis," Simms told those in attendance. "And your generosity is helping so many children breathe easier."

There were plenty of chances for attendees to walk away with a little extra holiday spirit, and an array of gift baskets and prizes were given away during the meeting. Maccar raffled off a pass to the 2018 Chauffeur Driven Executive Retreat in San Diego, which was won by Commonwealth Worldwide's Saccoccio.

A performance by comedian and impressionist Joey Voices capped off the evening, treating meeting-goers to a little audience participation and decades' worth of musical hits in a medley of well-known hits performed in the likes of the artists who popularized them.

The next NELA meeting will be March 6.

Visit nelivery.org for more information.

[CD0118]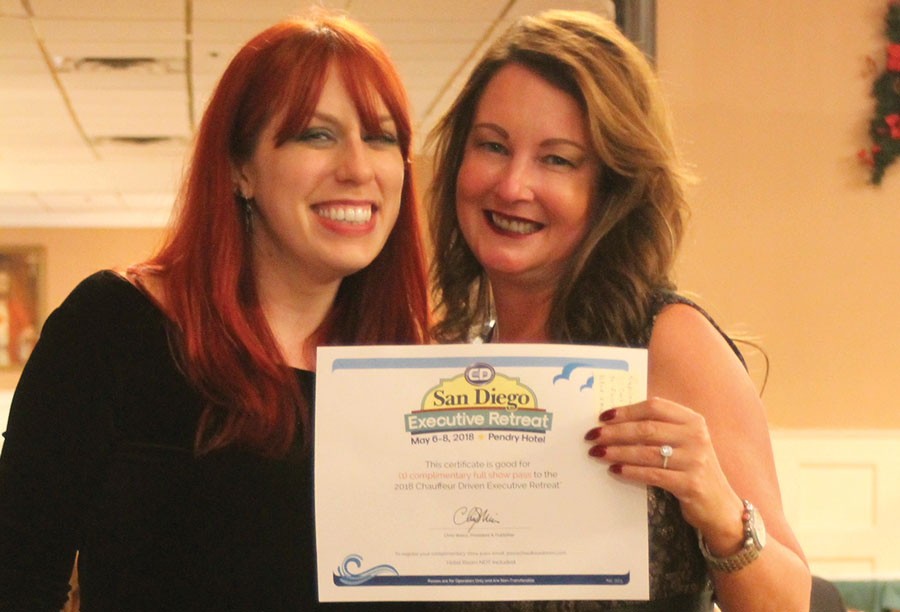 CD Editor Madeleine Maccar (left) with Tami Saccoccio of Commonwealth Worldwide, winner of a CD Executive Retreat pass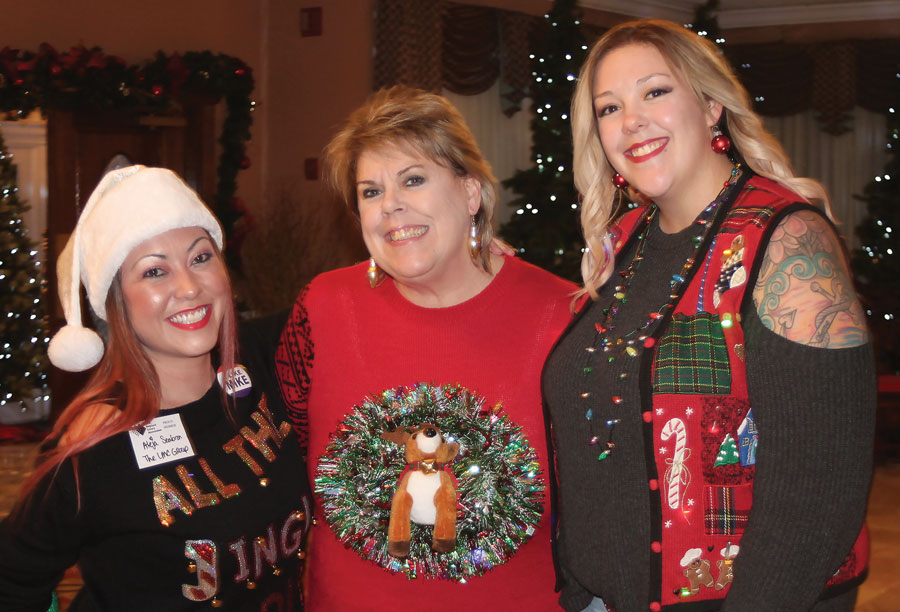 L to R: Aleja Seabron and Alison Ford of The LMC Group and Brittni Kirk of All Points Limousine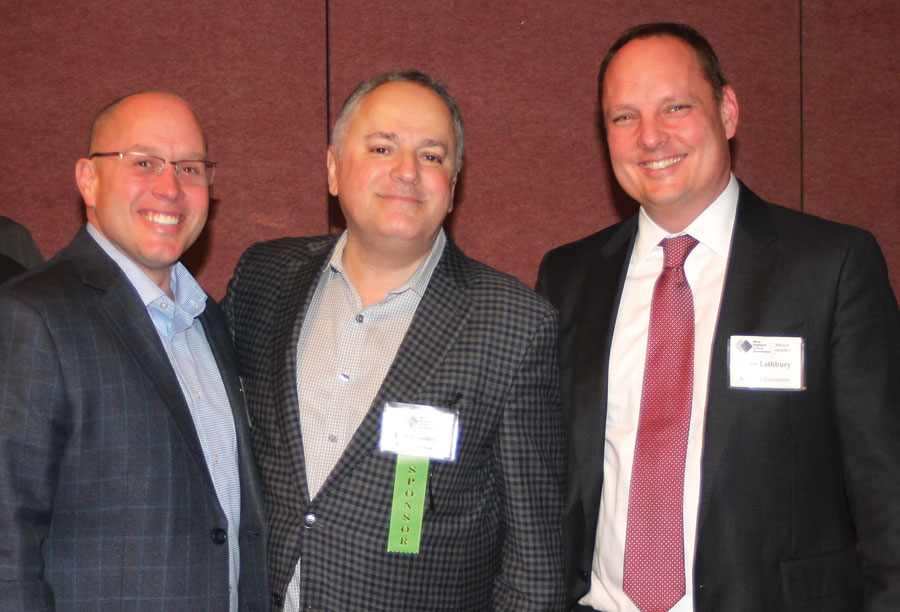 L to R: Dan Morgan of Advantage Funding, Scott ­Solombrino of Dav El/BostonCoach, and Dave ­Lathbury of Black Tie Limousine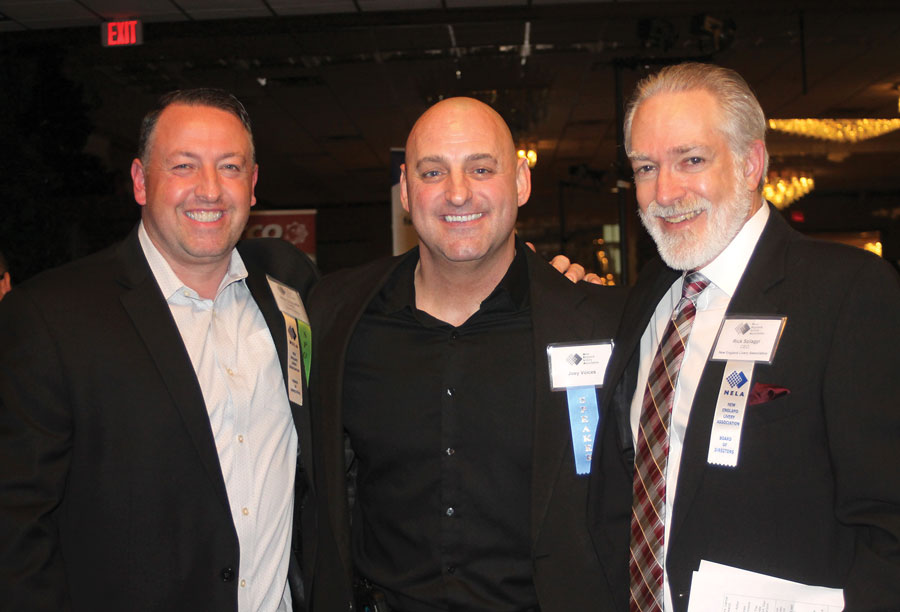 L to R: NELA Director Jason Dornhoffer of United ­Private Car, entertainer Joey Voices, and NELA ­Executive Director Rick Szilagyi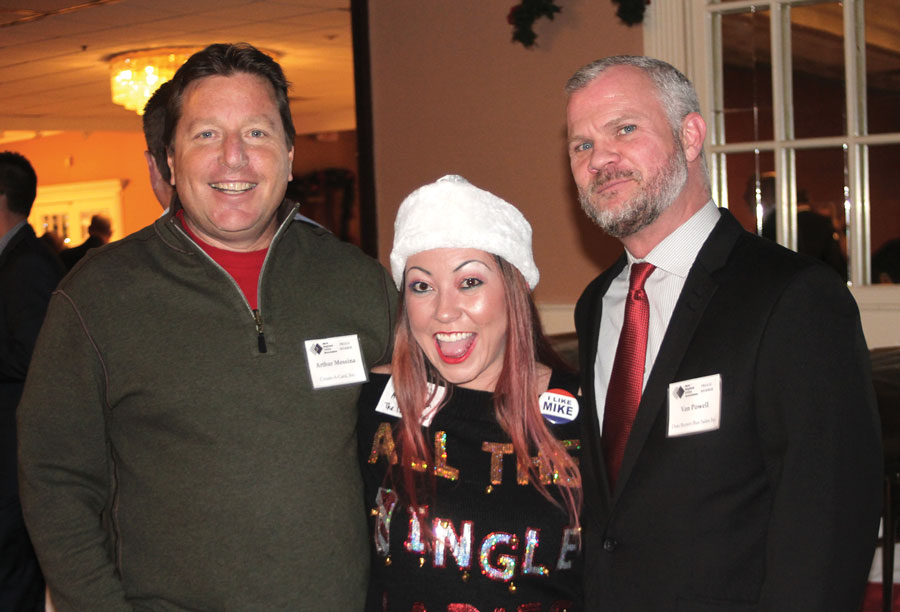 L to R: Arthur Messina of Create-A-Card, Aleja Seabron of The LMC Group, and Van Powell of Don Brown Bus Sales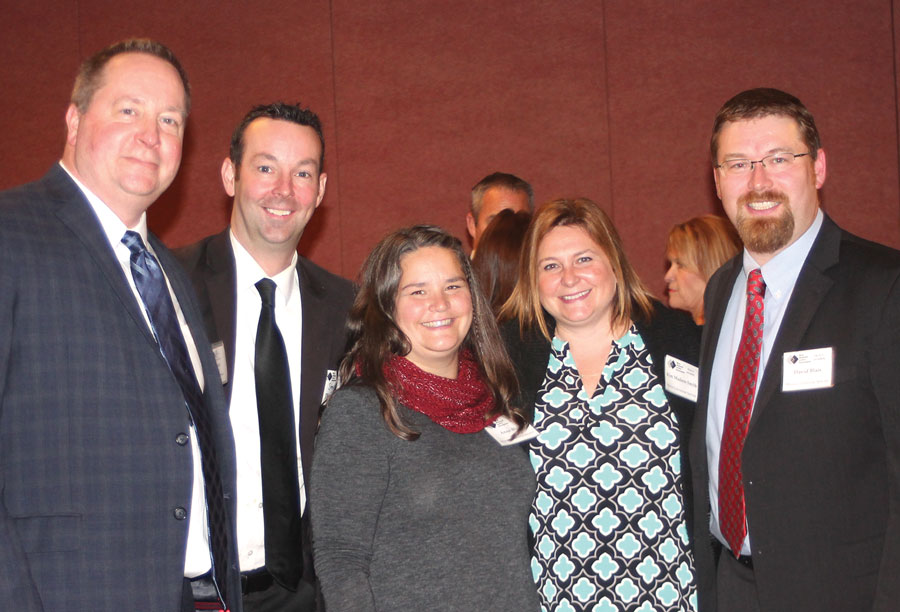 L to R: NELA Treasurer Teale Smith, Steve Magee, Anne Blais, Kim Madore-Smith, and David Blais of Maine Limousine Service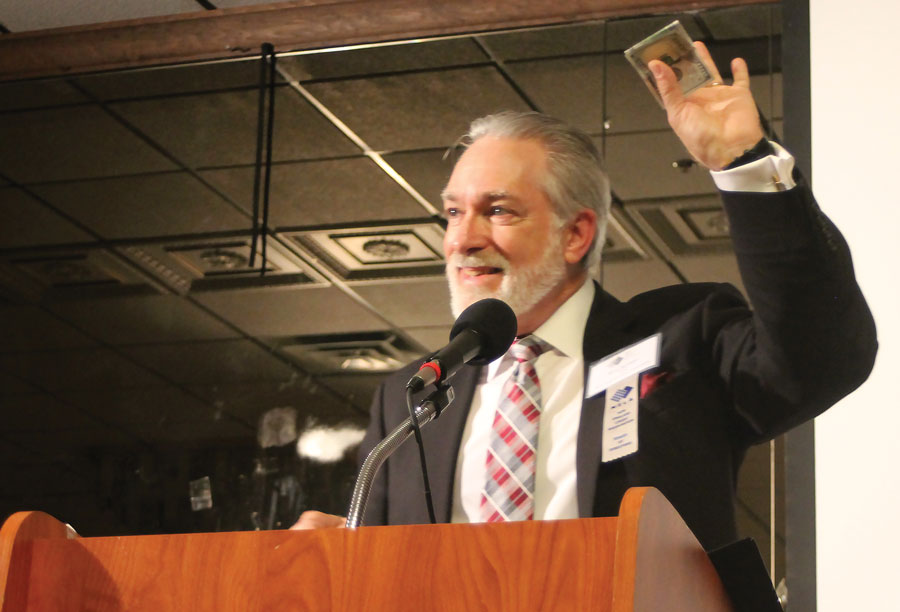 NELA Executive Director Rick Szilagyi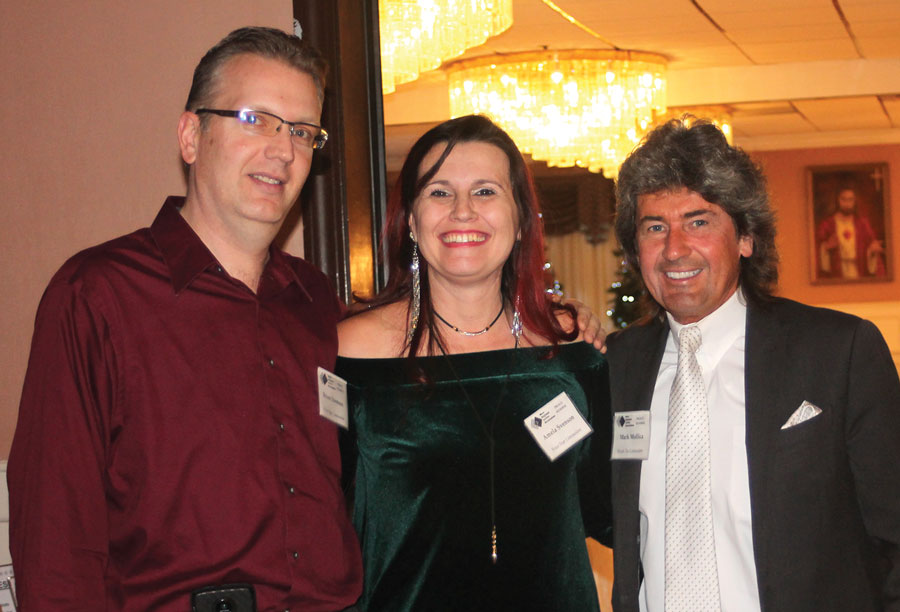 L to R: Brion and Amela Svenson of Four Star ­Limousine and Mark Mollica of Black Tie Limousine