TLPA President Mike Pinckard Oklahoma City —In a schedule packed with industry updates, breakout sessions, and the latest products showcased by vendors, the Taxicab, Limousine & Paratransit Association's (TLPA's) April 10-12 Spring Conference & Expo unveiled new customizable features for a national marketing program, hosted numerous technology discussions, and offered helpful advice on improved operations.

The event, held at Oklahoma City's Renaissance Convention Center Hotel & Spa and Cox Convention Center, drew about 200 attendees and vendors. The following are some of the highlights of the conference:

• An important update to TLPA's Ride Local marketing campaign for fleets, which is now easily customizable for all TLPA members. From vehicle decals to posters to wearable swag, this marketing program reminds the public in individual cities to "Ride Local" by choosing locally owned, locally operated transportation. To find out more, visit tlpa.org/Ride-Local.

• An overview of TLPA's strategic planning process that is mapping a vision for the future of the industry, as well as TLPA's role in helping members meet the opportunities and challenges ahead.

• Panel discussions and breakout sessions on how to transition to soft meters in taxis; how to make more money through motorcoaches and survive a DOT audit; working constructively with transportation brokers; strategies for improving taxi service; hiring and retaining skilled paratransit drivers; and an alternate path for addressing independent contractor driver benefits.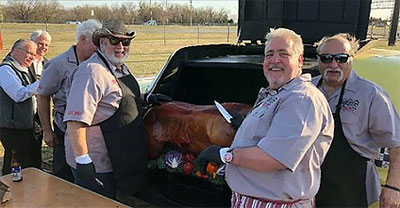 The 3 Taxi Guys team served TLPA members a whole hog cooked in their famous cabeque "I am very energized by where this industry is going and what we see happening just around the corner," said TLPA President Mike Pinckard. "What we're doing as an association is really setting the table for how we continue to help transportation fleets well into the future, and this conference laid a great foundation for the big event coming up in just a few months when we all gather for our landmark 100th Annual Convention & Trade Show."

The conference was made possible through the generous support of sponsors including Azpired and MTI Dispatch (Gold Sponsors); The Black Car Fund (Silver Sponsor); and Flywheel, Airport Express, Inc./MedRide and 3 Taxi Guys (Bronze Sponsors).

In a special treat, conference-goers sampled the award-winning culinary expertise of the 3 Taxi Guys BBQ. The company, formed by three longtime taxicab operators and TLPA members, brought its signature taxi-turned-barbecue smoker to Oklahoma City especially for this event, treating all attendees to a BBQ dinner held at the operations center of Airport Express, Inc./MedRide, the host operator of the conference.

The TLPA's next event will be its Mid-Year International Leadership Conference/Legislative Fly-In in Washington, D.C., from June 19-21. The 100th Annual TLPA Convention & Trade Show will be held Oct. 26-29 in Las Vegas.

Visit tlpa.org for more information.

[CD0518]