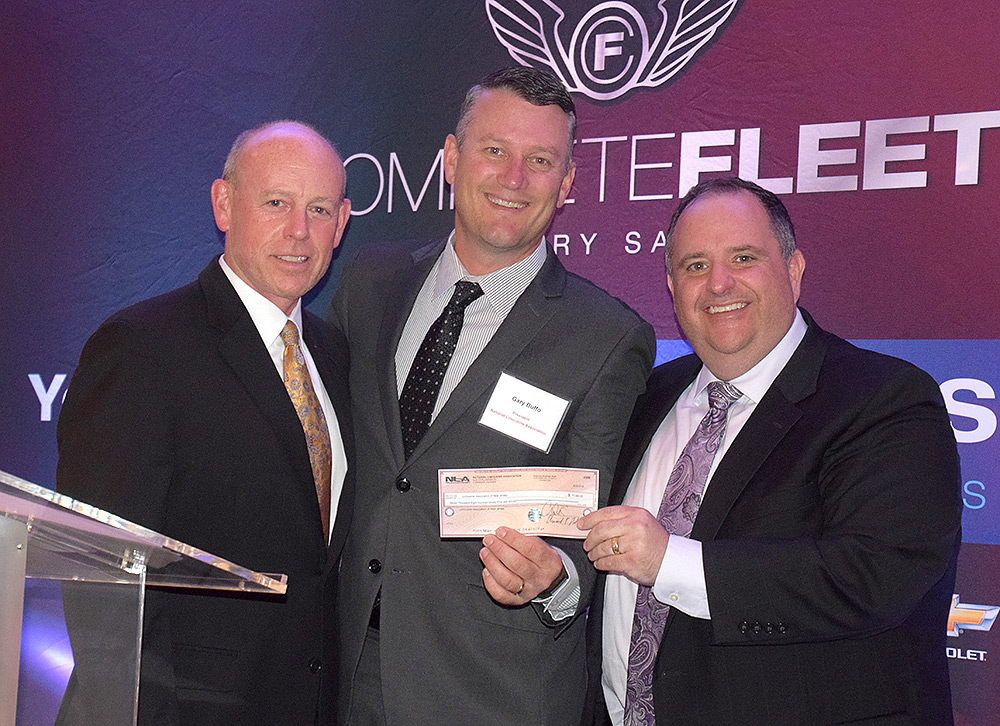 L to R: Jon Epstein of Royal Coachman Worldwide, NLA President Gary Buffo of Pure Luxury, and Jason Sharenow of Broadway Elite Worldwide with a rebate check for LANJ West Orange, N.J. — Despite the stormy weather, spirits were high inside the Wilshire Grand Hotel, where the Limousine Association of New Jersey (LANJ) held its 16th annual auction fundraiser event. Thanks to the hard work of returning event chairmen Barry Trabb and Bruce Cirlin of Complete Fleet Livery Sales, and Premier Sponsors Ford-Lincoln Limousine and Livery Vehicles and Maplecrest Ford Lincoln, nearly $19,000 was raised over the course of the evening. CD Publisher Chris Weiss and Editor Rob Smentek attended the event, along with 75 LANJ members and industry representatives.

Among the special guests present for the dinner and auction was NLA President Gary Buffo from Pure Luxury Transportation. As Buffo took the stage for a short presentation to the association, he offered high praise to the event and its organizers, emphatically stating "this the best regional event I've ever attended."

Buffo then outlined the NLA's current plan of shifting its public relations focus from raising awareness about safety to labor issues. With the NLA's largest spend on PR, he stressed the importance of members getting the most value for their dollar through a campaign that's effective. Recently, the association launched another massively successful PSA with Pamela Anderson geared toward TNC employees, which was immediately picked up by the mainstream press. Buffo confirmed that labor would be the sole focus at the NLA's May 22 Day on the Hill, particularly the California legislature recently ruling that TNC drivers ARE employees. He made it clear that this will be their "most important" day in D.C., as it's key to maintain the momentum gained on the West Coast. Before Buffo left the podium, he presented a check to LANJ totaling $7,895, which came from a 20-percent rebate of dues from members who hold dual memberships in both associations.

Following a cocktail hour heavy on networking and a buffet dinner, the evening kicked off with a few words from LANJ President Jason Sharenow of Broadway Elite Worldwide. He welcomed Trabb and Cirlin to the stage, who graciously thanked the Premier Sponsors, and then gave props to the Supporting Sponsors, including Capacity Coverage, Chosen Payments, Grech Motors, Intek Auto Leasing, and T-Mobile. Next Craig Hall from Ford-Lincoln gave an update on new Ford products and offers available to the industry.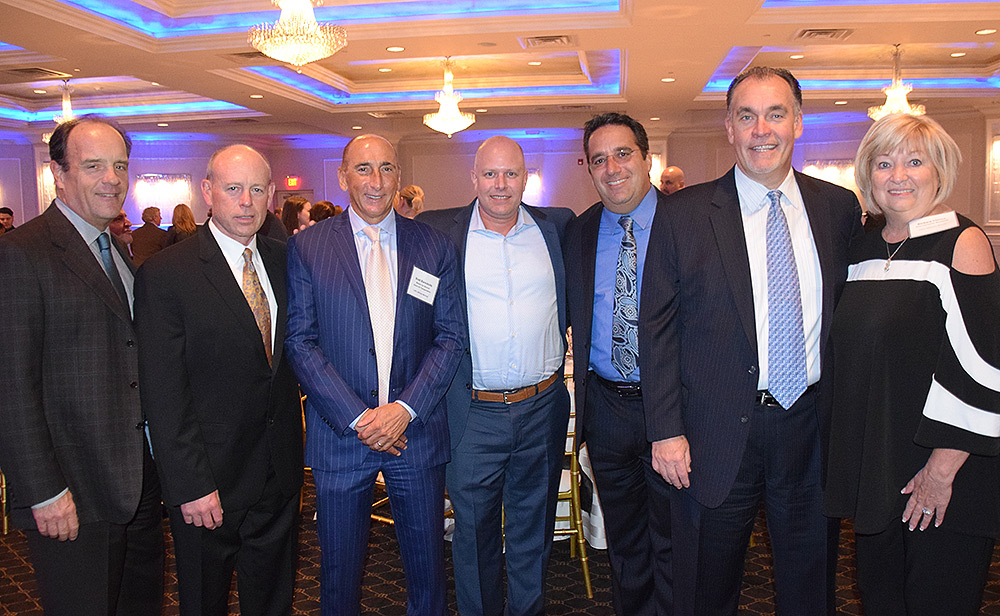 : L to R: Howard Gogel of My Limousine Service, Jon Epstein of Royal Coachman Worldwide, Brett Barenholtz of Boston Car/Above All Transportation, CD Publisher Chris Weiss, Joe Gulino of Gem Limousine, Tim Rose of Addison Lee, and Barbara Chirico of Gem Limousine Finally, it was time for returning auctioneer Pete Corelli of Lakeview Custom Coach to get the action started. Among the items up for big were sports tickets, industry services, gift baskets, and the perennially popular lottery ticket board donated once again by Gem Limousine.

Once again, Chauffeur Driven was proud to take part in the auction, and contributed a pair of passes to their 2018 Show held October 7-10 outside of D.C, as well as a pass to the 2019 Executive Retreat in Austin, Texas. Brett Barenholtz of Boston Car Service/Above All Transportation took home the Show passes, while Buffo won the Retreat ticket. For the first time at the event, CD donated two Affiliate Packages, which included a table at the Affiliate Central Forum at the 2018 show, a banner ad on chauffeurdriven.com, and a half page ad in a 2018 issue of the magazine. These were won by Gem Limousine and Addison Lee.

After the auction was complete, Sharenow delivered his LANJ report to the members. Chief among the issues raised was the possibility of sales tax being reinstated on chauffeured ground transportation operators. Sharenow pledged that he would make it his mission to ensure that this tax will levied against the industry unfairly, as in the past it was not required from taxis and TNCs.

The evening's final speaker was Mark Kenny from Addison Lee, who gave a recap of a meeting recently held with the Port Authority. He shared that LaGuardia Airport has reopened a garage in Terminal B, which will allow chauffeurs to park and offer meet-and-greet service. Kenny also confirmed that the Authority is "aggressively policing" TNCs to make sure they're operating within airport regulations.

LANJ's next general membership event is their 2nd annual golf outing, scheduled for September 17.

Visit lanj.org for more information.

[CD0518]