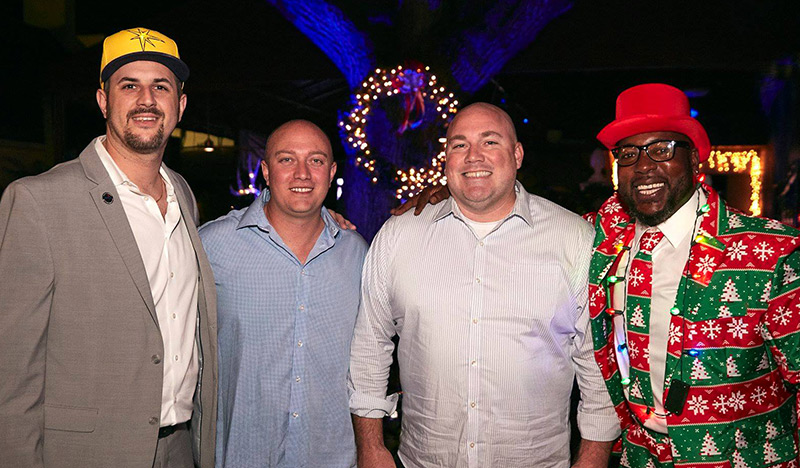 L to R: WFLA Vice President Ryan Hilberth, David DiDomenico of Showtime Transportation, WFLA President Jeremy Jenkins of His & Hers Limousines, and Shawn Brown of Showtime Transportation St. Petersburg, Fla. — The West Florida Limousine Association (WFLA) recently teamed up with the 127-year-old Tampa Bay-area charity Children's Home Network to purchase and accept bicycle donations for the region's underprivileged youth. The initiative supports the Bikes for Children program, which is geared toward giving local kids of all ages their first bicycle; WFLA's December 13 holiday party doubled as a Bikes for Children donation night.

Previously, WFLA's toy drive has traditionally filled a Mercedes-Benz Sprinter or two with toys to give to children via local charities. This year, the group joined forces with local businesses that have also been assuming the role of Santa Claus for less-fortunate children—including Kelly's Chic-A-Boom Room in Dunedin, Stroker's in Palm Harbor, BobCAD-Cam, and Showtime Transportation—to make a bigger impact.

"We've been buying bikes for underprivileged kids as a small group, so when the WFLA proposed joining forces with us, I was all about more bike donations," said Shawn Brown of Showtime Transportation, who has been a driving force for the cause as a contributor and bike donor for many years.

Prior to the event, the WFLA went on a shopping spree of its own to buy a few bikes for boys and girls of different ages. WFLA's President Jeremy Jenkins of His & Hers Limousines and Vice President Ryan Hilberth of Rental Limo, Book.limo, and LMS filled a Sprinter with various bikes they purchased on the association's behalf as donations that they hope inspire the same holiday cheer they experienced as children.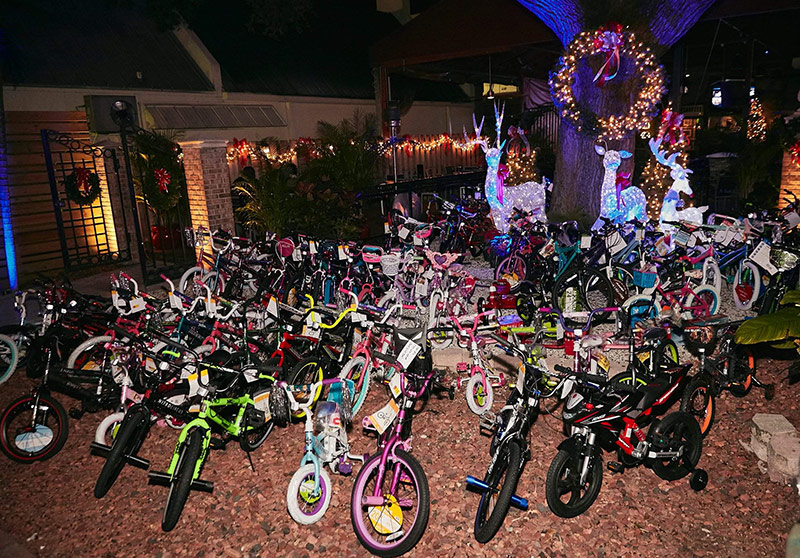 WFLA collected 90 bikes to donate to local children in need "I remember getting a bike for Christmas as a kid, and it was one of the best feelings," said Jenkins.

On December 13, Bikes for Children met at Kelly's Chic-A-Boom Room in Dunedin, Fla., with many representatives from the Children's Home Network in attendance as dozens of bicycles, toy donations, and attendees alike poured in all night long. In total, more than a hundred toys and 90 bikes were collected on behalf of the benefitting charity. Among them, Dave Shaw and Steve Gould of Olympus Limo showed up with a pink chrome trick bicycle as their donation, while Jerry Hval of Luxor Limousine donated a Batman bike that delighted attendees' inner children.

The WFLA board considers the event a resounding success.

"Imagine all the positives from giving so many children a bike this holiday season," said Hilberth. "It was amazing to see the overwhelming amount of support that Bikes for Children received not only within the WFLA but also outside of our industry, and I'm so excited to be a part of this."

Anyone interested in further supporting either Bikes for Children or Children's Home Network can find out more at either bikesforchildren.org or childrenshomenetwork.org, respectively.

Visit wfla.org for more information about the WFLA.

[CD1218]