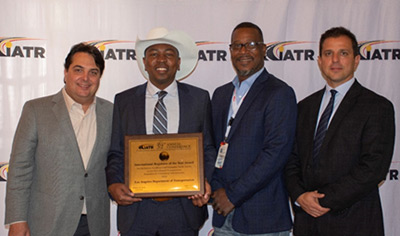 L to R: IATR President Matt Daus, IATR's 2019 Regulator of the Year Jarvis Murray, IATR Board Chair Carlton Thomas, and IATR 2019 Conference Host Abdul Rafih Calgary, Alberta —The 32nd annual conference of the International Association of Transportation Regulators (IATR) welcomed transportation professionals from around the world between September 22-25. The four days were filled with networking opportunities, an array of education from bootcamps to workshops, and plenty of opportunities to enjoy the local offerings.
The first day kept pace with the city of Calgary's slogan, "Be part of the energy," with a record number of attendees participating in the bootcamp sessions. To help bridge the information gap between American and Canadian laws and regulations, the IATR curated its program to incorporate experts and speakers from both the U.S. and Canada who led training seminars on transportation law enforcement, driver training, meter regulation, and transportation insurance—the latter of which featuredexperts from the likes of New York City Black Car Fund.
Day Two started with thekeynote speech from Councilor Diane Colley-Urquhart, who has served on Calgary's City Council as a Ward Councilor, City-wide Official and Deputy Mayor for nearly 20 years, and is now in her seventh term as an elected official. Councilor Colley-Urquhart champions initiatives to improve the lives of Calgarians and has made wellness, prevention, community safety, and security hallmarks in her elected role.
The rest of the day was dedicated to various panel discussions. Officials from the city of Calgary presented the history and current status of transportation mobility governance, regulations and issues affecting passengers and industry stakeholders, along with representatives from Houston, Edmonton, and Seattle—Calgary's sister cities—providing feedback and advice for Calgary's "Smart City Plan." The following two panels addressed the "Innovative Regulatory Frameworks—The Future of Mobility"and "Regulator Star Trek—The Next Gen of Mobility Management Professionals."
The third day focused on a wide-range of issues affecting the future of mobility in a fast-changing business environment, included a discussion on the socio-economic and regulatory impacts of automated and connected vehicles, and various breakout exploring the future implementation and introduction of shared automated and connected vehicles. The benchmarking and best practices blueprint from one of the day's all-day sessions will be used to formulate IATR's Model Regulations for Automated Transportation, which will result in the drafting of such regulations before the 2020 IATR conference, during which there will be an international public hearing to provide final comments.
On the final day, discussions included both the genesis and ongoing impact of major changes in the gig economy workforce, exploring new apps, and meetings of the Technology and Innovation, Canadian Regulators, Accessible Transport, Safety, and TNC Working Group committees.
Throughout the event, awards recognized a few attendees' accomplishments:
* The winners of IATR's Fourth Annual Hack-A-Thon were Assel Dmitriyeva and Reuben Juster, who traveled from Kazakhstan and New York City, respectively, on behalf of New York University (NYU). Their "smart city proposal" focused on how Calgary and other cities could decrease the negative impacts of TNCs without limiting people's mobility options. They ultimately proposed a Dynamic Ride Sharing System, which encouraged riders with the same origin to pair their trips if both can be conveniently served with one vehicle;
* IATR's 2019 International Driver of the Year was awarded to Jass Tatla, a well-respected driver from Checker Transportation Group who has, since 2009, displayed a high level of professionalism and sincerity, possessed a positive attitude, and ensures that he delivers the best possible service; and
* The 2019 Regulator of the Year award went to Jarvis Murray of the Los Angeles Department of Transportation (LADOT), who has been the Taxicab Administrator for the City of Los Angeles since 2016 and whose accomplishments include overseeing a Taxicab Study along with his colleagues at LADOT.
IATR's 33rd annual conference will be in Memphis, Tenn.
Visit iatr.global for more information.
[CD1119]