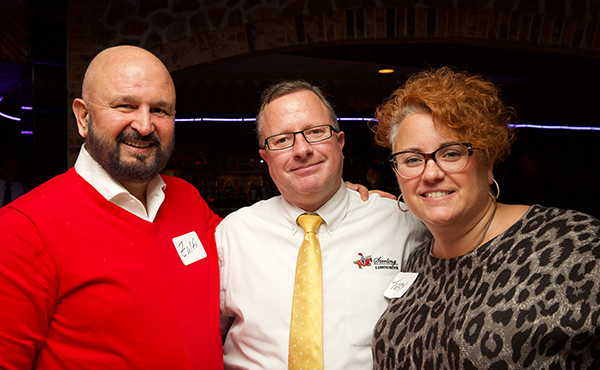 Zulfi Abbasi of American Executive Transportation, Ron Robinson of Sterling Limousine, and Tracy Salinger of Unique Limousine (Photo by Sam Emam) Newark, N.J. — It was three times the cheer on Monday, December 9, at Fernandes Steak House for the first joint holiday party of the Limousine Association of New Jersey (LANJ), the Philadelphia Regional Limousine Association (PRLA), and the Long Island Transportation Association (LITA). Ninety members, vendors, and guests attended the festivities, including CD Business Development Manager Jeff Rafkin and Editor Rob Smentek. Special thanks to sponsors Chosen Payments, Complete Fleet Livery Sales, Lakeview Custom Coach, and Nielsen Dodge Chrysler Jeep Ram for making the evening possible.
"Any way to bring our industry together is a no brainer in my mind," says PRLA President Johnny Donohoe of Sterling Limousine. "LANJ President Jason Sharenow had reached out to gauge any interest level from the PRLA and without hesitation I had said that we would absolutely jump up at the opportunity."
Though the weather was cold and a steady rainstorm pounded the Garden State, attendees, who came from as far as Virginia, were in the holiday spirit during the cocktail and networking reception that started the evening. After the members of the three associations got to mingle and meet some new faces, they were encouraged to take their seats at the dinner tables.
Sharenow of Broadway Elite Worldwide served as the de facto MC for the night, and thanked everyone for attending the party. He discussed the importance of the work that associations do for the industry, and expressed his gratitude for the time volunteered by the various board members. Event co-sponsor Barry Trabb of Complete Fleet Livery Sales then took the mic and thanked everyone for coming and participating in their associations. Next, the floor was briefly given to Smentek, who reinforced CD's ongoing support for state associations before raffling a pass to the 2020 CD/NLA Show in Las Vegas. The pass was won by Nancy Vargas of DH2 Transportation, who also serves as secretary for LITA.
"I want to thank Jason Sharenow and the sponsors for organizing a lovely holiday party," says Vargas. "It was great to connect with local operators as well as welcome those affiliates that travelled to be with us. There was a great energy among fellow affiliates and I walked away happy to win the show pass."
The dinner service proved to be a unique and belly-filling experience for everyone. Rodizio servers deftly wandered from table to table, slicing of choice cuts of beef, poultry, and pork from roaster skewers. Decadent entrees like bacon-wrapped turkey followed choice cuts of steak. Moreover, a massive appetizer, salad, and dessert bar were included on the menu—not to mention homemade sangria.
"The food just kept showing up, and I tossed my napkin in after one plate," says PRLA Secretary Tracy Salinger of Unique Limousine. "The variety was almost overwhelming, and everyone had the opportunity to enjoy whatever they liked. One of the things I love most about industry holiday parties is that they have a festive, holiday atmosphere where everyone is happy and 'in the spirit.' For me, there were many familiar faces as well as some new ones. I made sure to introduce myself quickly to my new friends."
Visit lanj.org, prlainc.com, or longislandta.com for more information.
[CD1219]