Parking and storing fleet vehicles for a long period of time is a concept that is foreign to many operators. As our industry struggles with this unprecedented time, here are some tips to help keep your fleet in peak condition until you're ready to return them to duty. This advice is for short-term storage—around two or three months. If you plan to park and store for a longer period, additional care will be needed. This list was specifically compiled for buses and motorcoaches; check out our tips for sedans and SUVs here.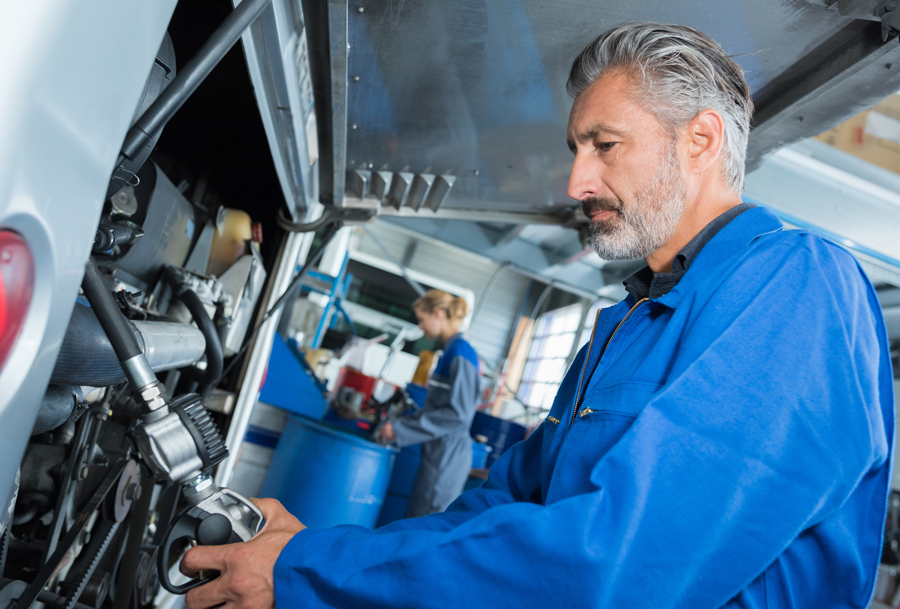 Before Storage
Clean all interior surfaces with CDC-compliant disinfectant
Change oil and filter and perform thorough mechanical inspection, including topping off all fluids
Thoroughly wash and apply quality coat of wax to preserve exterior (if needed)
Fill the fuel tank (to prevent moisture from building up in tank) and consider adding a fuel stabilizer
Inflate all tires to proper PSI
Put microfiber towels under the wiper blades
Plug the exhaust with a towel to deter critters and dirt (don't forget to remove before starting and replace)
Use or close sunshades if stored outside
If you have one, use an ozone machine prior to storage to kill bacteria that can cause unpleasant odors
Place chocks between tires
Suspend ELDs or GPS systems
Turn off the battery, if applicable (some manufacturers recommend disconnecting battery cables if stored for more than two weeks)
Flush out any restrooms and drain completely for storage
During and Removing From Storage
Continue to do 90-day inspections and annual inspections while stored
Remove exhaust plug, reconnect battery, and drive bus for at least 15 minutes every two weeks (around lot if reduced insurance; on the road if fully insured)
Perform stopping distance check
Check for any leaks or body damage
Check for any signs of animal damage or nesting, especially wires and hoses
Document, document, document
Special thanks to Barry Gross of The Driver Provider, Tom Holden of Bus Advisors, John Pizzi of Windy City Limousine & Bus, and Chris Przybylski of LBC Fleet, Safety & Compliance for helping us to compile this list. As always, check with your specific bus manufacturer for additional maintenance guidelines.
Additional Advice From Operators
"The best practice would be to uninstall the batteries and bring into the garage and put on a trickle charge. You need to run the bus weekly at a higher idle speed for at least 30-45 minutes. The idea of pulling the batteries and then reinstalling them to run the bus seems to be a lot of work, but it's really the only way to be sure the cells are ready to start the bus as quickly as you might need to use the bus. I would not worry about a fuel additive during the summer months. You may want to consider replacing the fuel filter on the bus before driving it long distances."
—Tom Holden of Bus Advisors
"We run our [idle] motorcoaches for one hour a week to charge the batteries, purge the moisture out of the system through the air dryer and purge valves, and empty the air tanks after that hour to get all water and moisture out of the system. Once they're completely drained of air, I shut the batteries off on each vehicle. While they're running, I'll kick on the heat or AC to cycle the system, depending on outside temperature. While running I'll go through a quick pre-trip inspection and check tires, lights, belts, and fluids. As for the bathrooms, all the systems have been flushed out and refilled with new fresh water solution and chemicals. Because it can still get below freezing here in the Chicago area, we add alcohol to the solution so it cannot freeze. If the system had fresh water and were to freeze, it would expand and crack the plastic storage tanks for the toilets. Our transit buses also get run once a week. Once warmed up, I drain the air tanks and shut the batteries off. We also run our 39-passenger and fewer diesels once per week for one hour. Same procedure as above. All gasoline vehicles can sit for a longer period of time without any worry about the air system, moisture, or lavatory issues obviously.
"While this pandemic is happening, we are staying up to date on all safety and annual inspections. This is the perfect time to get all vehicle warranty or recall work done. We have more than 20 vehicles having work done right now. I've been able to get a lot of detailing and cleaning work done on the vehicles as well. Ten vehicles in the past two weeks have been touched up with paint, buffed and waxed, and have had full interior details with shampoo and disinfectant. We've been cleaning all the evaporator air conditioning filters along with cabin air filters."
–John Pizzi of Windy City Limousine & Bus
Did we miss anything? Let us know! Send an email to susan@chauffeurdriven.com. 
[04.21.20]