Was it the wine or the company? Yes!
The vino (courtesy of Sire Estate, which is owned by Thomas Buck of Beau Wine Tours) and the stories were flowing as operators from all over the country tuned in to the New England Livery Association (NELA) virtual Cabernet & COVID Stories on August 5.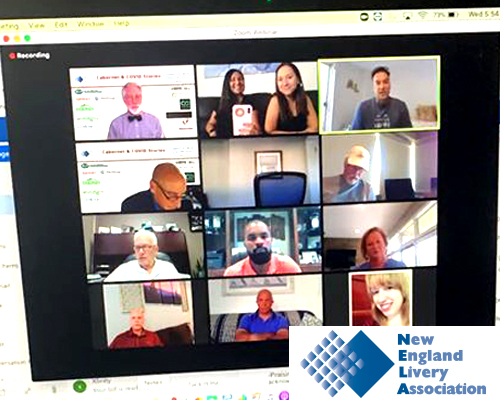 The two-hour event was hosted by NELA Director Brett Barenholtz of Above All Transportation/Boston Car/ETS and the 11 speakers included Douglas Schwartz of Executive Ground Transportation, Diane Forgy of Overland Chauffeured Services, Chris Weiss of Chauffeur Driven, Briana & Chelsea Candeub of Park Avenue Limousine, Jeff Nyikos of Leros Point to Point/Royal Coachman, Shariff McMichael of Dav El/BostonCoach, NLA President Robert Alexander of RMA Worldwide, George Jacobs of Windy City Limousine & Bus, and Dawson Rutter & Tami Saccoccio of Commonwealth Worldwide.
The tales ranged from side-splitting—sombreros and condoms?—to tear-jerking as the storytellers shared their craziest and most heartwarming experiences of the pandemic. Several operators recalled the bittersweet moment of having to close their office—only to find out that they've forgotten how or couldn't remember the alarm codes! There was plenty of self-improvement as McMichael, Weiss, and Alexander revealed their quarantine workouts and progress. McMichael also detailed the frustrating process of having to help his kids with "overcomplicated" schoolwork. When did learning the basics become so convoluted?
Nyikos, Forgy, and Jacobs each shared how COVID has impacted them close to home: Nyikos' wife is still recovering, Jacobs and several members of his team were sidelined temporarily after being stricken with the virus, while Forgy's chauffeur sadly passed away. The Candeubs shared the burden of having to layoff many members of their team, some of whom had worked for the company for decades—a task all too familiar to everyone on the call.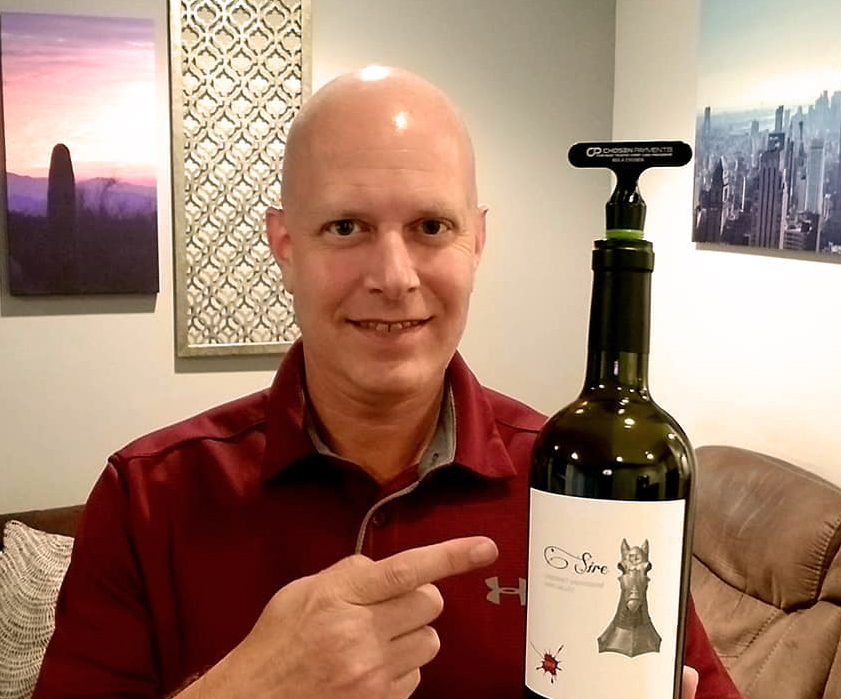 CD Publisher Chris Weiss with his bottle of Sire Estate Cabernet
Through the sadness and laughter, however, the overarching message was one of hope. Alexander and Weiss expressed their optimism for the recovery, while Nyikos reminded everyone that most of the operators on the call had survived 9/11 and the recession to make them "mentally tough." Jacobs, who is excited about the return of baseball (for now?) and is relishing the challenge of the moment, advised everyone to lean into the curve as the world has permanently changed and offering interesting opportunities.
Of course, the guest that stole the show wasn't a speaker at all, or even human. Rutter and Saccoccio showed off their adorable furbaby Winston, a puppy that they adopted during quarantine.
If you missed the event, you can listen here.
Gold Sponsors: Above All Transportation, Century Business Solutions/EBizCharge, Chosen Payments, Dolphin Transportation Specialists, and Lancer Insurance.
Silver Sponsors: A&A Metro Transportation, Center Insurance Agency, Dav El/BostonCoach, and Park Avenue Limousine.
Bronze Sponsors: Alternative Claims Management, Avery Insurance, Chauffeur Driven, Create-A-Card, LA Limousine, Lexian Management, The Limousine Expert, The LMC Groups, Research Underwriters, Transport the People, and Volvo.
Visit nelivery.org for more information.
[08.11.20]