That's a wrap! Months after the United Motorcoach Association's Virtual Summit, themed Ready. Aim. RESTART!, debuted in June, nearly 80 operators participated in its final installment on September 9. The event featured follow-up sessions at four, eight, and 12 weeks to help the motorcoach industry find strategies to work through the pandemic.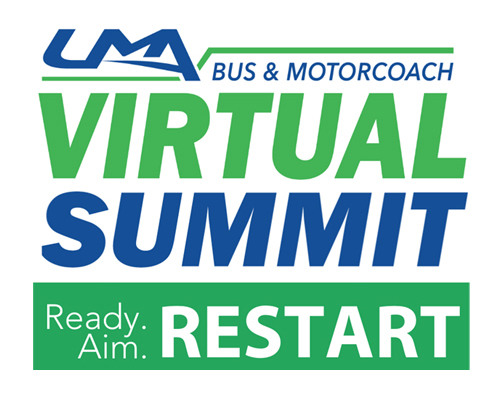 Hosted by Joe Calhoon, a business consultant who gave the summit's keynote address, the last session featured a panel of speakers who shared what they are doing to focus on employees. Calhoon is a proponent of the ECO system, which dictates that an owner's job is take care of the employees so that they can serve customers, which leads to customer loyalty and ultimately to the benefit of everyone. As an example, he referenced the extreme customer loyalty that Southwest Airlines enjoys—a so-called firm of endearment—which is a direct result of focusing on employees who also love their jobs.
The panel, featuring John Grzywacz of CIT Signature Transportation in Ames, Iowa; Alan Robinson of R&W Charters of Atlanta, Ga.; Alan Thrasher of Trasher Brothers Trailways of Birmingham, Ala.; Larry Hundt of Great Canadian Holidays & Coaches of Kitchener, Ont.; and Jasmine Sayah of Best Tours and Travel in Fresno, Calif, shared their stories of how they are engaging employees when the work is sparse, from doing heavy community and charity work such as meal delivery to side ventures and additional revenue streams to hosting a movie night with employees and their families. Strengthening relationships with staff, customers, and the local community has been a key focus for the panel. Having a sense of purpose, even if certain runs don't necessarily make a profit, is helping to keep critical team members engaged with the company and thinking about the future when travel resumes in earnest.
Moreover, the session offered a beleaguered industry a shot of hope and optimism as no one expected we'd still be in lockdown six months later.
UMA is still moving forward with its Expo in Orlando this March 3-7, 2021, which will mark its golden anniversary. The association was founded in 1971 as the United Bus Owners Association., adopting its current moniker in 1996.
The event was sponsored by Lancer Insurance, Spader Business Management, PAX Training, and Rellevate.
The association also holds weekly Town Hall meetings on Thursdays at 2pm ET. You can register for the event here.
Visit uma.org for more information.
[09.15.20]