With the need and demand for hand sanitizer skyrocketing over the course of 2020, Sunburst Laboratories has stepped up to offer a safe, effective, and fair-priced solution for service industries to offer clients and staff. The third-generation family business quickly developed Sani+Pak as a single-use, easy to use alternative to bottled sanitizers.   These are offered direct to consumers with no distributor mark-up to keep them priced competitively.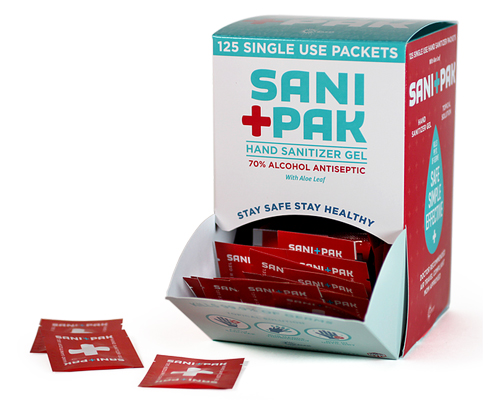 Sani+Pak is a single use hand sanitizer packet with durable, no-leak packaging that makes it ideal for distributing to your customers. This eliminates the need for messy pump bottles that need to be sanitized before each car ride or use between clients. Each Sani+Pak dispenses just an ideal amount of hand sanitizer (1.2 ml) so there is no waste like in bottles or other types of packaging and no sticky residue.
The product's alcohol-based formula and meets FDA requirements and CDC recommendations and kills 99.99 percent of all germs. Further, it contains orange blossom essential oil for a pleasant scent with no methanol or other harmful chemicals.
As promotional branding is important to luxury ground transportation companies, Sani+Pak is available in custom packets with a minimum order requirement. Simply provide your logo in your company colors. With Sani+Pak made in the United States, shipping is direct from Sunburst's state-of-the art manufacturing facility.  The company is currently offering free samples of the product to potential customers.
Client testimonials
"I keep a box on our counter at work to hand out to our customers. They love them!"  Lisa R.
"I've started including these as a complimentary gift to our customers at our AirBnB rental units and have had several nice reviews mentioning them."  Miwon H.
"When our neighborhood restaurant had to go to take-out dining only, I started adding these little packets to the order.  Our customers really appreciate the personal touch."  Doug M.
Visit sanipakusa.com for more information.
[10.07.20]