Ford, the world's cargo van leader, introduced its 2022 E-Transit van during a world reveal on November 12. With a usable battery capacity of 67 kilowatt-hours, E-Transit will deliver an estimated range of 126 miles in the low-roof cargo van variant and has a starting MSRP under $45,000 for U.S. fleet customers with an 8-year/100,000-mile electric vehicle component warranty.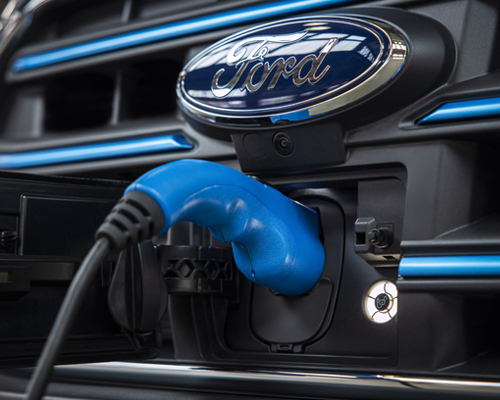 E-Transit is all electric
Ford says that the E-Transit is the first all-electric cargo van from a full-line automaker in North America and offers a choice of eight configurations including three roof heights and three lengths, plus chassis cab and cutaway models. It's powered by an electric motor targeting 266 horsepower/198 kilowatts of power and 317 lb.-ft. of torque, and is scheduled to arrive in late 2021. It will assemble the vehicle for North American customers at Kansas City Assembly Plant in Claycomo, Missouri.
Like its gas-powered cousin, E-Transit was designed with delivery and service workers in mind. E-Transit offers the same interior cargo dimensions and standard mounting points for continued integration with hundreds of upfitters and vehicle modifiers worldwide who provide compatible racks, bins, and accessories on the gas-powered Transit.
Ford engineers redesigned E-Transit's rear-wheel drive and rear suspension to optimize cargo space, creating a heavy-duty semi-trailing arm suspension system enabling better steering precision and more confident handling, plus better traction both in laden and unladen conditions.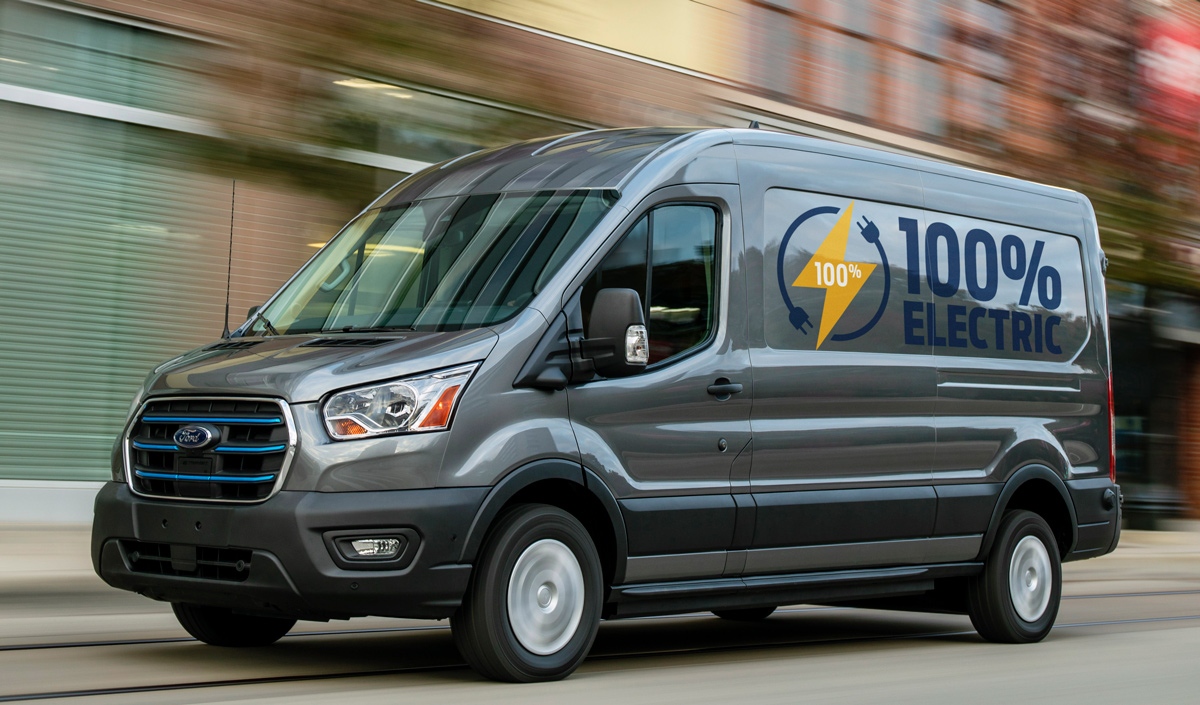 All-New Ford E-Transit
"[The 126-mile range] makes E-Transit ideal for commercial customers who know their drive routes and often work in urban environments," said Ted Cannis, Ford North America general manager of commercial business. "Affordability is key, and our customers buy only what they need to get the job done. E-Transit provides ample range at a price that makes the transition to electric easy. And Ford is just getting started."
Cities around the world—from London to Los Angeles—are pledging to create emissions-free zones to improve air quality, reduce greenhouse gas levels and improve noise pollution. California has also mandated that all new cars and passenger trucks sold in the state be zero emission vehicles by 2035. The release of the E-Transit is part of Ford's pledge to achieve carbon neutrality globally by 2050.
"Ford is North America and Europe's commercial truck and van leader, so the transition of fleet vehicles to zero emissions, especially for the fast-growing last-mile delivery segment, is critical to achieve our carbon neutrality goal by 2050," said Ford President and CEO Jim Farley. "Ford is ready to lead the charge, starting with the all-electric Transit and all-electric F-150 on the way. This is good for the planet and a huge advantage for customers to help lower their operating costs and provide connected fleet management technologies that will help their businesses."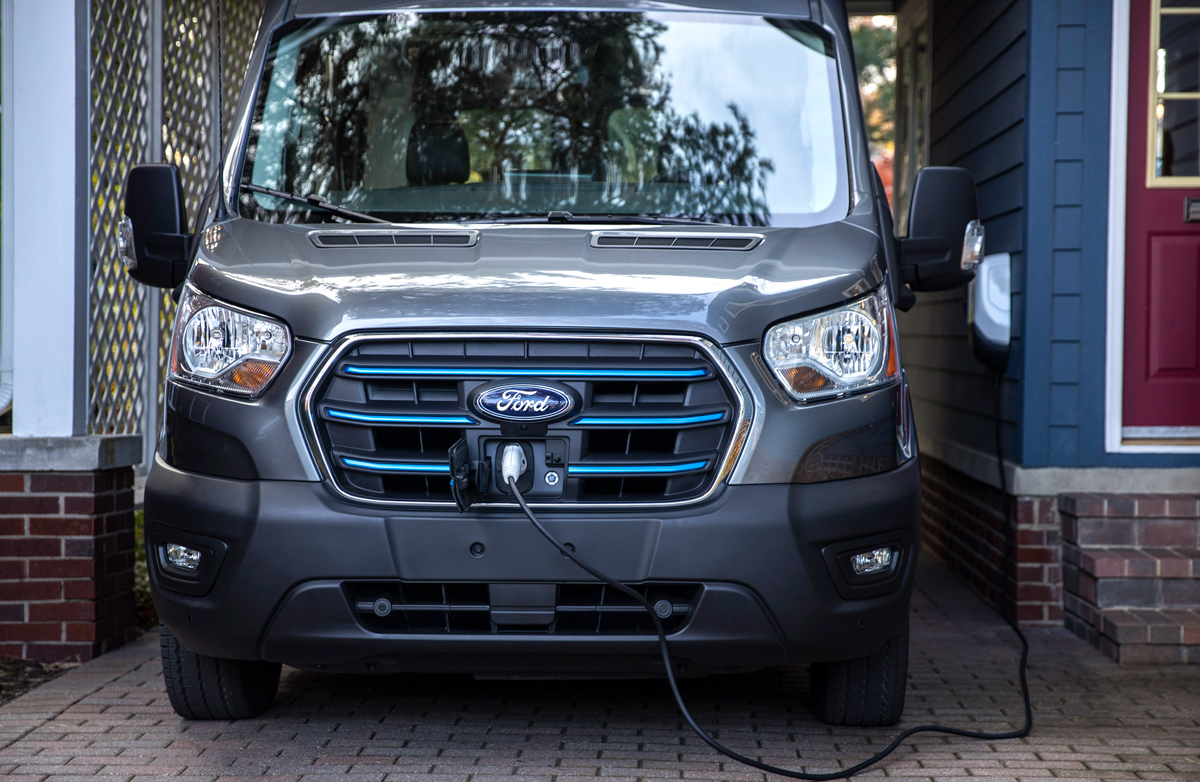 The best-selling cargo van will be availalbe in late 2021
E-Transit features both AC and DC fast charging, coming standard with a Ford Mobile Charger that can plug into a normal 120-volt outlet for slow and steady charging or into a 240-volt outlet for faster charging. Those seeking the fastest home charging solution can purchase the Ford Connected Charge Station, which can fully charge E-Transit in eight hours. It also comes with access to North America's largest public charging network—providing drivers with seamless public payment capability and providing fleet managers with central account and billing management.
E-Transit also features additional standard Ford Co-Pilot360 technologies designed to help fleet customers reduce driver-based insurance claims, including Lane-Keeping System and PreCollision Assist with Automatic Emergency Braking. Available features include Blind Spot Information System with Blind Spot Assist, a 360-degree camera and Reverse BrakeAssist.
According to Ford, scheduled maintenance costs for the all-electric Transit are estimated to be 40 percent less than the average scheduled maintenance costs for a gas-powered 2020 Transit over eight years/100,000 miles. And with lower maintenance requirements and the opportunity to avoid fill-ups, companies can improve customer uptime and productivity.
Ford has an expansive network of 1,800-plus global commercial vehicle dealers, including 645 commercial vehicle centers across the U.S.—about 90 percent of which are electric vehicle-certified—for sales and service.
E-Transit is part of a Ford investment in electrification of more than $11.5 billion through 2022. The all-new, all-electric Mustang Mach-E begins arriving later this year, while the all-electric F150 starts hitting dealers in mid-2022. In North America, Ford is the first full-line automaker to announce plans to produce both an all-electric full-size pickup truck and a full-size van for customers, including fleet owners.
Ford will also debut its full lineup of Lincoln and Ford products specifically for the livery industry on December 1 at 2:00 PM ET. Register for the 30-minute presentation here.
[11.14.20]