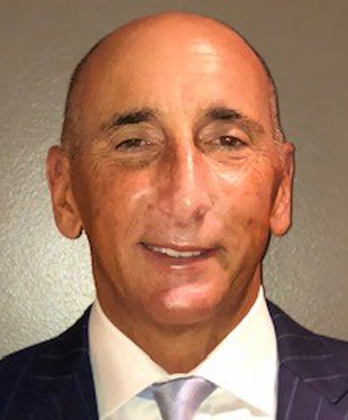 NELA Director Brett Barenholtz served as host
Remember those Tonight Show segments where animal experts Jim Fowler and Joan Embry would bring their critters to the couch to mix it up with Johnny Carson? Well, during the New England Livery Association (NELA) Zoom event on December 14, host (and NELA Director) Brett Barenholtz of Above All Transportation/Boston Car Service successfully captured the spirit of those wild late night shows.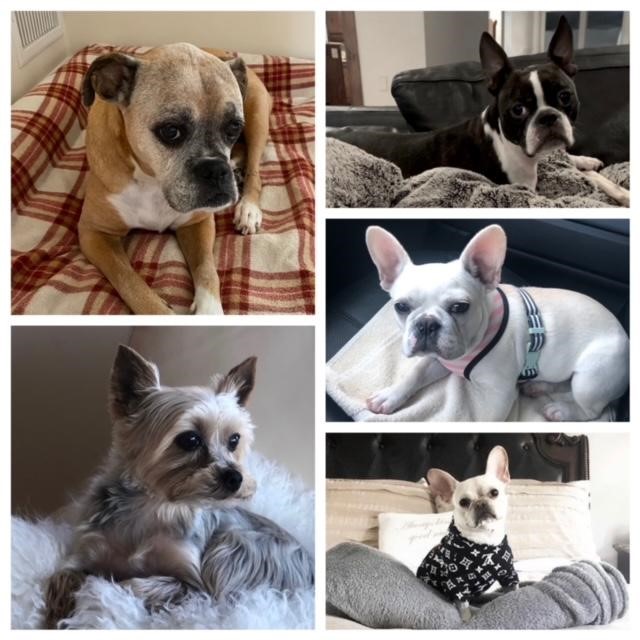 The Gulino family pups: Mia, Jaxx, Lola, Soffe, and Sobe
NELA's Cocktails and Tales (Tails) Zoom gave operators from around the country the opportunity to check in with peers and witness the positive energy a pet can provide during stressful times. Representatives from eight different companies introduced the industry to their beloved animals, but if you were expecting it to feature all cute and cuddly house-dwellers, well, you're barking up the wrong tree.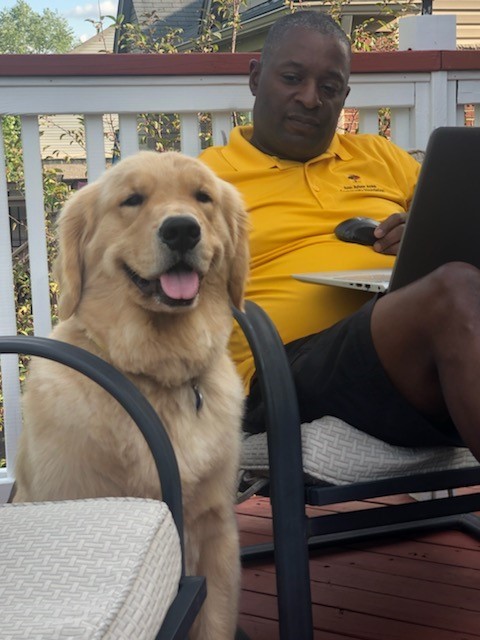 Sean Duval of Golden Limousine with Bo
Filling the proverbial talk show host role, Barenholtz—who was deftly assisted behind the scenes (or screen) by NELA Executive Director Rick Szilagyi of Lexian Management—kicked things off by introducing Ken Carter of Aadvanced Limousine and his cow Homer. Carter revealed that the one-year-old bovine has become a bit of an internet sensation as Homer has his own Facebook page.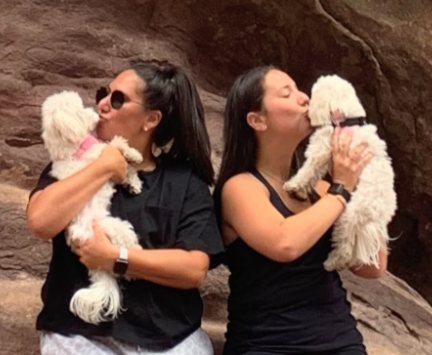 Briana and Chelsea Candeub of Park Avenue Limousine with Bailey and Lily
Another operator who isn't snuggling on the couch with a furry friend is Mike Basso from Leros Point to Point/Royal Coachman/AAA Worldwide. Basso is the owner of a thoroughbred racehorse, conveniently named Basso. The horse is a frequent winner at N.J.'s Monmouth Park, and is among the top 50 picks to win the 2021 Kentucky Derby. Szilagyi shared a video of the four-legged Basso winning a race by several lengths.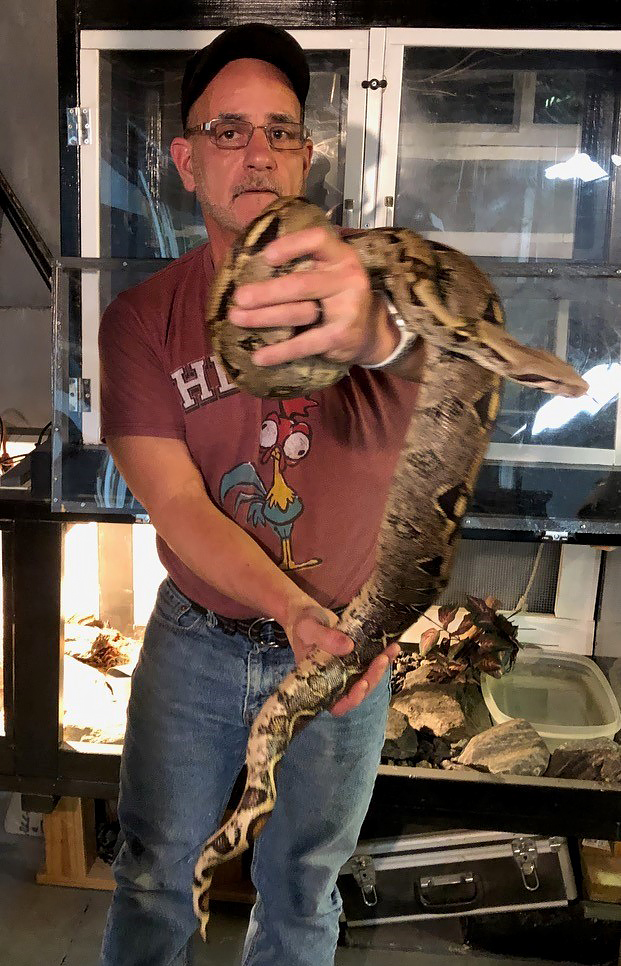 Bob Moody of Acton Fleet Sales with his boa
Of all the pets shared on the webinar, none was less cute and cuddly than the boa constrictor owned by Bob Moody of Acton Fleet Sales. While a giant rodent-devouring snake is certainly an unconventional pet, Moody's is more so in that it doesn't even have a name. Barenholtz fielded suggestions from the audience to find that perfect moniker.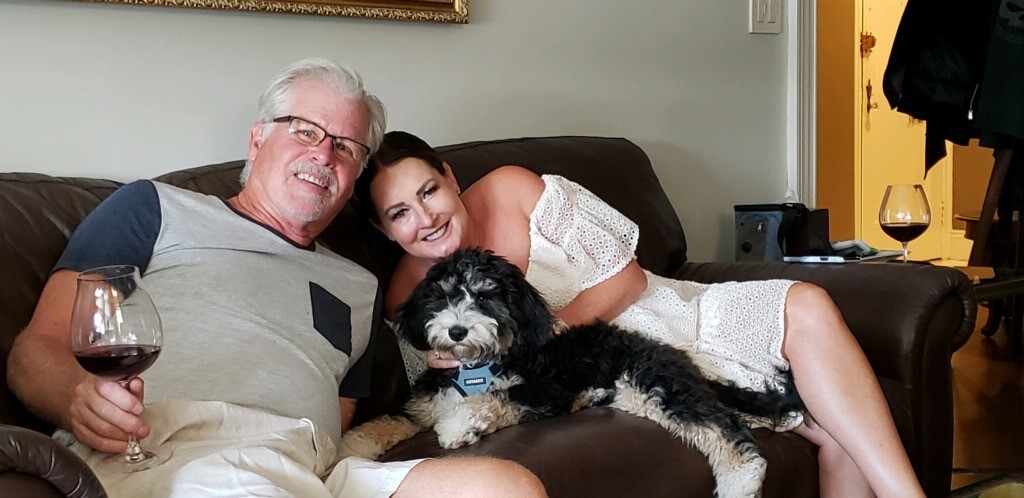 Dawson Rutter and Tami Saccoccio of Commonwealth Worldwide with Winston
Lest one think the traditional "fur babies" were given short shrift, dogs represented the majority of animal companions on the call. The Gulino family from Gem Limousine, Dawson Rutter and Tammy Saccoccio of Commonwealth Worldwide, Briana Candeub and Chelsea Candeub of Park Avenue Limousine, Sean Duval of Golden Limousine, and NELA Secretary Teale Smith of Maine Limousine each introduced their canine companions, which ranged in size from pocket- to pony-sized.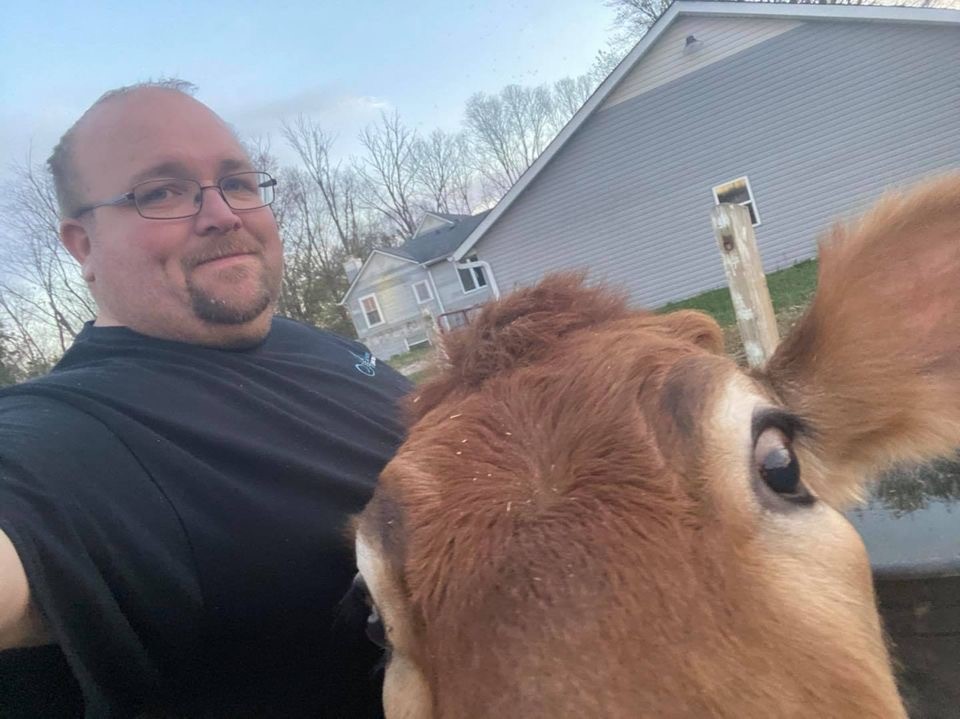 Ken "KJ" Carter of Aadvanced Limousine with Homer
"This was a very different event from anything NELA has ever done," said Barenholtz. "We know how difficult and crazy the last 10 months have been on everyone and thought that it would be nice to just have a little fun for a couple hours. We have such great people in our industry who are always trying to help and they stepped up once again in their support with time and money for NELA. It was a blast talking with everyone and their wonderful pets! The conversations were light, fun, and goofy to say the least. I just want to thank everyone again who participated and sponsored the event."
The night's sponsors included Gold Level Above All Transportation, Pro Limo, Dolphin Transportation, Research Underwriters, and Lancer Insurance; Silver Level LMC Groups and Chosen Payments; and Bronze Level Transport The People.
Visit nelivery.org for more information.
[12.17.20]