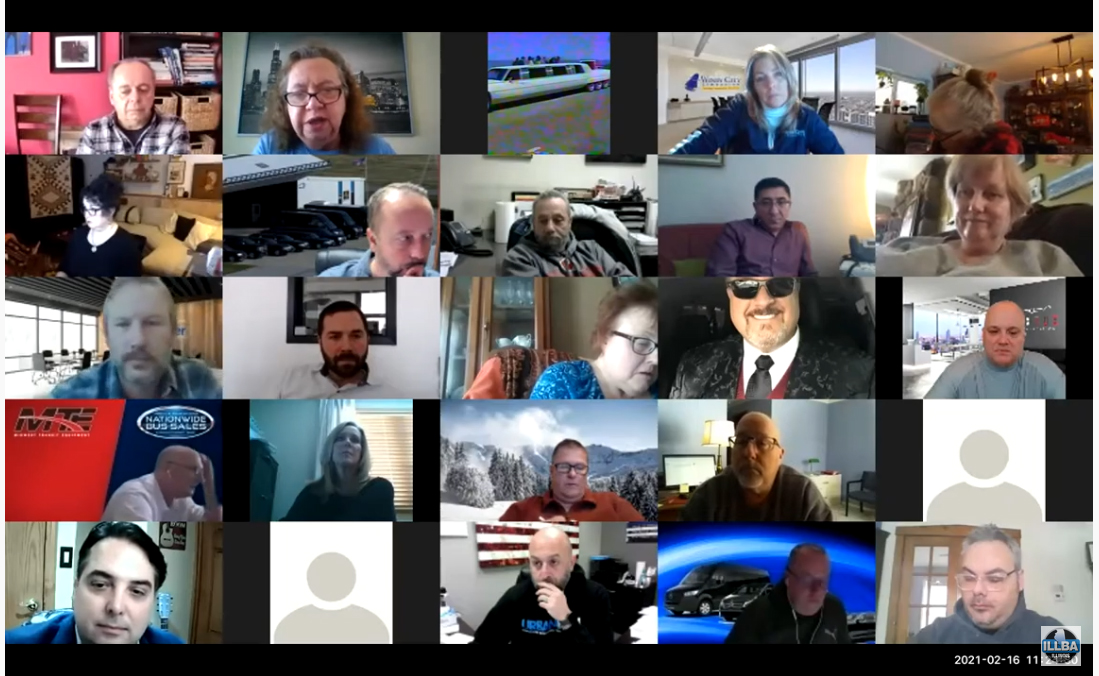 Coffee with ILLBA featuring Matt Daus of Windels Marx
Amid freezing temperatures and rolling blackouts in the Midwest, the Illinois Limousine & Bus Association (ILLBA) held its monthly Coffee With ILLBA meeting via Zoom on February 16. Featuring a look at the state of the industry, courtesy of regulatory expert Matt Daus of Windels Marx, the educational seminar was attended by operators from around the world.
ILLBA President Art Rento of Pontarelli Companies welcomed attendees and noted that the monthly series has "grown into a positive industry movement" and looks forward to offering more free content to ILLBA members and guests in the future. Wasting no time, Vice President Tracy Raimer of Windy City Limousine & Bus introduced Daus and his session, entitled State of the Limo and Bus Industry: Business Opportunities, Legal Options, Labor Impact, and Getting Involved With ILLBA.
With the industry struggling due to the pandemic, and corporate travel facing a slow comeback, Daus loaded much of his meeting with business opportunities available to operators. According to Daus, corporate shuttle solutions are a realistic alternative to public transit, as the cleanliness and distancing afforded by luxury vehicles will offer businesses and the workforce safety and peace of mind. Package delivery is another way that operators have gotten their vehicles back on the road, as evidenced in large cities like New York.
No doubt about it, vaccines are THE hot topic, both in and out of the industry. As rollout has begun with some success across the country, the vaccination of the public is the number-one indicator for confidence in travel booking. As such, Daus has been a leading advocate for all for-hire chauffeurs to receive prioritized vaccinations, and has garnered support from all of the New York mayoral candidates. He encouraged industry leaders to lobby for Phase 1B vaccination as an essential service, and advised operators to promote chauffeur and/or company-wide vaccination in their marketing.
With PPP 2.0 ending on March 31, Daus fielded questions about the program, and provided some differentiation between it and EIDL loans. Next he explained the benefit of doing due diligence when seeking M&A options, and explained some of the benefits of the new Subchapter V bankruptcy regulations. (Note: the expanded debt threshold in the Subchapter V closes on March 27, 2021.)
Since AB5 and Prop 22 passed in California last year, Daus has kept a close eye on the effect of this legislation nationwide. According to his session, no fewer than six states are pursuing AB5-like laws, which would make all gig workers independent contractors (New York, New Jersey, Oregon, Wisconsin, Washington, and Pennsylvania). As these laws are largely "not if, but when", Daus promoted the value of organizations like the New York Black Car Fund, which offers ICs full workers' comp benefits (which are not seen under AB5).
To end his program, Daus advocated that members assist ILLBA through grassroots lobbying efforts. Spreading industry information to lobby organizations and local/state representatives is key to make legislature aware of industry causes and struggles. Daus also promoted his piece in February's Chauffeur Driven, which takes a close look at whether operators in the post-pandemic market should buy, sell, or retire.
A full recording of the February Coffee With ILLBA is available by clicking here.
Visit illinoislimousineassociation.com for more information.
[02.19.21]