Updated: 7/11/21
The October 2018 Schoharie limousine accident that claimed the lives of 17 passengers, the chauffeur, and two pedestrians is having lingering effects for the industry. Although lawsuits are still pending, the crash was largely attributed to abysmal maintenance of the 2001 Lincoln Excursion stretch, as well as a number of other safety and regulatory violations. More stringent regulations have already been passed in the state of New York, where the crash took place.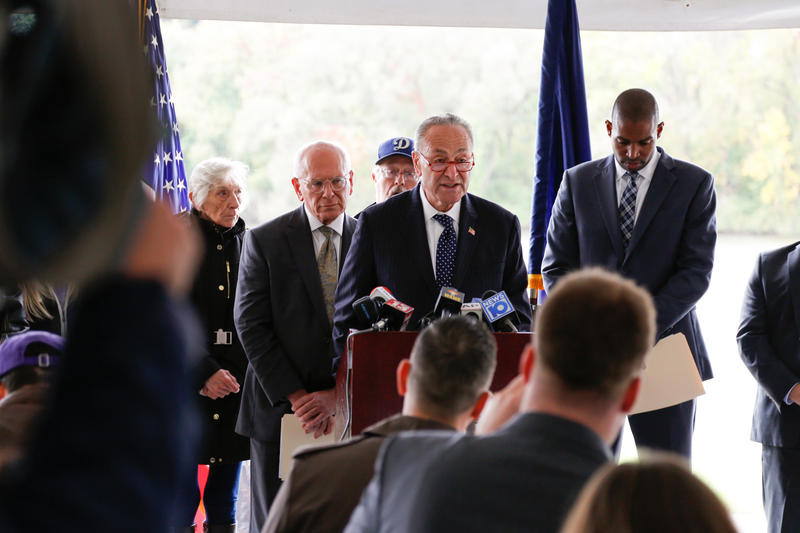 Senate Minority Leader Charles Schumer, Representative Paul Tonko of New York's 20th District, and Representative Antonio Delgado, detailing proposed limousine safety regulations
Two nearly identical bills have been introduced in the House and Senate that are aimed at passenger safety on a federal level and "closing loopholes in federal safety regulations," according to a press release from the office of Senate Majority Leader Chuck Schumer (D-N.Y.). The Senate bill was first introduced in 2019 on the first anniversary of the crash and had bipartisan support, although final language did not pass. Congressman Paul Tonko (D-N.Y.-20) has been leading the charge on the House side with H.R.2956.
"For too long, the families of those souls lost in the deadly Schoharie limo crash have shouldered the burdens of grief and responsibility without federal resolution," said Congressman Tonko in a press release. "From the very first day when we gathered around them to share in their grief, these families found the strength to speak out and turn personal tragedy into a fierce and inspiring drive for reform. And from that first day, their wisdom and guidance have defined my work on this bipartisan national limousine safety package. As we turn the corner on this pandemic and seek a return to many of life's celebrations, Americans should be able to trust the limousine carrying their loved ones is safe. That isn't the reality today. Congress needs to advance our limousine safety reform legislation immediately so no family has to suffer this kind of preventable tragedy again."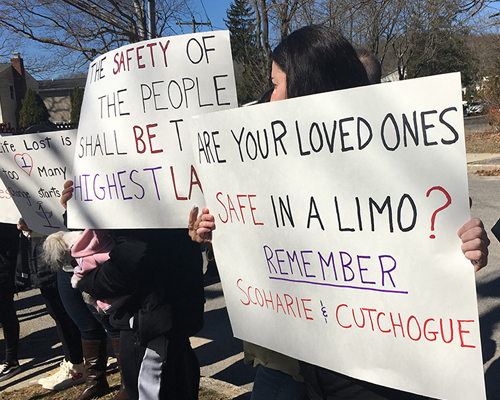 The Senate bill, S.1529, was reintroduced by Schumer in the Senate's Commerce, Science, and Transportation Committee in early May and was co-sponsored by fellow N.Y. Senator Kirsten Gillibrand. Schumer has actually been championing three pieces of legislation that pertain to our industry: the Safety, Accountability, and Federal Enforcement of Limos Act (SAFE Limos Act), the Take Unsafe Limos Off the Road Act, and the End the Limo Loophole Act.
"This legislation would set a full suite of federal stretch limousine safety rules, from seat strength requirements to aftermarket alteration rules and so much more, close loopholes that bypass safety standards for commercial vehicles, and take unsafe vehicles that never should've been there in the first place off our roads. As Majority Leader, I will not rest until limo safety is prioritized, ensuring the lives lost in Schoharie are not in vain and our roads are forever safer," said Senator Schumer in a press release.
Senator Gillibrand echoed Schumer's sentiments. "Deadly limousine crashes in New York State have revealed gaping holes in the nation's road safety rules and Congress must act to set adequate safety regulations that will save lives," she said. "This limo safety legislation would enact comprehensive guidelines to improve safety in the limousine industry and hold companies accountable for unsafe limo modifications. I will keep pushing alongside my colleagues to finally pass this legislation that creates new safety standards for limousines based on recommendations from the NTSB and helps get dangerous vehicles off the road."
Additionally, the N.Y. Senators have been championing two other bills that pertain to our industry: the Take Unsafe Limos Off the Road Act (S.1531) and the End the Limo Loophole Act (S.1533), although there has been no action since May.
Among the core components of the proposed legislation:
The SAFE Limos Act
Requires that limousines have safety belts for every designated seating position and adhere to federal standards for seats and seat assemblies
Closes the loophole that currently allows used vehicles to be converted into limousines without meeting federal safety standards
Requires limousine manufacturers to submit "vehicle modifier plans" detailing how they will comply with strict federal standards
Directs research into side impact protection, roof crush resistance, and air bag systems for protection of occupants based on various seating configurations
Requires NHTSA to conduct research and issue standards that can aid egress and regress in the event that a primary exit from the limousine's passenger compartment is blocked
Requires limousine operators to prominently display last inspection dates, results, and correctives
Proposes that event data recorders be installed in all new limousines (Senate bill)
The Take Unsafe Limos Off the Road Act
Incentivizes states to strengthen policies to impound or immobilize unsafe limousines to be eligible for federal funds
The End the Limo Loophole Act (H.R. 2958)
Updates the definition of "Commercial Motor Vehicle" to include vehicles modified to seat 9 or more people
Parts of these proposed bills may be included in the wide-sweeping infrastructure bills (the House bill, H.R.3684, passed in early July while the Senate bill, S.2016, was still being deliberated at press time). The National Limousine Association was able to fend off a proposed change to the Senate's bill that would have imposed a federal CDL requirement on all 9+ passenger vehicles (including the driver).
Chauffeur Driven will keep you updated as more information becomes available. For up-to-the-minute status on the bills, sign up for alerts for H.R.2956 and S.1529 at congress.gov.
[06.01.21]