Morrisville, N.C. — The North Carolina Limousine Association (NCLA) held its September 17 meeting at Raleigh-Durham International Airport's (RDU) Terminal 2. The afternoon included discussions covering both association-specific and industry-relevant matters.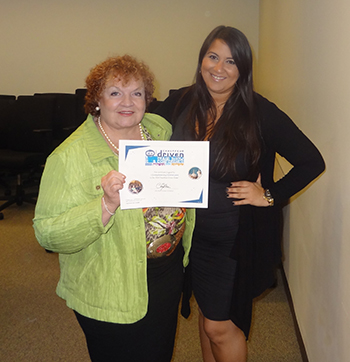 Robin Luiz of Special Occasions Limousine & Chauffeured Transportation and Chauffeur Driven Show Manager Lauren D'Ambra NCLA President Carolyn Henson of Prestige Limousine began the meeting by announcing that Lenora Bowman of Johnny B's Limousine Service has resigned as the association's secretary so she can spend more time with her family and their new addition. Henson also reported that City of Oaks Transportation owner Diane McLean, who has been filling in for Bowman, officially agreed to be the new NCLA secretary.

In additional membership news, NCLA Treasurer Vernon Gambill of Black Tie Transportation has recently purchased Blue Diamond Limousine, which will give his company additional presence in Raleigh, N.C.

Members also discussed the increasingly positive relationship that has developed between the NCLA and RDU, as Jorge Carrasquillo was on hand to represent the airport. Carrasquillo also offered guidance with concerns about illegal transportation companies operating in Asheville Regional Airport, who are transporting clients across state lines without Department of Transportation (DOT) compliance.

The conversation then turned to TNCs and the power of local operators uniting as a single voice against unregulated transportation companies. The association rallied together to send photos and letters to the DOT, which has since resulted in a single operator being fined more than $89,000 over illegal activities. Additionally, RDU has been citing Lyft drivers for illegally picking up passengers at the airport, as they have been removing the company's telltale pink moustaches from their vehicles so they can conduct business without being identified.

Chauffeur Driven's Show Manager Lauren D'Ambra attended the meeting. She spoke about all that the CD Show has to offer, such as its expanded Operator Mentoring Program, Affiliate Day, and Extended Stay CEO Jim Donald's keynote speech, as well as the free shuttle service to and from Philadelphia International Airport. D'Ambra also raffled off a free pass to the show, which was won by Robin Luiz of Special Occasion Limousine.

The next NCLA meeting will be November 19.

Visit nclimo.org for more information.