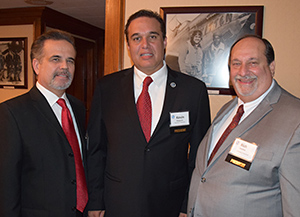 L to R: Former GCLA President Mark Stewart of CLI Worldwide, incoming GCLA President Kevin Illingworth of Classique Limousines, and outgoing GCLA President Rich Azzolino of Gateway Global Los Angeles — More than 150 Greater California Livery Association (GCLA) members and supporters from across the country' including Chauffeur Driven's Publisher Chris Weiss' attended the association's annual holiday party at The Proud Bird on December 10.

"It was nice that there were a bunch of people who came from all over to celebrate with us at our holiday party'" said Kevin Illingworth of Classique Limousines' the GCLA's newly elected president.

The evening's holiday spirit kept the atmosphere festively light' though much association business was handled during the event. Members who were recently elected to either leadership or board positions were presented for the first time at the party' and are as follows:

President: Kevin Illingworth of Classique Limousines
First Vice President: John Rafferty of Executive Limousine & Coach
Second Vice President: Perry Barin of Music Express Worldwide
Treasurer: David Kinney of API Global Transportation
Secretary: Anne Daniells of Torrey Pines Transportation

Regional directors: Joel Amato of Gateway Global; Gary Buffo of Pure Luxury Transportation; Alex Darbahani of KLS Worldwide; Christopher Quinn of Corporate Transportation Solutions; Ryan Silva of Epic Limousine; Brandan Stein of Exclusive Sedan Service; and Matt Strack of Strack Chauffeured Transportation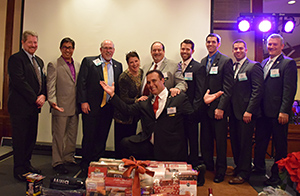 The GCLA's new Board of Directors Outgoing GCLA President Rich Azzolino of Gateway Limousines will be retiring from the GCLA' the National Limousine Association board' and his company' and was honored for his contributions to the industry. Outgoing GCLA Treasurer Jack Nissim of Integrated Transportation Services' Cheryl Berkman of Music Express Worldwide' Mark Stewart of CLI Worldwide Transportation' and Vendor Director Lee Martinez of TransCap Insurance were also honored with awards and the association's gratitude.

"We recognized a lot of hardworking people' we gave out some gifts' everyone had a chance to network' and we talked about what we accomplished during the year in regard to legislation and fighting TNCs'" Illingworth said.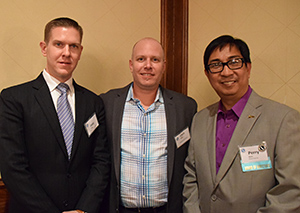 L to R: Joey Phelps of EmpireCLS Worldwide, Chauffeur Driven Publisher Chris Weiss, and Perry Barin of Music Express Worldwide As the incoming GCLA president' Illingworth hopes that Uber will continue to be prevented from doing pickups at Los Angeles International Airport' and also will work to alter bills like SB 109 and SB 611' which focus on modifying vehicles' emergency exits and safety requirements' respectively' to be more mindful of the costs they demand from operators without comprising passenger safety. He estimates that the cost of modifying some vehicles according to the bills' requirements would average more than $20'000 per vehicle' which risks putting some smaller operators out of business.

Issues relating to the bills as well as TNCs will be among those addressed during the GCLA's Day on the Hill in Sacramento on January 15' which will be the second time the association has participated in the legislative day.

"It's about making our representatives aware of what's going on in our industry and vocalizing it from different areas' from San Diego all the way up to Northern California'" Illingworth said. "We saw what a difference it made when we went last year. Our lobbyists were reacting to the power of the people."

GCLA's Day on the Hill will begin at 9:30 a.m. and end at 4 p.m.

The next GCLA membership meeting will be February 10.

Visit gcla.org for more information.

[CD1214]