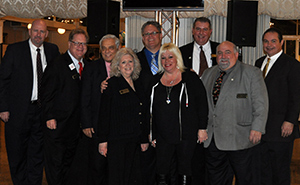 LILA Board of Directors Holbrook, N.Y. — Even the sting of a heavy fall rainstorm couldn't dampen the spirits of the Long Island Limousine Association's (LILA) holiday party, held December 9 at the elegant Villa Lombardi's in Holbrook. N.Y. Nary a corner of the beautiful venue was missed—twinkle lights, balloons, poinsettias, and holiday accoutrements covered every surface inside and out and set the mood for the party-goers. Chauffeur Driven Managing Editor Susan Rose attended and the event was sponsored by The Whitmore Group.

Uber, regulatory agencies, and other frequent topics on the LILA agenda were far from their minds as attendees relaxed during the business-free evening. Over 120 people attended the festivities, which began with a buffet dinner and music from a live DJ. The association, according to 2nd Vice President Matt Silver of Ultimate Class Limousines, is made up of many smaller companies that normally wouldn't be able to host a party at the venue, so the event was designed so that those companies could sponsor a table and bring their whole staff to enjoy the holiday party.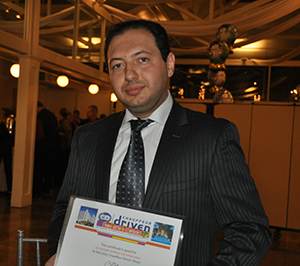 2015 CD Show pass winner Benjamin Rakhmanov of Big Ben Transportation "We really encourage the companies to make it their own so that their staff can celebrate the holidays, plus they get to mingle with other like-minded [operators] in the area. It's a great chance for everyone to network while still having a good time. We had a really great turnout this year," he says.

In addition to dancing and a photo booth, the evening featured two comedians where no topics were off-limits, including marriage, religion, the holidays, and even some good natured ribbing of the limousine industry. The association even recognized two birthday girls in attendance, including our own Susan Rose, by singing Happy Birthday.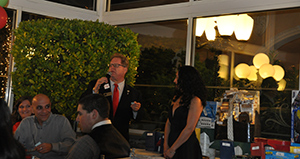 LILA 2nd VP Matt Silver calls the winning numbers during the chance auction Toward the end of the evening, Silver took the microphone and added his own comic relief while calling out the winning tickets of the chance auction, which included everything from gourmet teas and decadent chocolate to tool kits and special car accessories. Chauffeur Driven donated a pass to 2015 show to be held in Miami Beach this October 11-14, which was won by Benjamin Rakhmanov of Big Ben Transportation in Rego Park, N.Y.

It's back to business in January when LILA will hold its next meeting on January 27.

Visit nslali.com for more information.

[CD1214]