Members of the Kentucky Limousine Association welcomed Chauffeur Driven's Editor Madeleine Maccar to their April 14 meeting Louisville, Ky. — In its last meeting before the Kentucky Derby grabs hold of the region, the Kentucky Limousine Association (KLA) convened on April 14 to discuss the association's lobbying efforts, address old and new business, and begin planning for August's 10-day state fair.

The association had previously hired a business advocacy firm, The Rotunda Group, to assist with the regulatory issues it has in regard to TNCs, and lobbyist Riggs Lewis provided an update on legislative affairs. The group has been meeting with local government representatives on behalf of the KLA, and in mid-May will bring one of its members along to discuss the association's issues with the chairmen of both the House and Senate's transportation committees.

HB-207—a bill that not only laid out TNC regulations but also recognized what Lewis called "legislatively brand-new territory" with a new section of the Kentucky Revised Statutes—passed 90-7 in the House earlier this year. But the specifics of enforcing those regulations and the authority to do so continue to be murky areas, especially since Uber and Lyft have been pushing back and launching local campaigns to drum up fresh support.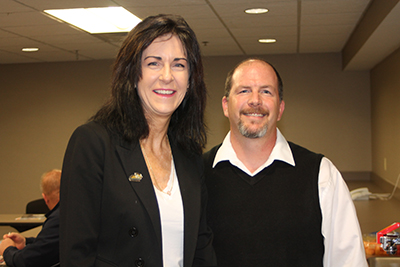 KLA President Carey Fieldhouse of R & R Limousine and KLA Secretary Kent Sparks of Lake Cumberland Limousine App-on/app-off insurance coverage and safety education are the new TNC battlegrounds in Kentucky, and Lewis advised KLA's members that, if they're unhappy with something, "we can always amend a statute to any session we want to be more specific because, typically… a statute is always a trump card over regulation." The next step, he said, is to apply pressure to the cabinet to have regulations put in place to the KLA's liking.

The conversation then moved to association matters, with Jenny Summit of Xtreme Transportation delivering the treasurer's report and KLA President Carey Fieldhouse of R & R Limousine inviting members to suggest ideas for fleshing out future meetings' non-business content. Guest speakers, site visits to members' facilities, and a trip to local coachbuilding factories were all among the considerations for future meetings to include.

KLA's booth at the Kentucky State Fair this August was also on the docket for the monthly meeting, particularly in terms of what vehicle will be on display for the 10-day event. As previous fairs have proven with stretch limousines and Mercedes-Benz Sprinters drawing a significant crowd, Todd Roberts of Jaco Limousine Service pointed out that "the vehicle is a huge deal" when it comes to booth traffic.

The meeting ended on a light note, as NeVelle Skaggs of Skaggs Limousine & Transportation talked about how the TV show "Flip My Food" will be filming at his company's showroom on April 24 for a segment about cooking in RVs.

Chauffeur Driven's Editor Madeleine Maccar was on hand for the meeting, and spoke about both the magazine and CD's upcoming events. She also raffled off a pass to CD's Miami show, which was won by Summit.

KLA will not be holding a May meeting because of the Kentucky Derby, but will regroup on June 2 in Louisville.

Visit kylimo.org for more information.
[CD0415]