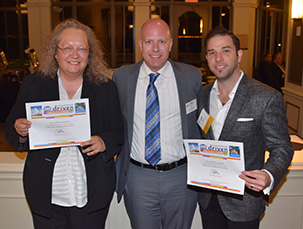 (L to R): Olga Spirina of Air One Limousine, Chauffeur Driven Publisher Chris Weiss, and Jeff Brodsly of Chosen Payments San Francisco — About 65 people were in attendance when the Greater California Livery Association (GCLA) met on April 14 at the Embassy Suites, with Chosen Payments and GPD Capital Services sponsoring the evening meeting.

As the San Francisco 49ers' home turf will play host to Super Bowl 50 next year, GCLA board member Joel Amato of Gateway Global brought in representatives from the San Francisco Bay Area Super Bowl 50 Host Committee—Director of Transportation & Logistics Kevin Solon and VP of Marketing & Communications Stephanie Martin—to speak at the meeting.

"They talked about making sure where all the parking will be, and what percentage of the transportation will be mass transit and how much will be corporate," said GCLA President Kevin Illingworth of Classique Worldwide Transportation. "They were great and very informative."

Joseph Lorden, an attorney with Lewis, Brisbois, Bisgaard & Smith, discussed labor law and the new sick-leave ruling that will go into effect July 1, which mandates that an employee gets one hour of sick leave for every 30 hours they work. He also offered an overview of the employee model versus the independent contractor model though, according to Illingworth, the bulk of his speech focused on sick leave and how to address it with your staff.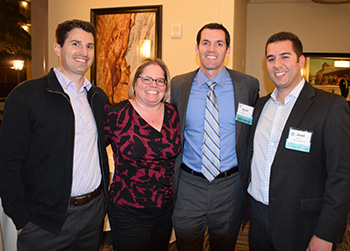 (L to R): Kevin Solon and Stephanie Martin of the San Francisco Bay Area Super Bowl 50 Host Committee, Ryan Silva of Epic Limousines, and Joel Amato of Gateway Global Illingworth provided insights into the association's recent legislative progress, as he said that the association is currently involved with 17 bills that are being sent through the House. AB-863, which the Assembly Transportation Committee unanimously passed earlier this month, eliminated the fifth-door requirement on vehicles modified before July 1, 2015, and pushed back the compliance period for push-out windows to the beginning of 2017. "That was a big win for us," Illingworth said.

The most pressing current issue for GCLA is AB-828, an assembly bill that would allow TNCs to operate without commercial insurance. GCLA board member Chris Quinn of Corporate Transportation Solutions had testified against the bill on behalf of the association at an April 20 hearing in Sacramento.

Chauffeur Driven's Publisher Chris Weiss also spoke at the meeting, covering topics such as the industry, the economy, and the recent Certify study that brought Uber's threat to the livery industry into stark reality by showing a 32 percent jump in the TNC's usage from March 2014 to March 2015. Weiss also raffled off two passes to the October Miami show, which were won by Olga Spirina of Air One Limousine and Jeff Brodsly of Chosen Payments—though Brodsly will be giving his pass to an operator.

Illingworth, who said that the April meeting drew a larger crowd than usual, was quick to give credit to GCLA's board of directors for helping the association garner legislative victories for the industry as well as making its events so successful. "I wanted to commend Joel Amato and his team for setting up a great meeting in the Bay Area. He's a first year board member and is doing a great job," he said.

GCLA is planning to meet May 12 in Los Angeles.

Visit gcla.org for more information.

[CD0415]