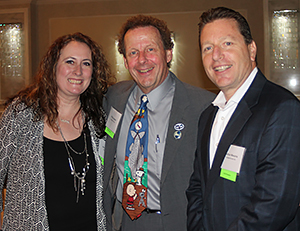 L to R: Jennifer Wong of DriveProfit, Chauffeur Driven Industry & Brand Ambassador Philip Jagiela, and Arthur Messina of Create-A-Card West Orange, N.J. — When the Limousine Association of New Jersey (LANJ) held its May 13 meeting at The Wilshire Grand Hotel, the house was packed with state operators and supporters who came out for a day that included a slate of guest speakers, recognition of longtime board members, and the annual auction that is LANJ's biggest fundraiser of the year. Chauffeur Driven's Industry & Brand Ambassador Philip Jagiela and Editor Madeleine Maccar were present at the event.

LANJ President Jeff Shanker of A-1 Limousine kicked off the meeting by welcoming and thanking everyone in attendance. He also presented both LANJ's Immediate Past President Jim Moseley of Trip Tracker and LANJ Director Barbara Chirico of Gem Limousine Worldwide with tokens of the association's appreciation, speaking of how far LANJ has come in recent years because of its members' dedication.

Newly installed NLA Executive Director Sarah Gazi also spoke at the meeting, as both she and NLA Deputy Executive Director Kyle Hammerschmidt presented LANJ with a rebate check.

Assemblyman Joseph Lagana, who is the primary sponsor of AB-3765, was the meeting's keynote speaker. When the Assembly Transportation Committee passed the bill in March, LANJ had opposed it for not addressing all areas of the association's TNC safety concerns; however, members of the association have been working with Lagana to revise the bill before it goes to the Senate, and he has expressed his concern for the public-safety threats that arise from TNCs' lax regulations.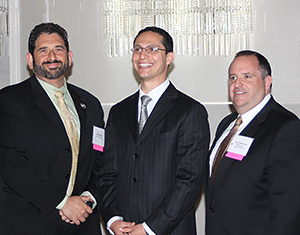 L to R: LANJ President Jeff Shanker of A-1 Limousine, Assemblyman Joseph Lagana, and LANJ First Vice President Jason Sharenow of Broadway Elite Chauffeured Services Worldwide "I wouldn't even put my name on the bill if it didn't have an insurance trolling period," Lagana said, referring to the "app-off" times when a TNC driver might otherwise not be covered. "Each day that passes, people are at risk."

The auction raised more than $10,000 for LANJ, and a number of CD donations were among the items up for grabs: Barry Trabb of Complete Fleet won a full-page ad; Bob Schiavo of Albert's Transportation won the South Jersey Affiliate Central ad; Cabot Smith of Royale Limousine won an e-blast; Arthur Messina of Create-A-Card won a pass to next month's Executive Retreat in Nashville; and Karen Gajda of Country Club Transportation Services won two passes to the Miami Show this October.

LANJ's next general meeting is scheduled for September 16.

Visit lanj.org for more information.

[CD0515]