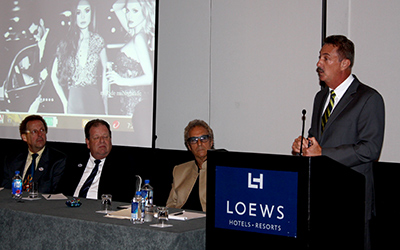 FLA President Rick Versace of A1A Airport & Limousine Service discusses miRide, an app that aims to provide on-demand rides and later reservations to luxury ground transportation clients Miami —The Florida Limousine Association (FLA) met at Loews Miami Beach Hotel May 27, hosting a packed house and covering a range of topics. Chauffeur Driven, which sponsored the event along with Chosen Payments, had Publisher Chris Weiss and Industry & Brand Ambassador Philip Jagiela on hand for the evening meeting.

Jagiela, who also serves as the association's executive director, kicked off the meeting by both welcoming and thanking everyone, especially the event sponsors and those who traveled from all over the Sunshine State to attend.

FLA President Rick Versace of A1A Airport & Limousine Service then provided an overview of the ways the association has been fighting for its members with the presentation "What Has the FLA Done for Me Lately?" Versace discussed the statewide TNC battles that FLA has been involved in, including how Uber has been trying to circumvent county regulations by appealing directly to the state, the injunction in Hillsborough County that has prevented Uber from operating there, and its preferential-treatment lawsuit against Palm Beach County for issuing a temporary operating agreement that lets Uber transport passengers on its own terms. He also addressed how FLA worked with Broward County to draft TNC regulations that protect the riding public by mandating that ride-hailing apps operate under the same guidelines as the taxicab and luxury ground transportation industries do.

Versace also discussed the miRide app, which the association has not only endorsed but also helped develop. Described as an Uber-esque app for the luxury market, miRide is currently being beta tested in the South Florida market by A1A Airport & Limousine Service, Aventura Worldwide Transportation, and Coastal Car, with plans to gradually roll it out to FLA members across the state and, eventually, to regional association members across the country who are properly insured and licensed, as well as having successfully completed the vetting process. Having operators' input while developing the app has allowed many of the industry's concerns to be addressed, like allowing companies to retain their clients for later reservations but giving the closest vehicle first dibs for an on-demand ride—which will also divert a commission percentage to the company with whom the passenger is a regular client.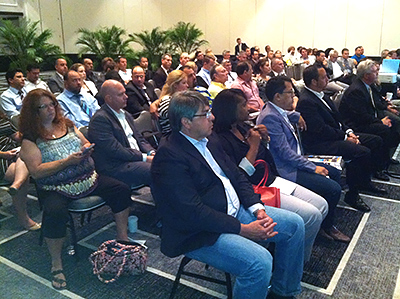 FLA's meeting at Loews Miami Beach Hotel hosted a packed room miRide's Chief Marketing Officer Stuart Gold continued the app conversation with a discussion of miRide's marketing strategy. Offering "luxury at the tap of a button," miRide will focus on selling the experience of chauffeured ground transportation—Gold likened it to how Dunkin' Donuts and Starbucks both sell coffee but the latter sells a high-quality experience befitting its higher price tag. There was also a PowerPoint presentation that explained in greater detail how the app will work.

CD's Chris Weiss then addressed industry trends both local and national. He also expressed his excitement and enthusiasm for bringing Chauffeur Driven's annual show to South Beach this October—the first time a major chauffeured ground transportation trade show will be hosted in Florida.

Mike Marroccoli of Capacity Coverage rounded out the evening with a presentation on the STOP program, which offers user-friendly online training and has the potential to save FLA members money on their insurance premiums.

The FLA has also drawn up a petition calling for TNCs to provide commercial auto insurance that better covers their drivers and passengers in the event of an accident, as well as Level II fingerprint background checks. The petition, which currently boasts more than 350 signatures, can be signed at chn.ge/1KoTJ9I.

Visit floridalimousine.com for more information.

[CD0615]