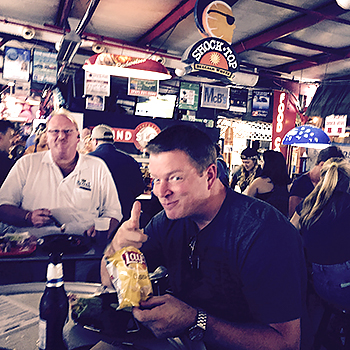 Advantage Funding's Lew Robbins (foreground), who sponsored WFLA's summer outing, and Greater Orlando Limousine Association President Cliff Wright of Royal Coach & Limousine St. Petersburg, Fla. — In keeping with a nearly decade-long tradition, the West Florida Livery Association (WFLA) held its annual summertime social outing August 9. Nearly 50 members, supporters, and family members gathered at a local sports bar before cheering on the Tampa Bay Rays at Tropicana Field, where the home team emerged victorious over the New York Mets with a 4-3 win. The day's events were sponsored by Lew Robbins of Advantage Funding.

WFLA President Dave Shaw of Network Limousines said that past summer events have included "a little bit of everything," ranging from the ever-popular baseball games to cruises, and replace the association's monthly meeting "with a nice break for everyone"—even when the conversation inevitably turns to business.

"It's always more of a family event, which is great, but there is always some shop talk going on—it never really goes away," Shaw said.

Florida—including the association's own Hillsborough County—has seen its share of TNC troubles recently. On July 15, the WFLA held its monthly meeting at Oldsmar's Flamestone Grill, where the disruptive companies dominated the gathering's discussion.

"At any of these meetings, all everyone is talking about is the transportation network companies—that's our headache right now," Shaw said. "We talked about how we're going to proceed in the following year. We have an early session in Tallahassee, so we're going to band together with the rest of the associations in the state. A lot of people are getting pretty frustrated with government."

That frustration showed when the discussion turned to the Hillsborough County Public Transportation Commission (HCPTC), as its Executive Director Kyle Cockream spoke at the meeting to provide an update about what the commission is doing for the legally operating, fee-paying transportation companies whose funds support the regulatory commission.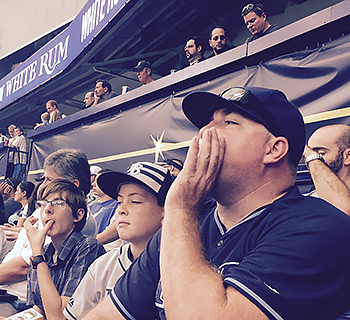 Members of the WFLA enjoyed a day at Tropicana Field to take in a Tampa Bay Rays game "Our transportation commission doesn't get any county money, doesn't get any state money—it's funded by the fees that we pay," said Shaw. "So when people see that TNCs are coming in and operating illegally and not paying the commission, our operators are thinking, 'Why should we pay if they're not paying?' I understand why they're upset, but Kyle's got to follow guidelines. He's pretty tough and we've been very closely with him."

Shaw added that Cockream, a 35-year veteran of Hillsborough County's sheriff department, has been diligently working to restore the HCPTC's reputation while seeking regulation for the TNCs operating in the area. The HCPTC executive director has also "put a recommendation into the commission to deduct 50 percent of our permit fees this year until the TNC issue gets solved," according the Shaw.

Unfortunately, Senator Jeff Brandes has indicated that he wants to shut down the HCPTC in the wake of its crackdown on fining and ticketing TNC drivers who are not complying with county regulations. Even with WFLA members' current frustrations, Shaw says that the association opposes a dissolution of HCPTC.

"There is the possibility that the HCPTC could disband but we're totally against it," he says. "I think there are enough votes in the delegation to back that down."

The next WFLA membership meeting is scheduled for September 16. Members of the WFLA also are planning to voice their opinions about TNCs at the next Hillsborough County Aviation Authority Board Meeting on September 3 in the authority's board room at the Tampa International Airport.

Visit wflatampa.com for more information.