PRLA President Steve Rhoads King of Prussia, Pa. — The Philadelphia Regional Limousine Association (PRLA) returned to Maggiano's on January 13 for its monthly membership meeting. More than 20 attendees were present, including Chauffeur Driven's Industry & Brand Ambassador Philip Jagiela, to discuss association business and recent strategies in the battle with TNCs.

Outgoing PRLA Treasurer Chris Haines of Michael's Classic Limousine commenced the meeting with an account of the association's current finances. Next, President Steve Rhoads of Rhoads Limousine discussed current business, including the renewal of the association's NLA membership and starting the process to obtain federal tax exempt status. Rhoads continued by announcing the PRLA officers for 2016: Vice President Bob Euler of King Limousine, Secretary Mark Barnett of Best of Times Limousine, and Rhoads will all remain in their current positions while Michael Haines of Michael's Classic Limousine was welcomed as the new treasurer.

Before turning over the floor, Rhoads informed the association that general meetings will now take place every other month, while the board will continue to meet monthly. Members were advised to check the website's calendar for meeting dates.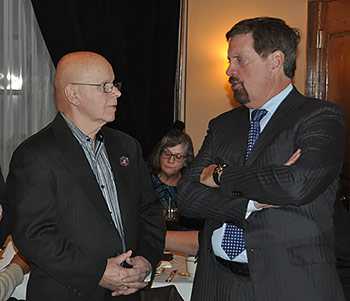 PRLA's Immediate Past President Jim Salinger of Unique Limousine (left) speaks with Vice President Bob Euler of King Limousine Next, Jagiela, Chauffeur Driven's Industry & Brand Ambassador, took a few minutes to speak to the PRLA about upcoming magazine-sponsored events. After thanking those in the room who came to CD's Miami Show, he highlighted the upcoming Executive Retreat in New Orleans, to be held from May 1-3, and shared the event's schedule.

After that, Flyte Tyme Worldwide's Michael Baretto addressed the continually difficult situation with TNCs at the Philadelphia airport. The Parkway Corporation, who manages the airport's ground transportation, is working with livery companies to both limit TNCs in the commercial holding lot and establish a holding lot for limousines and taxis. Unfortunately, with state legislation currently in the process of determining TNC regulations, enforcement at the airport is in a "holding pattern"¾and any progress in this area is unlikely until the state passes its budget.

To close the meeting, Robert Keaton, a government relations specialist from the law firm of Bigley and Blikle, made a presentation to the organization regarding getting their voice heard with legislators. He encouraged PRLA members to establish a presence in Harrisburg by meeting with state legislators and representatives in the consumer affairs office and the public utilities commission.

In accordance with its new schedule, PRLA's next general meeting will be held in March.

Visit prlainc.com for more information.

[CD0116]