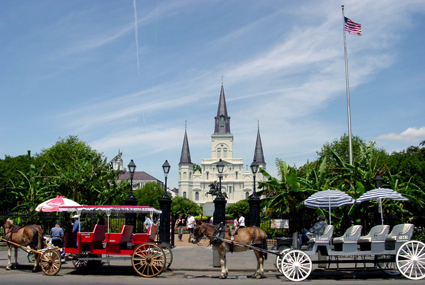 Get ready to strut. It's with less than TWO WEEKS until our Executive Retreat kicks off in the Crescent City, New Orleans! Because our Retreat is specifically tailored for operators of ALL sizes to network in a casual environment, it's limited to only 200 operators overall. And it's not just for the "big" guys out there: Although many of the leading operators from across the country have already registered, it's an excellent opportunity for small and midsize operators to network with their peers without too much time away from the office. There's also plenty of fun and unique activities planned so that it's actually more like a working vacation that benefits your business. Score! Sounds amazing, right? With only 30 passes left, you'd be crazy to pass up this opportunity.

Here's what we have in store: four world-class education sessions, three of which feature dynamic, engaging speakers from outside the industry; private events like our Steamboat Natchez dinner cruise and dinner at Mardi Gras World; two nights of the hottest live music on iconic Bourbon and Frenchmen streets; carriage tours of the historic French Quarter, most of your meals and drinks included, and so much more. The education alone is worth the price of admission!



On Monday, we launch our program with "Brand Harmony: Communicate a Story That Drives Business Results," which will guide you in identifying, embracing, and aligning your brand with your overall sales and business development strategy. Speaker Steve Yastrow, founder of marketing firm Yastrow and Company, has a passion for creating revolutionary sales and marketing systems that yield major profit breakthroughs. He also has an understanding of the hospitality industry through his former position at Hyatt Hotels & Resorts.

Monday's second session is "10 Minutes to a More Profitable Website/5 Things Your Website Is Trying to Tell You" with speaker Matt Weber, CEO of ROAR! Internet Marketing. Based on research on what motivates people to take certain actions on a website, you'll leave with pages full of notes on how to make your website a more effective lead generator. Weber will also use real examples from members of the audience's websites.

After a group breakfast on Tuesday, we immediately kick off the day with "Priced for Profit: How to Calculate and Determine if a Vehicle, Run or Even a Client Is Making You Money." This session will help you identify what services and customers are profitable by weighing their financial pros and cons. You'll be able to determine what—and who—is either filling your coffers or decreasing your margins so you can move ahead accordingly. Speakers Mike Campbell of Grace Limousine and Ron Sorci of Professional Consulting Resources will share their knowledge and know-how from decades of industry experience in running their own businesses to make sure that you are maximizing your company's potential.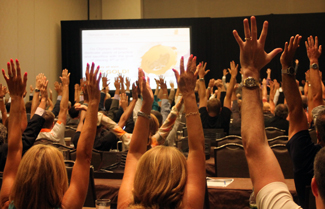 Kristen Carroll—who is also co-chair of our education committee and helped to create this entire program—and Christina Davis of The LMC Group spearhead our final session, "The Termination Process: How to Protect Your Ass-ets." This is something that any operator can relate to; Carroll and Davis will give advice on how to make firing an employee a little less painful and to minimize the damage done when severing a professional relationship.

Get registered today! Visit neworleansretreat.com to register now.

Many thanks again to all of our generous sponsors, including Platinum Sponsors Turtle Top and the Tenney Group, for making the event possible.

Visit neworleansretreat.com for the latest updates and information. Have questions? Give our Director of Events Jess Pavlow a call at 856.452.0323.

[CD0416]