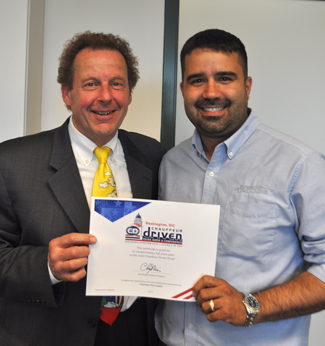 CD's Industry & Brand Ambassador and VLA Executive Director Philip Jagiela (left) with John Oulton of Richmond Limousine, who won a pass to CD's Show in Washington, D.C. Fredericksburg, Va. —More than 30 people turned out for Virginia Limousine Association's (VLA's) June 6 meeting at Stafford Regional Airport, including CD's Industry & Brand Ambassador Philip Jagiela, who also serves as the association's Executive Director.

The meeting kicked off with both internal housekeeping and a few vendor presentations, with Jack Rolfe and Joe Laila of Georgetown Insurance and Brian O'Neill and Steve Mullen of Wolfington Body Company each discussing their respective companies and the services they provide—and offering raffle prizes to a few lucky winners, too.

Barbara Arkwright, who is Head of Enforcement of Passenger Carriers at the Department of Motor Vehicles Department (DMV) and has attended VLA meetings in the past, spoke about the agency's experience with TNCs. She spoke about how the DMV has looked into numerous complaints about the likes of Uber and Lyft: 240 total inspections, 182 complaints, and 81 violations since April 2016 (in comparison, passenger carriers have seen 131 inspections, 59 complaints, and 114 violations during that same time).

Arkwright also discussed Uber and Wal-Mart working together to arrange deliveries, as well as how some TNCs are in direct violation of current Virginia Legislative Assembly code by attempting to offer pre-arranged services. Toward the end of her presentation, it was acknowledged that few ride-sharing vehicles are displaying the "trade dress" that identifies them, which complicates the process of catching illegal operators.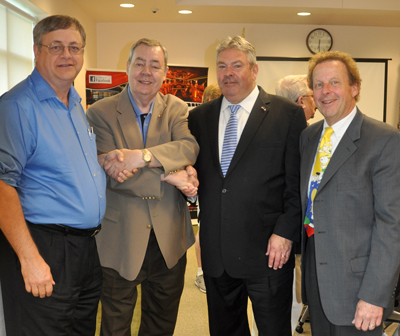 L to R: VLA Secretary Randy Allen of James Limousine Service, Jack Rolfe of Georgetown Insurance, VLA President Paul Walsh of Superior Executive Transportation, and CD's Industry & Brand Ambassador and VLA Executive Director Philip Jagiela Virginia FREE President Chris Saxman also addressed the VLA about the importance of persistence. Because of his family-business background, he has personal experience with what it's like for a small organization to rail against a larger, wealthier operation; additionally, Saxman represented an organization that supports statewide companies of all sizes "to ensure that the General Assembly is receptive and responsive to the interests of free enterprise."

Saxman went on to emphasize how crucial it is to maintain relationships beyond the industry, especially with local and state legislators—and that coming to their elected officials with a clear, concise message will serve them well in their battle against TNCs. He further advised members who pursue lobbying efforts to draw attention to how the operational nature of TNCs bypasses tax revenue for the state, as they don't have local bases the way taxi and livery vehicles do.

Jagiela also spoke, both about VLA matters like the association's new website and its benefits and on behalf of Chauffeur Driven. He raffled off a pass to the 2016 CD Show in Washington, D.C., October 9-12, which was won by John Oulton of Richmond Limousine.

VLA's next meeting will be August 1 in Charlottesville.

Visit the association's newly redesigned website at vla-limo.org for more information.

[CD0616]