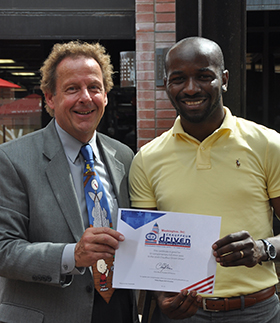 CD Industry & Brand Ambassador Philip Jagiela (left) with Lucky Adlike of Pulley Limousine, one of ALA's newest members and winner of the 2016 CD Show pass Tempe, Ariz. — When the Arizona Limousine Association (ALA) met up for its September 13 meeting, roughly 30 attendees were on hand for a day of guest speakers and general updates. CD's Industry & Brand Ambassador Philip Jagiela was among those present for the still-growing association's morning gathering at the Mexican restaurant El Hefe.

Jon Luisi of meeting sponsor MiCamp Solutions, a merchant processing service, was the first speaker of the day and discussed how his company offers funding to the chauffeured ground transportation industry.

Jagiela then spoke about CD's upcoming show in Washington, D.C., as well as outlined all the ways it strives to be a premium resource for the industry through its events and magazine. He also encouraged those in attendance to continue unifying in their efforts to maintain chauffeured transportation's integrity and hold TNCs accountable for passenger safety, as being one voice with one message will go farther with local legislators and regulators.

He also raffled off a pass to the 2016 CD Show, which was won by Lucky Adlike of Pulley Limousine. As Adlike was attending the meeting as a guest, he had to first join the association to accept his prize, resulting in an all-around win-win situation.

ALA President Jeff Conly of Vitesse Worldwide then discussed the association's rising membership stats—33 operators and 11 vendors—as well as other logistical elements and information that come with restarting a previously dormant regional association, like optimal meeting times and benefits of membership. As the ALA just began meeting again earlier in 2016, the association is working toward establishing itself in its region and is pursuing marketing opportunities to keep recruiting members.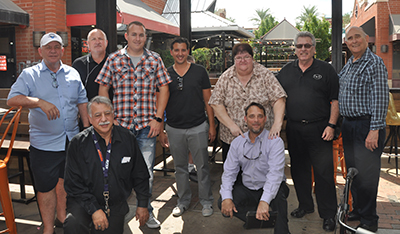 The board members of the ALA Members then sounded off about the continuing onslaught of TNCs in Arizona's markets, especially around its Sky Harbor International Airport. It was reported that they make 67,000 airport trips in just 45 days—whereas taxis and the airport SuperShuttle combined reported only marginally more business in that same timeframe with 80,000 trips, down from between 20 and 30 percent of the ride counts they saw a year ago.

Toward the end of the meeting, a one-year ALA membership was raffled off to encourage guest attendees to join, which was won by Dennis Bietry of Valley Limousine.

The next ALA meeting will be held October 11.

Visit azlimousineassociation.com for more information.

[CD0916]