Details

Category: Industry News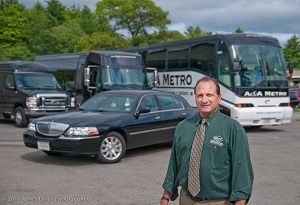 Tom Arrighi, president A&A Metro TransportationBridgewater, Mass. — The month of February marks A&A Metro Transportation's 62nd year in business. To commemorate this prestigious anniversary, A&A have recently established three new locations throughout the state of Massachusetts: Randolph, Wareham and Mansfield. 
A&A Metro prides itself on being a full service transportation company with a diverse fleet of over 120 vehicles, featuring executive sedans, vans, mini buses, motor coaches, and wheelchair accessible vehicles.
Due to the incredibly high demand, A&A Metro's growth has caused, the company purchased six new 2014 ElDorado Aerotech Buses, one 2014 Turtle Top Van Terra, and a 2014 Ford E250 wheelchair accessible van in just the last month alone. Such a large purchase of vehicles with wide ranging functionality will be a major asset in addressing the needs of A&A's growing consumer base.
Visit aametro.com for more information.
2/14
Details

Category: Industry News
Illinois—The Illinois Limousine Association (ILA) held a tele-conference meeting this past January. ­During this discussion, Paula Debiasi from Chicago CoachWorks was welcomed to the ILA Board. Debiasi replaces Carolyn Carter of Carolyn's Classic Limousine Service, who stepped down from her position to attend to personal matters.
ILA President Greg Eggan of O'Hare-Midway Limousine Service appointed Art Rento of Ponterelli Limousine Service, Tony Douvlis of Amm's Limousine Service, and Scott Delheimer of Class Act Transportation Worldwide to the Board Election Committee. Rento will serve as chairman, while Delheimer and Douvlis will act in an advisory capacity in the decision-making process.
ILA members are greatly concerned with the proliferation of Uber in both Chicago and the suburb of Oak Brook. They would like Uber and the other ridesharing apps to adhere to the state's established limousine code. Eggan has been in contact with the ILA's legal counsel in regard to this serious matter, but has not received a response as of yet.
It was also decided that the ILA's annual meeting will take place at White Pines Golf Club in Bensenville, Ill., on May 14, 2014. ILA is actively seeking compelling speakers to inform and enlighten its membership at this event.
Visit illinoislimousineassociation.com for more information.
Details

Category: Industry News
Louisville, Ky.—Chantz McPeek, industrial fire coordinator with the Kentucky State Fire Commission, visited the latest meeting of the Kentucky Limousine Association (KLA) this January to discuss the development of custom, fire safety training programs for chauffeurs in light of the limousine-related combustion tragedies that occurred in 2013. These safety programs are slated to begin in February. KLA Vice President NeVelle Skaggs, who is also a firefighter, will be assisting with the various seminars and training programs for state certification.
Al Barber, fleet sales manager with Germain Cadillac in Columbus, Ohio, also made a presentation at the meeting, highlighting the dealership's newest vehicles and promotions. Germain Cadillac is the closest Cadillac dealer to the Louisville area.
Officer Jared Newberry, friend and ally to KLA, dropped by to update the association as he continues to fight the good fight against illegal operators, which are quite prevalent in the state of Kentucky. Officer Newberry and his team have been actively responding to reports of those that are flagrantly disregarding the state transportation laws by issuing citations and even bringing one case to court.
The next KLA meeting will take place on March 10 and 11 at Harrah's in Chicago, Ill.
Visit kylimo.org for more information.