Details

Category: Industry News
East Hanover, N.J.—Jason Sharenow, COO of Broadway Elite Chauffeured Services Worldwide, announced the acquisition of Jade Limousine of Fairfield, New Jersey. The acquisition makes Broadway Elite one of the region's leading full service transportation companies with more than 80 vehicles in service.
Sharenow and Broadway Elite owners Brian and Gary Wecksler will run the company in executive, management, and operational roles while the former Jade owner, Fred Sidaross, will remain on as an advisor during the transition period. "Jade and Broadway Elite have enjoyed a great affiliate relationship for many years," says Sidaross, "It made total sense to look to a well-run company like Broadway to acquire us."
"We are very excited about the merger," says Sharenow. "It allows us to streamline our operations, increase our capacity, and continue to provide outstanding service to our clientele. It is a tremendous challenge to integrate the two companies and cultures into one, but the advantage that we have seen already is that we have talented, experienced people who have come together under the Broadway Elite banner. We are all very excited about growing our new company."
"Broadway and Jade complement each other," says Brian Wecksler. "Jade is a 27-year-old company with a very strong client base. The two companies now have the ability to service clients over a 150-mile radius seamlessly."
Broadway Elite has been providing corporate transportation to the Northern New Jersey market for the past 20 years. The new fleet includes late model executive sedans, vans, mini buses, SUVs, and stretch limousines. 
Visit broadway-elite.com for more information.
Details

Category: Industry News
Boston--Tristar Worldwide Chauffeur Services announced that it added three new professionals to its corporate team in Boston and one in New York, to facilitate its continued growth in North America. The company has locations in America, Europe, and Asia, and its headquarters are in London.
Mike Fogarty, CEO of Tristar U.S., says, "We are delighted to welcome the addition and promotion of professionals who we know will continue and enhance Tristar's standing as the premier provider in the chauffeur driven industry. "
About the appointments:
Yin Low has been with Tristar for more than two years, as operations coordinator in the New York office. In her new role as operations supervisor, she will manage operations and client outreach for Tristar in the metro-New York area.
Patricia MacLean has been with Tristar for more than six years, and has more than 20 years of industry experience. In her new role as travel and affiliate manager out of the Boston headquarters, she will draw upon and manage scores of relationships she has developed with affiliates and clients in the course of her career in the chauffeur drive industry.
Lori Pollard was named call center manager, also based in the Boston office. She brings more than fifteen years of valuable customer service, business management and administrative experience to her role.
Melanie Druse joins the Boston-based team Tristar as finance manager. She brings more then a decade of experience in finance, human resources and accounts administration to her new role.
Visit tristarworldwide.com for more information.
Details

Category: Industry News
Randolph, Mass.—For Marina Domenici, a bright-eyed and cheery 14-year old with Down Syndrome, her bucket list grew a little shorter last March as she finally got to attend her first Boston Bruins game in rock star-style, compliments of ETS International.
"The screech of excitement was deafening when she looked outside to see the limo pulling up," says Marina's mother, Lynn Domenici. Not only did Marina get a limousine ride and enjoy great seats at the March 3rd game, but she also got to meet the Bruins' mascot, Blades, and take a spin around the ice on the Zamboni. She was even given the opportunity to try on a Stanley Cup Championship ring.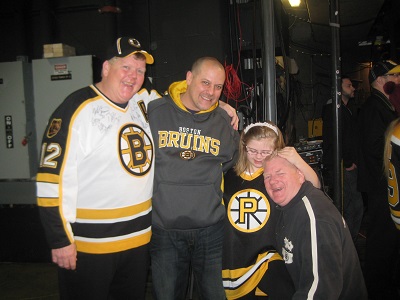 Marina Domenici enjoys her day with the Boston Bruins.

"My husband, Brian, was worried she would be too scared to ride the Zamboni," says Lynn. "But she smiled and waved to all the fans as she circled the ice. That unstoppable smile and enthusiastic wave will be etched in our memories forever."
John M. Greene, President of ETS International, says they were more than happy to help make one of Marina's wishes come true, as he has known the family for many years. "Marina just lights up every room she walks into," says Greene. "You'll never meet a sweeter girl and just to see the look on her face as she watched the game was a thrill for all of us."
Adds Marina's dad, Brian Domenici, who works as a Supervisor in the Ground Transportation Department of FM Global in Providence, R.I., "If you ask Marina about her night in Boston, the top of her list of thrills would be a night out with two great guys, Johnny and his brother, Peter.  She has come to love them both, not because of the limos, hockey games or even Zamboni rides, but because Peter and Johnny treat her like part of their family. For us as parents we are grateful for the extraordinary opportunities that The Greenes and ETS have provided for Marina."  
ETS' John Greene says the limo company has had a lot of famous people in their cars over the years, "but Marina tops the list."
Visit www.etsintl.net for more information.