Grech Still Impresses After 30 Years
Details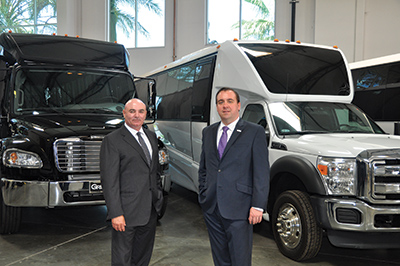 Grech Motors' Owner Ed Grech (left) with VP of Sales and Marketing AJ Thurber at the Calif. sales officeEd Grech's enduring legacy as one of the industry's premier builders is already well known to operators' so focusing Grech Motors' manufacturing process on luxury shuttle buses in 2012 was a natural evolution for the longtime builder. Shuttle buses are some of the most popular fleet additions' and operators have praised Grech Motors' products for versatility and progressive design.

"We build our buses with the highest-quality materials and offer more standard features than any other builder' producing vehicles with unparalleled fit and finish. We back up our products with the industry's best warranty and after-sale support'" says Grech' owner and founder of Grech Motors.

When we last caught up with Grech' the Riverside' Calif.-based company was doing an impressive amount of business. Two-and-a-half years later' the builder is having its best year thus far' with new staff members' products' and a popular marketing campaign.
Passionate Pursuit: Philadelphia's Park Avenue Limousine
Details
Thrives Through Service, Respect, and Values
BY LIZ HUNTER
Even from a young age' Alan Candeub knew he wanted to be in business for himself. From working a paper route and shoveling snow to working for a local supermarket at age 13' it was always in him to make his own success.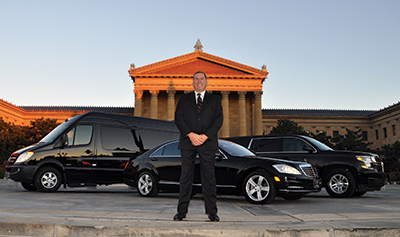 Alan Candeub, president of Park Avenue Limousine, at the Philadelphia Museum of ArtCandeub says that he earned his hard-knock education with small but successful business endeavors throughout his high school years. When graduation approached' his mother insisted he attend college: It wasn't a good fit for him' so he dropped out and went to Vail' Colo.' where his older brother was working.

"I supported myself out there' but the opportunities didn't present themselves like I had hoped'" Candeub says. "So I came back to my roots' obtained my business degree from Temple University' and got engaged."

While trying to get another business venture off the ground during the day' Candeub worked nights delivering financial documents throughout Philadelphia. It was the mid-'80s' before fax machines were common. Right around this time' Candeub was presented with the very opportunity that would end up leading him to his true calling.

As Candeub tells it' his soon-to-be father-in-law worked for a security company and Phil Collins was stopping in Philly as part of his tour. "The security company was coordinating Phil Collins' hotel and transportation'" he says. "Limousines were scarce' but that's what they needed. So I said' 'Let me give it a shot.' I bought one and immediately was hooked."


It's Destination: Nashville for Chauffeur Driven's First Executive Retreat
Details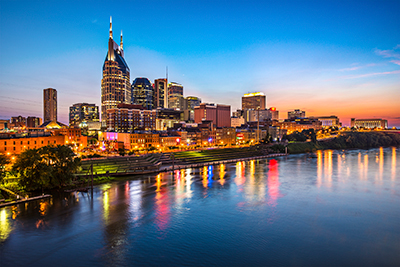 Do you feel like you could benefit from broadening your network reach' learning innovative approaches to doing business' and getting a fresh perspective of your company? Would you appreciate the chance to spend a few days in an intimate setting tinged with Southern charm and set against a uniquely welcoming landscape? You'll find everything you're looking for (and more!) if you join us when we head down to Nashville for the first-ever Chauffeur Driven Executive Retreat.

After talking with industry members' we concluded that the end of June is the best time to debut this operator-centric event. So mark your calendars for June 22-24' 2015' if you want to be a part of an experience that will deliver lots of close-knit networking' relationship-building' and education right in the heart of downtown Nashville at the posh Omni Hotel & Resort.

"We wanted to create an event that was a little more exclusive' and one that gave operators the chance to network on a higher level while experiencing different cities around the country'" Chauffeur Driven Publisher Chris Weiss says.

We're excited to present operators this opportunity to work on—not in—their companies with the wide range of offerings we have planned.

You want workshops? We got 'em. You want high-level customer service training from hospitality giants? Our retreat will have that' too. Want to know the secrets of industry experts' participate in proven team-building activities' and take a good' hard look at your business after you've stepped away from the day-to-day dealings that can often bog you down? You'll find all that and more at our Executive Retreat while also experiencing the sights' sounds' and Southern flavor that await you in Music City' USA.


Attendance is capped at only 200 operators' and a flurry of early interest means there's not much time left to take advantage of the $599 registration price for the first 50 to sign up; after that' it's $699 for the next 75 to register' and $799 for the last 75. We also negotiated an awesome discounted rate of $229 per night with the Omni so you'll be within easy walking distance of all the after-hours delights we have in store (and we'll still have transportation available for those who want that option).

While the Executive Retreat will concentrate on catering to operators' needs' there are limited sponsorship opportunities available' too.

We picked Nashville to kick off what will be a yearly retreat for its unique blend of quaint old-city charm that boot-scoots right up to a thriving modern-day cityscape. It's the perfect introduction to an intimate event aiming to bring operators to uniquely vibrant secondary markets that are bustling enough to be interesting and small enough to exemplify the cozy vibe we want our retreats to be radiating.

Don't worry' we wouldn't host our inaugural retreat in Nashville without inviting you to experience the city's one-of-a-kind flavor. The Omni is both temptingly situated about a block from the Music City Center and seamlessly integrated with the world-famous Country Music Hall of Fame and Museum' both of which will be definite stops on the entertainment itinerary. And a five-minute stroll from the hotel puts you right on Broadway' where you'll get to know a handful of the city's most iconic watering holes during our honky-tonk crawl that'll fill an entire evening with laid-back networking and rockin' live bands.
Attendance is capped at only 200 operators, and a flurry of early interest means there's not much time left, take advantage of the $599 registration price, first 50 to sign up"

But wait: There's more! We'll be taking you on tours of Music Row' the Jack Daniel's Distillery in Lynchburg (which' incidentally' is based in a dry county' but you'll still have a great time)' and other Music City must-sees. You'll get to literally sink your teeth into some down-home Southern eats with all the local fare you can nosh on. And since no trip to this music-lover's mecca would be complete without taking in some tunes' we'll be hiring a big-name band for a special live performance: Forget about going to a concert—the concert's coming to us.

So if you're looking for a working vacation that will educate and entertain you in equal measures' join us in the summer when we mosey on down to Nashville for some world-class workshops' priceless networking opportunities' and a whirlwind tour of a city that everyone's been clamoring to check off their bucket lists. Keep checking for updates about this can't-miss event at chauffeurdrivenshow.com. See y'all in June!

[CD1014]
Realities of Uber Salaries
Details
BY SUSAN ROSE
Last month, I had a conversation with an exasperated operator who had just lost another chauffeur to a TNC. In this particular case, the company used an employee model with company-owned vehicles, but the younger chauffeur—who had been doing work on the side for UberX in his personal vehicle—was convinced that he could make a lot more money and have a better schedule by working for the rideshares. Was that decision the product of a poorly managed transportation company or a slick marketing campaign by the TNCs? Maybe you've faced a similar situation with a chauffeur?

In late August, Uber CEO Travis Kalanick claimed that the company was adding nearly 50,000 drivers per month to its roster, up from 20,000 per month just months before—great for them, but does that new hiring pace reflect an increased demand for service, or is he simply glutting the market and diluting wages for his current faithful drivers? Uber itself released a report that the "median UberX small business income per year is $90,766 (NYC) and $74,191 (San Francisco)." You can see it for yourself at blog.uber.com/uberimpact. If you visit Craigslist, ads fill the pages with promises of $1,000 per week in New Jersey or $1,850 if you're looking in San Francisco. Ads specifically list that drivers don't need a special license, commercial insurance, or any professional driving experience. You can even use your own car, as long as it's model year 2005 or newer and you have personal insurance. Sign me up!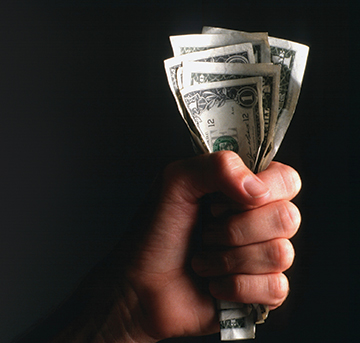 See a full list of international cities and the latest information here: chauffeurdriven.com/apps
But did you catch how Uber phrased it? "Small business income" is not the same as salary. It also doesn't factor in Uber's 20 percent cut (25 percent in some cities) for UberX drivers, gas, tolls, maintenance, car washes and vacuuming, insurance, and wear and tear on your body. It also says that the median small business income was achieved by working more than 40 hours per week, but it doesn't quantify how many more hours. For all we know, the drivers were working 12 hours a day, every day of the week. How's that for safety, regulators? So let's get to the nitty-gritty: Are drivers really making that much? We did some digging and found a handful of Uber and UberX drivers all over the country who would talk to us anonymously. We had to be fair, because let's face it: If Uber would "deactivate" a driver for a few bad passenger reviews, what would it do to someone who spoke critically of the company? We didn't want anyone to lose their livelihood.

They Sent Me an iPhone!

Once you sign up and pass the Uber-style background checks, you get a phone sent to you that comes pre-loaded with the Uber app. Which then costs you $10 per week to lease, according to Uber. None of the drivers I spoke to were particularly upset about it, but they were happy to hear that Uber had a new driver app available for download only on iPhones at this point. Did we mention that the Uber-provided phone was locked and wasn't capable of texting or voice calls? Reality check: Now that the iPhone 6 is out, you can likely get an iPhone 5C or 5S for a steal with a full data, voice, and texting package for about $20 more per month—and the phone is yours.

What Was I Thinking?

"The biggest regret I have is underestimating the costs that I'd have with driving," said one driver based in the Chicago area. "It used to be three months or more between oil changes and tire rotation but now it's every month. I'm putting so many extra miles on my car that it doesn't feel new anymore. People getting in and out of the backseat scratched up the back of the front seats and the inside liner. I know it's my business tool and it's just a car but I didn't think passengers would be so hard on it." Online, Uber advertises that you can make $4,800 per month in the Chicago area. When I asked if this was a reality for her, she flatly said: "No, not even close. I do it because I'm making money but it's not even close to that. Thank goodness I am able to deduct most of my expenses, otherwise it wouldn't be worth it. I estimate that I'll make somewhere between $28,000 and $30,000 this year before expenses." She also commented that she worked about 10 hours per day and always on Friday and Saturday nights.

It's the Driving Between Jobs That Kills Your Per-Hour Average

I asked a California driver if she made the rates that Uber was advertising and here was her biggest pet peeve: the time spent between trips. "The assumption is that I'm going to drop off one passenger and pick one up right there on the spot. It doesn't work like that," she says. "If I get a ping right away, I often have to drive at least a few miles to get the next trip, which could be 10 or 15 minutes with traffic. And that's if I'm the closest driver and accept the trip. People can't hail me like a cab. That ride had better be a pricey one because I just burned gas to get there. That's also assuming that the passenger is ready. I've waited 10 minutes after arrival (for free) for them to come down. Time is money!"

Dropping Rates

I talked to a New Jersey-based UberX driver who was frustrated about new lower rates instituted in his area. "They [Uber] sent out an email earlier in the year that they were lowering rates, but not to panic because lower prices would increase demand and we'd have more trips, so it would all even out. Since that email I haven't made anywhere close to the same as before. I could go an hour or two without a single ping. That means I spent the entire hour making no money but my expenses didn't change."

Work When You Want

Doesn't it sound blissful: Set your own hours and control your income based on when you want to work. This is probably the most egregious of all the selling points to Uber because working when you want doesn't always mean that there will be demand. "You know what they don't tell you when you sign up? You must work at least Saturday night into Sunday morning when the bars close. That's when you're going to make the most money," says a California-based driver. "I'm 25; I don't want to work Saturday nights. I want to be with my friends. I used to work as a delivery driver and got stuck with these awful shifts, and I didn't want that with Uber. During weekdays in my area, you're working the rush hours, too. There are trips during the off-hours, but you're going to be making less." Uber must assume that their pool of drivers is already working full time during the day and that this is a second job.

My Boss Is an Email Address

"The weirdest part about working for a company like this is that I don't ever meet my boss. For some people, that's cool with them and they want it that way, to be their own manager and such, but I sometimes want to feel like part of a company. If I have a problem or question, I want to talk to a human, not send an email. I had a problem with my pay not showing up for some trips I had, and it was resolved, but I had to send an email and wait. My response was an auto-reply. I didn't think I'd miss something like that but I did and do," said one driver from California. "Plus, it can get really lonely on the road. I went online to search other drivers just so I could shoot the sh*t with someone else who's been there." I reminded him that as an independent contractor, he was his own boss but he stopped me mid-sentence. "I'm getting a paycheck and they're still taking a cut. I still have to follow their rules. Sounds like a boss to me."

My Trainer Is an Online Course

"I'm not a professional driver so it floored me that after being accepted all I had to do was watch a 10-minute video that didn't even talk about safety," said a driver from Texas. Forbes reported that Uber is offering driver training for $40 to $65 ("Uber Skimps on Driver Training, Then Charges Drivers $65 for Basic Driver Skills Course," 10/8/14). The course is produced by 7x7 Executive Transportation, a chauffeur service based in San Francisco, and is available only in select cities at this point. According to the article, the course is required for Uber Black drivers and highly suggested for UberX drivers—but not to the point where it becomes mandatory, which would come dangerously close to violating Uber's coveted independent driver status.

The Rules Are Constantly Changing

I spoke with a driver from California who was ticked about the new percentage that Uber is taking. "I let my time lapse with Uber because I had some things going on and when I returned, they told me that their new percentage was 25 percent. They take a full quarter! I bought a car to drive for them and was making really decent money when I stopped a few months ago. I'm going to give this a few more months but I'll probably have to think about something else." He also acknowledges that he had a minor fender-bender (without a passenger) that caused his insurance to go up. For the record, this driver was working for UberX; the standard commission for Uber Black drivers is typically already 25 percent because they command a higher price.

Don't Even Think About That Lease

Last fall, Uber was very proud of its announcement that it was partnering with different manufacturers to get drivers into new cars. In the most extreme cases, it offers weekly leases on new vehicles to drivers with poor credit (it doesn't offer financing to those folks) with a $1 buyout at the end of the four-year lease. The problem is, most drivers with poor credit would be better off saving up and purchasing a used vehicle rather than being stuck with a payment that could come close to $200 per week, plus a $2,000 security deposit. That's quite a risk if you get deactivated; that's quite a risk period for those with weak credit. But Uber and financial partner Santander make it so convenient that they take the lease payment right out of Uber's weekly paycheck. You can see the terms here: imgur.com/a/bLWmF.

Uber is definitely expanding quickly, to the delight of its shareholders but often at the expense of its "partner drivers." More and more, the media, however, is examining the driver's side of the relationship, and it's not looking as rosy as it once did. It's not unusual to read headlines like these: "A Secret of Uber's Success: Struggling Workers" (Bloomberg View, 10/2/14), "A Failure to Treat Workers with Respect Could Be Uber's Achilles' Heel" (MIT Technology Review, 9/22/14), or "The $90,000 Question: Uber's Salary Lie Harder to Kill Than a Garlic-Immune Vampire" (Pando.com, 6/11/14). What a change.

Back in September, UberX drivers were striking in San Francisco for better wages, and in Los Angeles, drivers are getting some help from the Teamsters. Drivers can't technically form a union because they aren't employees, so they formed the California App-Based Drivers Association (CADA) instead (cadateamsters.org). The association has scheduled several protests at the Uber Technologies headquarters throughout the fall. In New York, drivers formed the Uber Drivers Network (udriversnetwork.com, a page that looks very similar to CADA's). One resounding takeaway from all of our TNC interviews: It's a tough way to make a living, and don't expect to work less than 60 hours a week for real money. But we have to say, Uber's ads sure do sound nice. [CD11.14]