Old-Fashioned Values & Modern Trends Merge at Boston's Above All Transportation
Details
BY MADELEINE MACCAR
Kevin Cronin (second from right) and Stephen Ward (right) with Chauffeurs Robert Bishop (left) and Jason Ultaro at Fenway Park, home to the Boston Red SoxCronin began his career as a mechanic, and the company traces its origins back to being the retail half of another transportation operation. All that changed in 1988—the year Cronin established Above All as its own entity—and the crew at Above All have been working hard since then to stay ahead of industry trends while catering to the Boston area's retail and corporate travel demands with equal dedication.

Both Cronin and General Manager Stephen Ward have been in the business long enough to have seen it all: The changing tastes dictating both the cars and costs their clients expect; the ongoing balancing act of knowing who among their clients will utilize technological advances and who still wants to call in to hear a human voice on the phone; and riding out the ceaselessly cyclical ups and downs of an industry inherently tied to so many others.


Panama Luxury Limousine Blends Modern Service with Adventurous Tourism
Details
BY MADELEINE MACCAR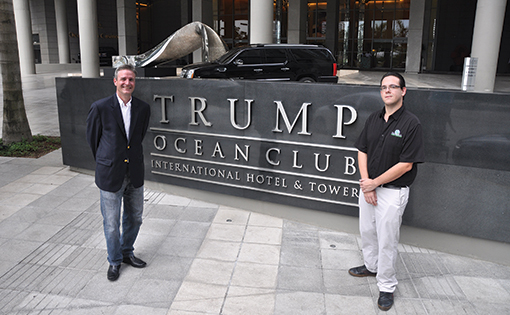 Panama Luxury Limousine's Founder and Consulting Partner Patrick O'Brien (left) and President Joe Luttrell at the Trump Ocean ClubIn 2008, when the world economy was plummeting and the central American country of Panama hadn't yet found its footing as a travel destination beyond its canal, Patrick O'Brien had just sold a tourism company and bought property in the Latin American country that he anticipated was on its way to becoming an in-demand locale.

"It was a crazy idea—who thinks to start up a transportation company in Panama?" O'Brien says. Panama is an interesting juxtaposition of a modern, beautiful cityscape with natural, pristine jungles just miles outside city limits. "There was little tourism infrastructure at the time but I thought Panama had amazing potential for it."
Brains and Brawn: MV-1's Hidden Feature Is Accessibility
Details
BY SUSAN ROSE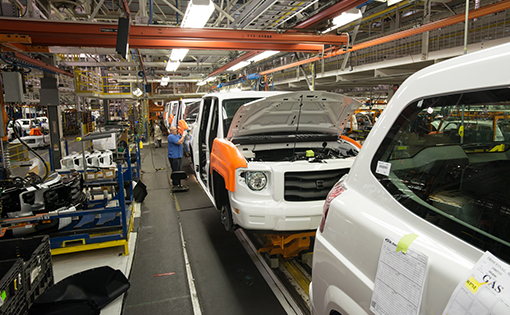 MV-1s being produced in the Indiana assembly plantWith all of the luxurious vehicles and purposeful products that are developed specifically for the industry, it's rare to find something so original that it requires a deeper look. The MV-1 is truly one of those vehicles that combines function with many thoughtful touches showing the manufacturer's thorough understanding of the accessibility market.

MV-1, which stands for the first mobility vehicle off an assembly line, debuted a few years ago. After an ambitious start with its original manufacturers, Vehicle Production Group (VPG), the ailing production was picked up by AM General Company, which has been around for more than a century. The reintroduction of the brand couldn't be timelier: With an aging population and medical transportation slowly growing as a specialty niche in chauffeured transportation, options for accessible vehicles have been limited. A fresh infusion of marketing capital made sure AM General hit the ground running at the beginning of 2014 to bring industry awareness to this unique mobility vehicle. In addition to numerous local and international mobility shows, MV-1 was most recently at the 2014 Chauffeur Driven Show where it was the only vehicle of its kind on the floor.


The 2014 CD Show Delivers Networking, Education, and Excitement
Details
BY SUSAN ROSE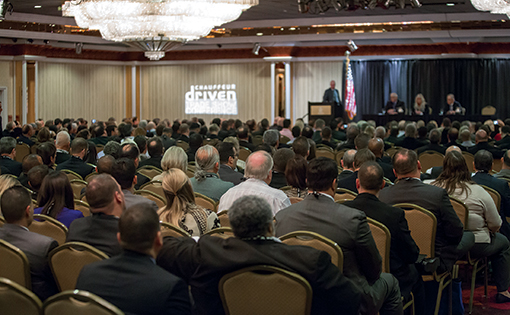 It was a fitting farewell to the Trump Taj Mahal this past November as we arrived for the final Chauffeur Driven Show to be held in the New Jersey shore town—next October, the show debuts in Miami Beach. With nearly 100 exhibitors, dozens of sponsors, and over 1,700 attendees from all around the world, the show was the shot of adrenaline that the industry needed to continue the strong growth streak we've been experiencing for the past few years. A special thank you to our Title Sponsors, The Lincoln Motor Company and Don Brown Bus Sales.