Details

Category: Industry News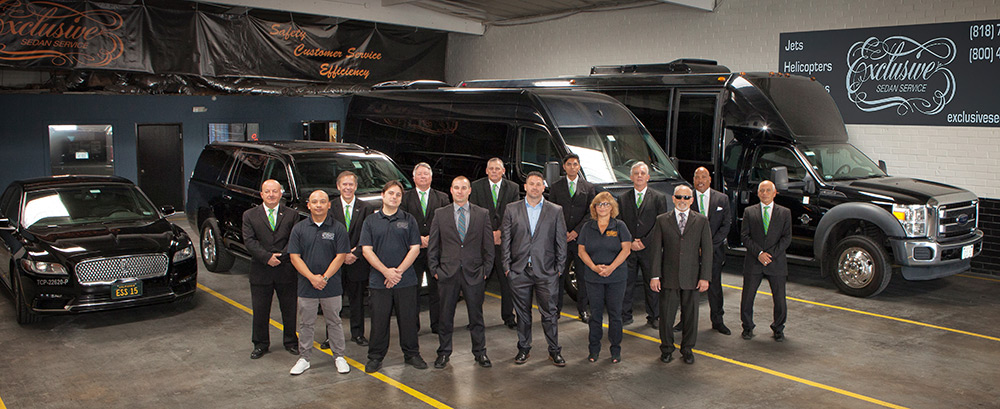 The Exclusive Sedan Service team at their new location in Van Nuys, Calif. Van Nuys, Calif. — Rapid growth and operational expansion has led Exclusive Sedan Service to move to a new premises on Densmore Avenue in the Central San Fernando Valley region of Los Angeles.

CEO Brandan Stein says the new location is a big step forward for the family-owned business. His parents Ron and Jackie Stein originally founded the company back in 1980, and since then it has grown extensively to incorporate a much wider range of transportation options and vehicle types.

"The company has been operating for 38 years, and we were in our previous location for 15 years," explains Brandan. "The business was growing and expanding into new areas, and we were simply running out of warehouse space."

The changes are drastic. The new location is about three times the size of their previous premises.

"We've gone from having 3,000 square feet to around 8,000 to 9,000 square feet with this move. This will give us much more room for our growing fleet of vehicles," says Stein.

Previously, Exclusive stored 20 vehicles off-site at a location that was far and inconvenient to travel. Now, the storage site is now located right next door to the new location, making access to these vehicles much quicker and easier.

The company also plans to use the additional warehouse space to employ teams of in-house mechanics and auto detailing staff rather than outsourcing these functions. This will allow them to have more control over the process and further streamline their operations to save on unnecessary costs and increase efficiencies.

There are other advantages involved in moving to another part of the city, too: "Our new space is more centrally located for the Studios, and we are also much closer to LAX," says Stein. "This will increase the company's ability to respond quickly to trip requests and save time on journeys between headquarters and these popular L.A. destinations."

However, despite the change in location, Exclusive insists that their clientele will see no change in service. "For our clients, everything stays the same—they won't notice a difference, which is how it should be," explains Stein. "The company is committed to providing the same exceptional standard of service to its customers, with a focus on expertise and professionalism at every level of the business. The new location will simply make this process a whole lot easier, quicker, and more efficient."

The entire company is looking forward to using the new location as a catalyst to continue their impressive growth over the coming years.

Visit exclusivesedan.com for more information.

[CD1218]
Details

Category: Industry News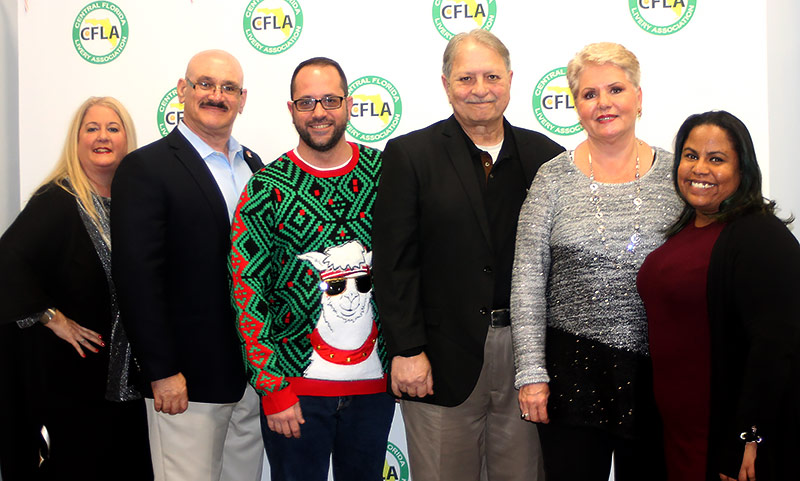 Members of the CFLA board include (L to R): President Wendy Kleefisch of Brevard Executive Limousine, Vice President Greg Palie of GNS Transportation, Directors Greg Moulton of Signature Transportation Group and Mo Sajjad of Alladin Tours, Treasurer Barbara White of VIP Transportation Group, and Secretary Tannia Osario of Super Shuttle Orlando — Nearly 40 members and supporters of the Central Florida Livery Association (CFLA) traveled from as far as New York for its annual holiday party, including CD Editor Madeleine Maccar. The association's traditional meeting space at the Clarion Hotel Orlando International Airport was decked out in its festive finery, which included a CFLA-branded backdrop festooned with candy canes, a miniature Christmas tree, presents, and even a sprig of mistletoe—and numerous attendees were similarly dressed to the nines in head-to-toe holiday colors, sparkles, and even light-up attire.

But the cornerstone of the event was a table that became even more packed with presents as the evening celebration wore on. President Wendy Kleefisch of Brevard Executive Limousine is a longtime supporter of the local charity Toys for Kids, and she once again embraced the CFLA holiday event as an opportunity to benefit the region's children in need with a fundraising raffle and toy drive.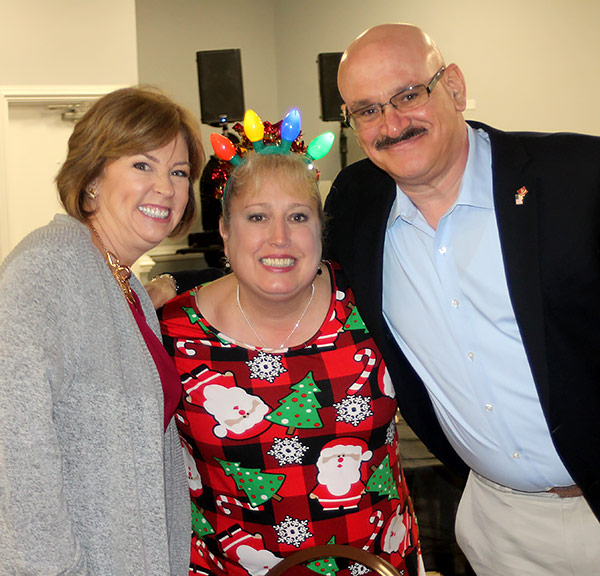 L to R: Maria Palie of GNS Transportation, Marlo Denning of Elegant Limousines, and Greg Palie of GNS Transportation "I'm very thankful that the CFLA can continue to support Toys for Kids," Kleefisch said. "Philanthropy and this charity are so important to me, and I'm proud that we raised $500 during our holiday party—and that it's all for putting smiles on children's faces."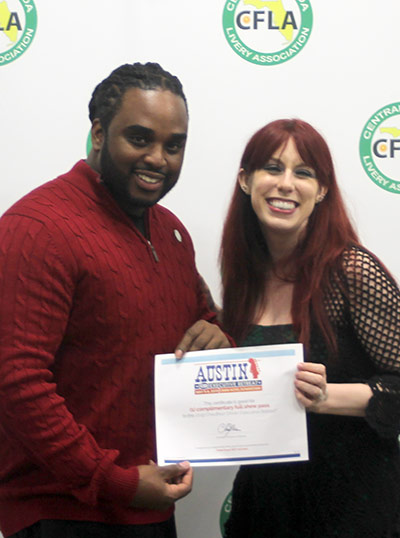 Chauffeur Driven Editor Madeleine Maccar with Louis Hawkins of Florida Loyalty Transportation, winner of a pass to the 2019 CD Executive Retreat in Austin Kleefisch was determined to make sure the evening's party-goers left with some presents of their own, too: Everything from gift cards to show passes, from home goods to bottles of wine, and from the poinsettia centerpieces to an artificial—and fully decorated—tree were raffled off as the evening progressed. Among the winners was Louis Hawkins of Florida Loyalty Transportation, who won a pass to the 2019 Chauffeur Driven Executive Retreat in Austin May 5-8.

Between sending another round of gifts home with the evening's guests, the party offered plenty of opportunities to enjoy the warmth of industry peers, friends, and supporters, as a buffet dinner, conversations, and photo-booth props encouraged everyone to make new friends and catch up with longtime associates. Kleefisch also made sure to thank the evening's sponsors and attendees alike, adding to the warmth and gratitude of a night that ultimately aimed to bring smiles to many local children's faces.

The next CFLA event will be its January 8 meeting.

Visit cfla.org for more information.

[CD1218]
Details

Category: Industry News
Chauffeur Driven Director of Events Jess Pavlow with Brion Svenson of Four Star Limousine, the winner of CD's 2019 Executive Retreat pass North Reading, Mass. — More than 70 attendees came together for the New England Livery Association's (NELA's) holiday quarterly meeting December 11, including CD Director of Events Jess Pavlow.

The evening kicked off with a cocktail hour where the association's guests were treated to an array of small bites, an expertly tended bar, entertainment provided by DJ Greg "Gates" Plowman of Entertainment Concepts, and plenty of opportunities for catching up with old friends and meeting new ones. Dinner then allowed for the evening's sponsors to have a few words while representatives from both NELA and the National Limousine Association (NLA) provided updates about their organizations.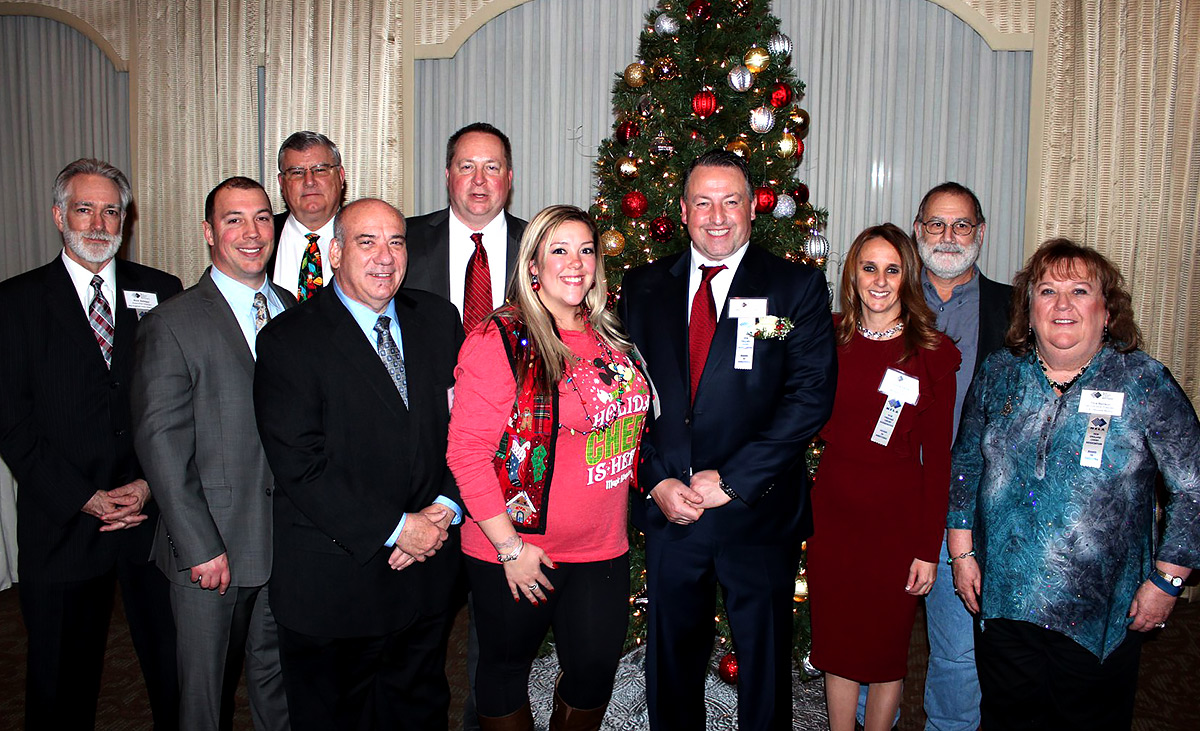 Members of NELA's board of directors NELA's golf committee presented a $4,000 check to the Cystic Fibrosis Foundation, one of the beneficiaries of the annual George Colarullo Memorial Golf Tournament held this past August. Pam Simms Spitzer and Karen Kelly accepted the check on behalf of the foundation.

Scott Solombrino of Dav El/BostonCoach spoke on behalf of the NLA after reminded all in attendance how fortunate NELA is to have Rick Szilagyi at the helm of the award-winning organization. Solombrino then discussed the upcoming IPOs for both Uber and Lyft, noting that it should be good for the industry as a whole since it will bring increased public accountability to TNCs. He also mentioned the new rule in New York City that imposes a minimum wage on TNC drivers, as well an issue currently unfolding in Los Angeles. Uber and Lyft are trying to "buy" curb space at the Los Angeles International Airport while pushing all other modes of transportation to a lot that would only be accessed via shuttle or tram for both pickups and drop-offs.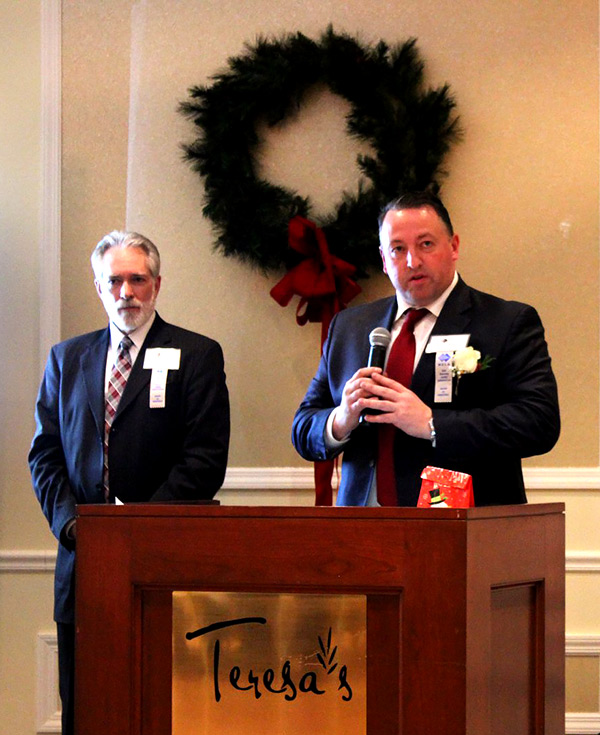 NELA's Executive Director Rick Szilagyi (left) and President Jason Dornhoffer of United Private Car NELA President Jason Dornhoffer of United Private Car spoke on behalf of NELA, reminding attendees that not only does the association still have open seats on its board of directors but also volunteers are also invited to assist with committee work even if they do not wish to have a seat on the board. He also spoke about the importance of the Legislative Fund for Massachusetts, as last year's removal of 8,000 TNC drivers was a direct result of its efforts. The fund works on behalf of all operators to sway public opinion and legislative agendas alike in the industry's direction—but only a handful of larger operators are contributing to it.

Becky Laramee of All Points Limousine also advised members that there is a Federal Excise Tax credit available if you drive students or employees of schools or universities. Laramee said the info is in IRS Publication 510.

The meeting then moved onto raffling off the evening's many prizes, which included a 50/50, gift cards, holiday baskets, lottery tickets, and books. Chauffeur Driven donated a pass to its 2019 Executive Retreat in Austin from May 5-8, which was won by Brion Svenson of Four Star Limousine.

NELA's next meeting will be March 12.

Visit nelivery.org for more information.

[CD1218]