Details

Category: Industry News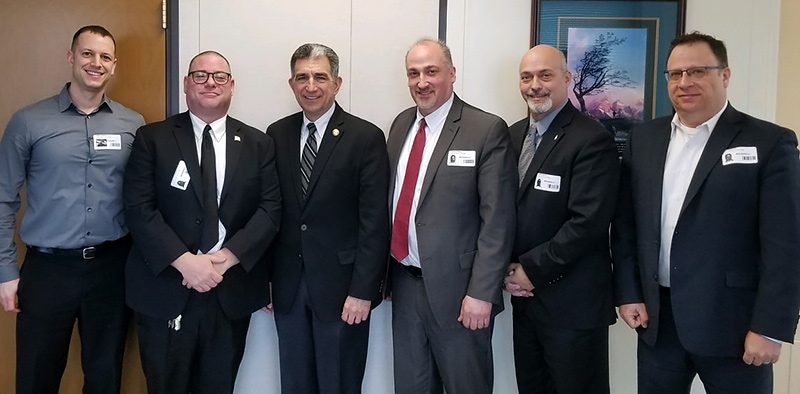 L to R: LBTOUNY member Mark Crisafulli, Joe DiDomenico of American Limousine, Assemblyman William Magnarelli, LBTOUNY President Kevin Barwell of Giorgio's Limousine Service, LBTOUNY Director Dave Bastian of Towne Livery, and David Brown of Premiere Transportation Syracuse, N.Y. — On February 25, members of Limousine, Bus and Taxi of Upstate New York (LBTOUNY) met with NY Assemblyman William Magnarelli to discuss the potential ban on limousines and new proposed legislation brought on by last year's tragic accident in Schoharie. As the vehicle in question was not up to NY State DOT standards and the operator had numerous violations, the association feels that such legislation would only punish companies that are acting in accordance with industry and state regulations. Their hope was to speak up for legitimate operators who abide by the law and correct procedures.

It was announced next day that the ban on limousines and additional legislation will be removed from the New York State Budget. Although this is a good thing for legitimate operators, LBTOUNY members feel that the battle is not over—just delayed.

The discussion now moves toward detailing the regulations placed on stretch vehicles, including seat belts, fines/penalties for non-compliant operators, and laws pertaining to the vehicles inspection.

Visit lbtony.com for more information.

[CD0319]
Details

Category: Industry News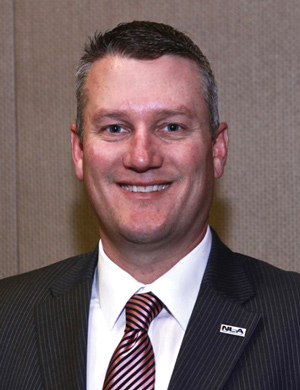 NLA President Gary BuffoNew York —The National Limousine Association (NLA) recently published revisions to the organization's Duty of Care and passenger Bill of Rights—and strongly encourages all operators, chauffeur, legislators, and passengers to take notice.

The amendments directly reflect and align with the National Transportation Safety Board's recently reiterated recommendations concerning safety briefings, certification transparency, and safety belts. With these revisions, the NLA advocates for stricter safety standards and calls for universal regulations for the private ground transportation industry (including TNCs).

Pertaining to the Bill of Rights, it is the NLA's belief that all passengers of any chauffeured vehicle are entitled to the following, and should have the right to request that their prearranged car service and driver to provide:

1. Proof of proper commercial-for-hire licensing and certifications as governed by local, state and federal regulations
2. Proof that the vehicle has undergone regular inspections, is certified safe, and mechanically sound
3. Information concerning the passenger and total load limit of the vehicle
4. A safe and courteous driver that obeys all traffic laws with proof of commercial vehicle insurance
5. A fully-vetted and trained driver that has undergone official criminal background checks and pre-hire drug testing
6. A pre-trip safety briefing, given either verbally or by video, per individual state regulations, that details locations of emergency exits and any applicable emergency procedures
7. Access to fully functioning seatbelts for all passengers, as well as a child safety seat restraint system, in accordance with state regulations
8. Ready access to the transportation service provider—via email, telephone, or in-person—of the ground transportation service to voice any concerns or complaints that arise before, during and after the ride
9. A quoted fare for your trip and a final charge that matches that agreed-upon amount (except in cases of changes in trip itinerary or duration)
10. Air conditioning or heat on request

Regarding the Duty of Care, all ground transportation services and driving staff, whose vehicles include but are not limited to sedans, SUVs, vans, mini-coaches, or buses should adopt the following strongly suggested practices.

Drivers should be properly screened, licensed, and trained, which includes the following:

1. Criminal background and security check by a certified agency or equivalent
2. Pre-hire drug testing and random testing program, when required by USDOT
3. Driver training program that includes driver duties, customer service, safety, and defensive driving skills
4. Certified medical examination, as required by local, state and federal regulations

Ground transportation vehicles should be properly licensed, safe, and commercially insured, which includes the following:

1. Proper supervision, retraining and discipline when appropriate
2. Commercial insurance with liability coverage, as required by local, state and federal regulations
3. Proper licensing permits
4. Proper modification certification (if applicable)
5. Motor vehicle inspections, as required by local, state and federal regulations
The NLA is committed to raising existing accepted standards so a horrific tragedy such as last year's fatal accident in New York never happens again.
"Passenger safety and security is paramount to ensuring that we are protecting lives on our nation's roadways," said NLA President Gary Buffo. "As a leader in the industry, the NLA will continue to push for a recognized operating procedure throughout the country when it comes to safety, while also ensuring that those who put a priority on safety are not financially penalized. Fortifying our Duty of Care and Bill of Rights demonstrates our association's commitment to strict protocol and the safety of our riders."
Visit
limo.org
for more information.
[CD0319]
Details

Category: Industry News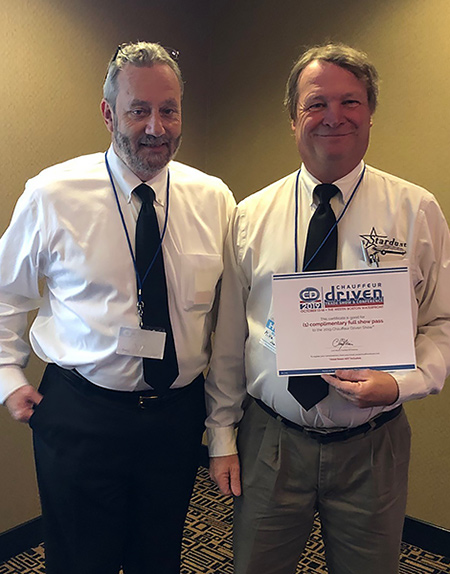 WLA Interim President Larry Epstein of Gallant Knight Limousine (left) with Mike Hartmann of Stardust Limousine, who won a pass to the 2019 CD Show in Boston from October 13-16Madison, Wis. — The Wisconsin Limousine Association (WLA) met up in Madison March 6 for its first face-to-face meeting since 2016.

Despite a last-minute venue change, WLA Secretary/Treasurer Karen Lotts of A Knight Rider Limousine said that proactive members, engaging presentations, and some very supportive sponsors all helped ensure that the meeting—which welcomed 67 percent of the WLA's membership, according to Lotts—united and educated the association in equal measures.

"Our speakers were awesome!" she raved, adding that the National Limousine Association sent a video featuring Executive Director Sarah Gazi discussing what the national organization is doing for operators across the country.

Master Inspector Teresa Burchard of the Wisconsin State Patrol offered insight into what to expect during random inspections at sporting and concert events and provided information about DOT numbers and questions, while Maren Graham of Hudson Group "actually went to members' websites and gave everyone advice to make their sites better before she gave us tips about SEO tools and managing social media." The wide range of education came directly from feedback about what members are looking for.

In a large state where operators tend to be far-flung, Lotts was eager to get as many members as possible together to keep fostering a sense of unity among those who comprise WLA.

"One of our newest members was there, Helen Dixon of Dixon's Limos, so it was her first time meeting all of us," she said. "For our new members and longtime members alike, I think it's a big deal when we can all meet up and let everyone put names to faces. It lets us have that camaraderie and do some networking and just chat with other Wisconsin operators and the vendors who support us."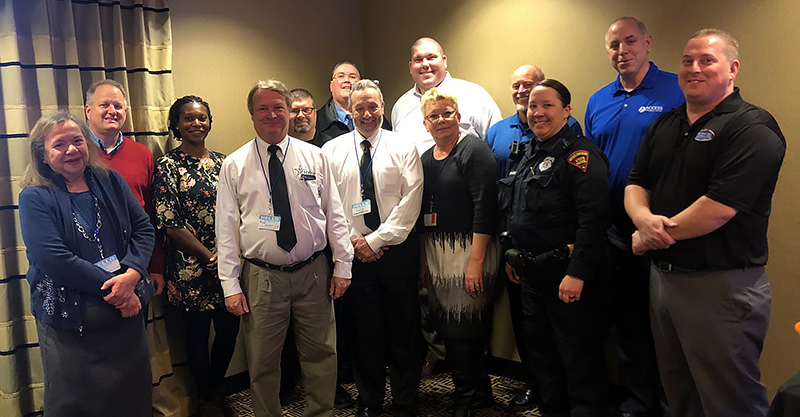 WLA members and supporters headed to Madison for the association's in-person meeting held March 6The future of the WLA was also a topic for discussion, as Lotts, WLA Interim President Larry Epstein of Gallant Knight Limousine, and the assembled members were keen on exploring webinar and educational topics that they all want more of, especially in terms of capitalizing on social media, what it takes to shape former schoolbus drivers into stellar chauffeurs, and the always-timely topic of hiring great chauffeurs in the first place.

There were a few prizes to be won by the end of the day, including a pass to the 2019 Chauffeur Driven Show in Boston, which was won by Mike Hartmann of Stardust Limousine.

Lotts and the WLA board are pleased with how the in-person meeting turned out—and are already planning for the next one.

The next WLA event will be its monthly conference call, scheduled for April 10.

Visit wisconsinlimo.org for more information.

[CD0319]