Details

Category: Industry News
Technology provider AddOns.LA (AddOns) will be acquired by Fullsteam and join its portfolio of Software as a Service companies. This is the second strategic acquisition in the travel and transportation sector for Fullsteam, which purchased Limo Anywhere, a software solution in ground transportation and a close partner with AddOns, earlier this year.
"With both companies now part of Fullsteam, AddOns and Limo Anywhere brought forward the opportunity to unlock new value as a single business. Fullsteam agreed," said Fullsteam CEO Michael Lawler. "Merging these companies sets the stage for an unparalleled offering in the ground sector of travel, and I'm excited for the tremendous opportunities it presents us where travel, technology and payments intersect to benefit our customers and shareholders."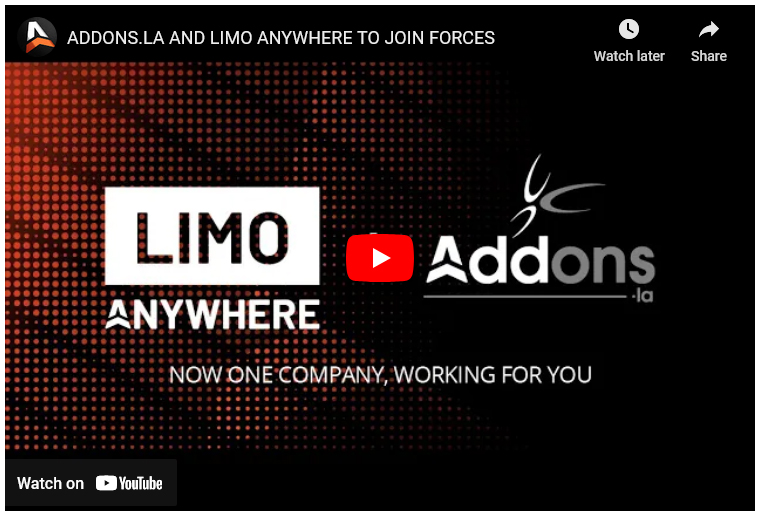 AddOns and LimoAnywhere join Fullsteam's portfolio of Software Service Companies
Limo Anywhere and AddOns have worked together since AddOns' founding in 2014, collaborating to provide operators with the best functionality and features that work across their platforms. As a single company, AddOns and Limo Anywhere will create the industry's most comprehensive and leading-edge platform. Additionally, with financial backing and operational support from Fullsteam, the combined companies will have expanded capabilities to focus on technology innovation and strategic development that not only will make a difference for operators' daily business, but also transform the industry.
The combined companies will operate as Limo Anywhere going forward, leveraging Limo Anywhere's nearly two decades of history and name recognition, as well as its market-leading position in the ground transportation industry.
"We have always viewed AddOns as a key differentiator," said Limo Anywhere President Sean Arena. "They have an extraordinary team, innovative solutions, and forward-thinking technology. AddOns has been an incredible partner for many years, and joining forces to become a single end-to-end solution just makes sense. As a unified business backed by Fullsteam, we are pushing the envelope to deliver unprecedented solutions."
AddOns Founder and CEO Andrew Norman echoed Arena's enthusiasm for the merger and the opportunities it presents.
"Bringing together the talent and capabilities of AddOns and Limo Anywhere, along with the support of Fullsteam, enables us to even better serve our operators and the industry. Limo Anywhere is the largest player in the market, and combining their leading status with our team's leading-edge solutions, positions us to move the industry forward in new and meaningful ways," said Norman.
Visit fullsteam.com for more information.
[11.22.22]
Details

Category: Industry News

FASTTRAK Technologies, a leading software provider for the scheduled ground transportation industry, announces the appointment of Jessica Lynn Buchholz as its national sales & customer relations manager.
National Sales & Customer Relations Manager Jessica Lynn Buchholz
Buchholz has experience in all facets of livery/limousine operations management as well as IT management experience. Since 2007, she has worked for three St. Louis-area transportation companies, which involved a variety of positions from dispatching, to charter/DOT management, operations management, and IT management. She also participated in the migration of these companies from their existing industry software systems to the FASTTRAK Cloud Platform.
"We are excited and pleased to welcome Jessica to our management team," said FASTTRAK CEO Eddie McCoy. "With her strong background in livery industry operations and her experience in migrating clients from major platforms to FASTTRAK, we know she will be an asset to the company and more importantly, to our clients."
"I have long wanted to be a part of technology in this industry and FASTTRAK was the right fit for me to bring my experience and knowledge to the FASTTRAK Team," said Buchholz.
Visit fasttrakcloud.com for more information.
[11.21.22]
Details

Category: Industry News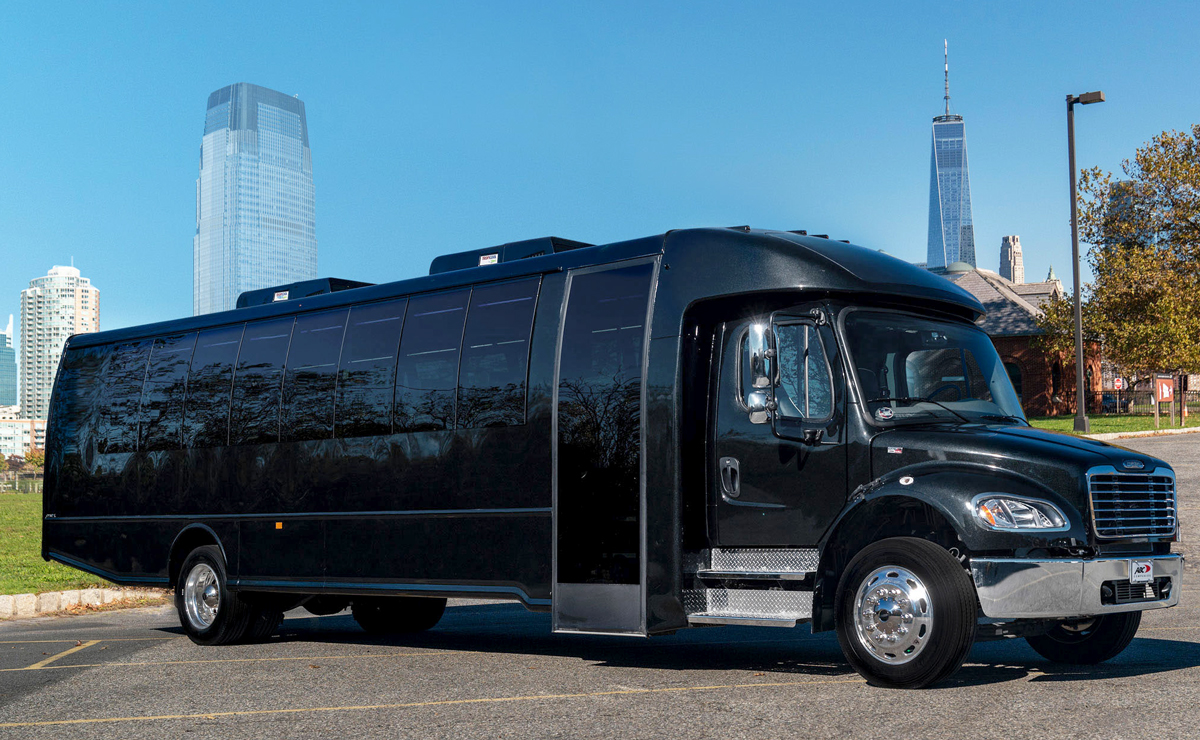 ABC Companies Turtle Top Osyssey XL
ABC Companies, a North American provider of motorcoach, transit, and specialty passenger transport equipment, continues to expand its equipment lineup with the unveiling of the Turtle Top Odyssey XL S2C at the 2022 CD/NLA Show this past week. The feature-rich, 41-passenger shuttle bus is available from ABC on both the Freightliner S2C and Ford F600 chassis, offering fully customizable options for exterior and interior components, as well as a variety of seating configurations.
ABC Companies President & COO Roman Cornell
"We're seeing many operators diversify their fleets with more transport options to expand their service and better serve evolving customer bases," said ABC Companies President & COO Roman Cornell. "It's a savvy move, and customers are extremely receptive to this premium product. They also appreciate the confidence of partnering with seasoned industry experts for all of their parts, service, support, and technical needs—which full-size coach operators have enjoyed with ABC for decades."
Business owners can expect high quality as well as generous passenger appointments aboard the 41-passenger Turtle Top Odyssey XL series featuring:
Increased passenger capacity for churches, colleges, city, or county transportation authorities, assisted living services, cross-country touring companies, excursion companies, and many more
High quality Ford F600 or Freightliner S2C chassis
Aerodynamic automotive exterior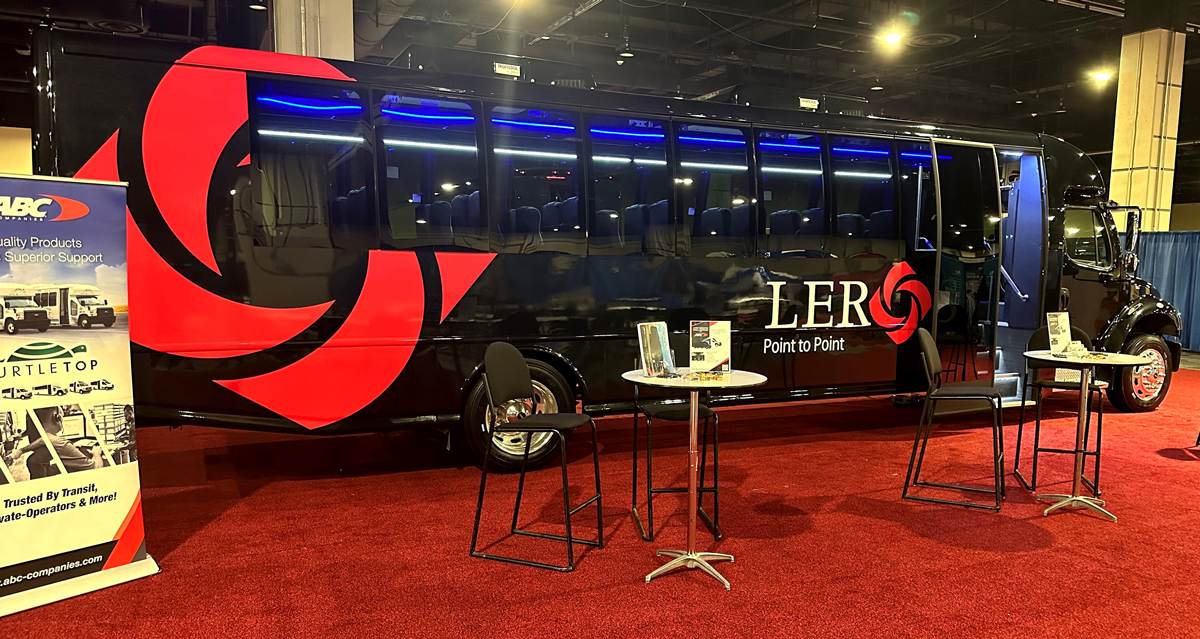 Bi-fold or 29" plug door passenger entry option
Wide interior with double row 19" luxury seating
Custom audio-video packages available
Large passenger windshield option
5-sided steel roll cage with rust inhibitor
Drop floor rear luggage option
Available restroom packages
Standard white full body paint
The CD/NLA Show floor model was customized with executive livery "wow" factor features including a scenic view front windshield and side windows, onboard charge ports, color LED lighting package, sleek leather seating, parcel racks, and rear luggage stowage. Additionally, optional wheelchair spaces make the Turtle Top Odyssey XL an ideal solution for a variety of operators, including those servicing ADA routes or requiring full accessibility.
Visit abc-companies.com for more information.
[11.21.22]